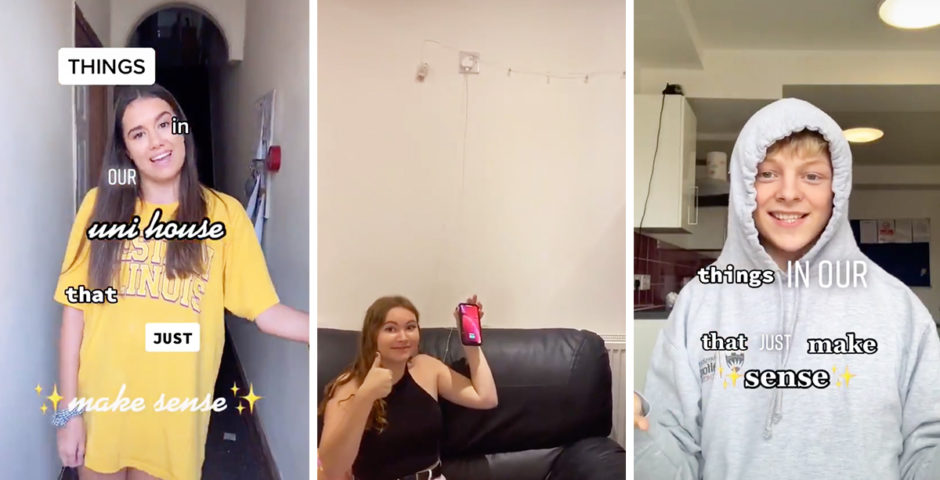 Students share the dumb and pointless things in their uni houses that just make sense
Just one dining chair in a house of six, love it x
Right now is prime time for people moving in to new student accommodation flats or returning to their old student houses. And on TikTok, students are sharing all the most bizarre (and mainly broken) "things in our uni house that just make sense".
Because what's student life without a tap that's not actually connected to any water? Or tiny fridges where you can just about store some milk and cheese? How could you live without obscenely huge corridors that lead to the tiniest of box rooms? And of course it's completely normal to have plug sockets on the ceiling, right? Uni houses are full of weird and wonderful quirks that you just, somehow, learn to accept.
1. Only having one dining chair is an absolute classic
Inside this lovely student house in Portsmouth you'll find: A part of the staircase that falls out every time you use the stairs, a bathroom which isn't hooked up to any water (sure??), one desk chair to sit around their dining table for a house of six people, some blinds that aren't connected to the cord so don't actually work, a freezer that you can't even open, some classic traffic cones in the garden and a random headboard covered in cat hairs, when there's no cat in the house. Stunning.
2. Love the sound of screaming when I take a shower
In this house you are treated to the relaxing sounds of screaming whenever you take a shower, a broken fridge shelf that throws the contents at you as you open the door, a broken back as you try to eat your food on the barstool which sits miles above the kitchen island, a plug socket which is basically on the ceiling, a bedroom at the end of a huge corridor which has no plug sockets actually in the room, a towel rail which can't stand the weight of a towel and three-legged garden furniture. How do I move in?!
3. I love when I have no idea whether the oven is on or not!!!
Do you love living on the edge with a knobless oven, rusty toaster, unlockable doors, coffee stains somehow on the ceiling and scaffolding poles that have been left outside your window? Yes? Then Salford is for you.
4. Mmmm the sweet sweet smell of rotting pasta bake
So this flat had an unfortunate day where the oven exploded, and the handle must have blown off the door. Now, they are left with an old pasta bake stuck in the oven that they'll never be able to retrieve. Delicious.
5. Living in Edinburgh is still a vibe though
Yeah so student accommodation in Edinburgh may be expensive, but it's so worth it when you can get dribbling taps, toasters that don't stay down, text books perfectly positioned right next to the alcohol and door locks… which don't contain the locking part.
6. What's a uni house without a party shed and some actual sheep?
If you decide to study in Kent, I'm not sure why you would but there you go, you can get sinks that are too small to wash your hands in, windows that are just between the rooms and not the outside, a tonne of freezer space but a teeeenie tiny fridge, loads of mirrors, bike racks everywhere, an actual party shed in the garden and, a necessity, actual sheep.
7. A bin rice cooker, of course
If you live in Norwich you can expect to find rice cookers in your bin, random pictures of unicorns, tiny fridges for five people and broken door handles. Keep being you, UEA.
For more of the best TikTok videos, trends and memes – follow The Holy Church of TikTok on Facebook. 
Related stories recommended by this writer:
• Why do all British people say these weird phrases at these exact moments?
• The savage Insta rinsing influencers is now exposing their desperate holiday snaps
• This guy's house viewing video sums up how we all feel about crap landlords