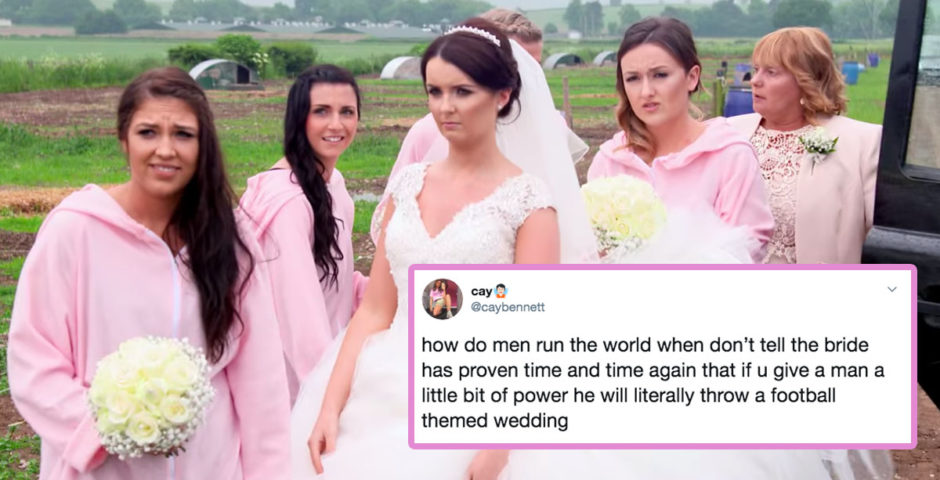 These 35 Don't Tell The Bride memes won't disappoint you like the groom does
Who doesn't want pigs at a wedding?
Don't Tell The Bride has been added to Netflix and the people who are discovering it for the first time are in for a wild ride of hilarity, disappointment and a lot of themed weddings. Seriously why do all the grooms think a wedding needs a theme?
The show that gives the groom a budget in exchange for the bride having no control or knowledge over her dream day has somehow managed to create some quality memes. This is largely in part thanks to men being trash and literally having no idea what they're doing. Because what girl doesn't want a Neighbours themed wedding?
From disastrous dresses, to chips and dips as a wedding meal, to a full on skate ramp at the wedding it seems the way men can disappoint their brides is endless. And whilst the men may be a disappointment these 35 Don't Tell The Bride memes certainly aren't:
1. Seriously, how does the patriarchy exist?
2. How does the wedding conversation just never come up?
3. I always feel better about being single watching this show
4. Men don't have a sensible side tho
5. Ladies we really need to raise our standards
6. I am shocked, absolutely shocked she doesn't like the pig theme wedding
7. Just a thought
8. Raising an interesting question
9. Ah shit, here we go again
10. There are a lot of baby men tbf
11. I could literally plan a better wedding in my sleep
12. It's a common feeling
13. No other reminder necessary
14. Lolllll they must feel attacked
15. This is my FA Cup
16. It's an actual addiction
17. I would have run away as soon as we turned into the farm
18. Hahahhahaa so true
19. As if we needed another reason
20. There really must be a word for this chaos
21. SOS
22. It's because they're not rational x
23. Quite simply
24. It really is embarrassing fancying men at this point
25. Wait you don't want a T-Rex at the wedding?
26. I'm out
27. Honestly what are straight people on?
28. Oh there's a red flag, oh and another
29. Tbf I'd love chips and dip at my wedding
30. Say it louder for the people in the back
31. Can't stop, won't stop
32. And maybe a few Insta posts
33. I actually get so angry
34. Who wouldn't love a hot tub themed wedding?
35. But it still really is the greatest show and I will continue to watch
Don't Tell The Bride is available on Netflix now. For all the latest Netflix news, drops and memes like The Holy Church of Netflix on Facebook. 
Related stories recommended by this writer:
•These are the worst weddings in the history of Don't Tell The Bride
•Ranked: Who was officially the worst boyfriend in teen movie history?
•Meet the partners of the Gogglebox cast you don't get to see on TV