People are sharing the unsolicited DMs they've received and they are hilarious
'What are your three favourite flags?'
Your Instagram and Twitters DMs are usually 40 per cent actual conversations with people you know, 40 per cent people trying to slide into the DMs and the other 20 per cent is where you get all those weird, creepy and completely unsolicited DMs that make for great conversations in the group chat.
I'm not just talking about requests for feet pics here, although that is weird, I'm talking bizarre questions, odd statements and general confusion, like simply sending the name "Hugh Fearnley Whittingstall" with no explanation or asking "have you ever given anyone a wedgie?".
And now a Twitter thread, started by TV writer Caitie Delaney, is exposing all those unsolicited DMs and they are the funniest thing you will read today.
Here are the best unsolicited DMs people have been sent:
1. I can neither confirm nor deny
2. Tbf I am worthy of worship
3. Not that I can recall
4. How could you forget?

5. Come to think of it, I haven't
6. How did you know?
7. I am acute
8. Let this be a warning – you get downgraded when you fail to reply
9. Wouldn't you like to know
10. Such a random question
11. Cause that's the real problem
12. As a matter of fact, I would love one
13.  So many mixed messages
14. Rogue, but I like it
15. I am indeedy
16. Nope
17. I don't know?
18. The only way you'll be getting my attention in my DMs from now on
19. Nah I haven't and I'm really sad about it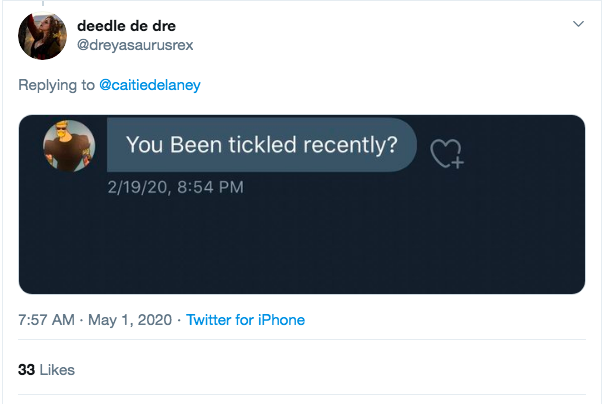 20. A classic
21. This is such a tough decision, I'm going to be here for a while
Featured image credit: Jan Zhukov / Unsplash
Related stories recommended by this writer:
•Roses are red and are in my dreams, you have to laugh at these 21 translate memes
•These 23 did it work memes absolutely worked
•These 25 Gossip Girl memes are more iconic than Blair's headbands