Once and for all, which is the ugliest uni in the country?
Some of these are straight up repulsive
People from all over the world come to study in the UK, in hope they'll end up on a beautiful and historical campus. But little do they know that they've been fed utter lies.
Most British institutions don't look anything like Hogwarts in the slightest. In fact, they resemble the rotting, abandoned buildings from the Upside Down in Stranger Things.
But which is the downright ugliest? There are many to choose from, but only one can be crowned as the winner:
Aberdeen
Most of the buildings in Aberdeen are historical and pretty, but there are a few that are an eyesore in comparison.
Worst halls: Johnson and Crombie look a bit like a prison.
Worst building: The MacRobert building
It's totally out of place on campus, it's a stupid monstrosity of a building compared to all the other places on campus. And have you seen the amount of windows? Obscene amount, there's no need. And inside is like a maze because the room numbers don't make sense.
Aberystwyth
Aberystwyth is grey and cold.
But the worst part about it is the Llandinam building, which literally looks like a run prison, because it is. It's where dreams go to die.
It was built in the 90s but most likely modelled on max security mental asylum. To top it off, the library is on the top floor of the building and although it's nine floors tall, the lift only goes to the seventh. The grime on the sides of the building actually makes it nicer to look at than when it's clean.
Birmingham
Old Joe is definitely not ugly, but the Strathcona building is. It's way too humid inside and uncomfortably so.
Brighton
Brighton is lovely, but is by ruined Mithras House, which looks like an abandoned asylum. It feels like the Shining Hotel, with a little reception desk and an endless maze of halls devoid of culture, colour, enthusiasm and life. It has no vibe of Brighton's quirkiness.
Bristol
Bristol is a beautiful city – lush green spaces, prepossessing buildings, great views. All this is ruined by the monstrous eyesore that is the ASS library.
This grey, sprawling monolith has all the charm of a Stasi prison block, complete with dead eyed chain smoking zombies mulling around the entrance.
Outside the post-modernistic features of the ASS exude a near palpable sense of gloom and despair: inside the flickering lights and militant librarians induce paranoia and self-loathing.
Special shoutout to: The Hiatt Baker Hall
Cardiff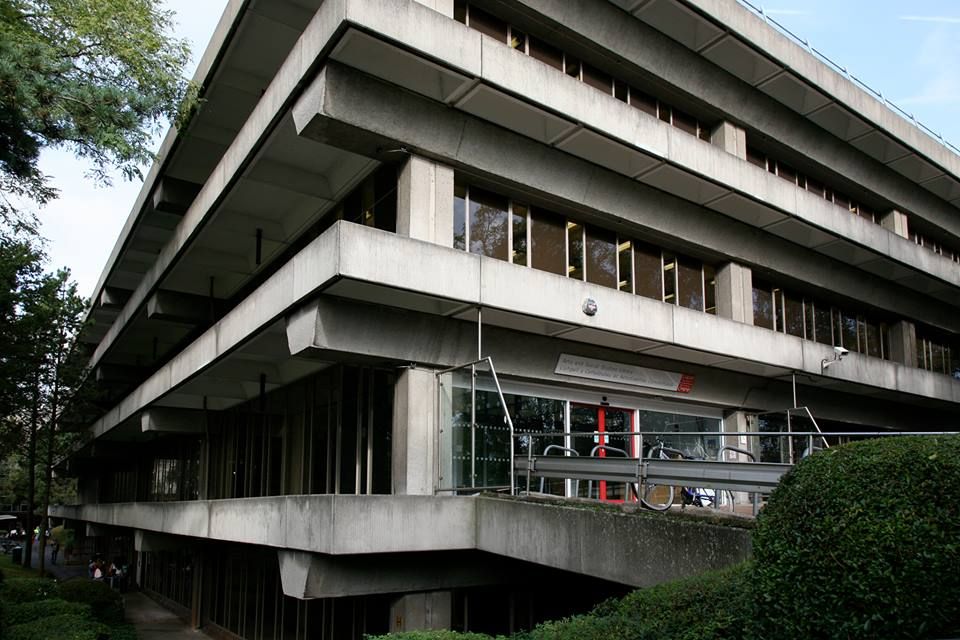 Cardiff University is a game of three halves. The main building is really old and beautiful. Then you have the 1970s prisons. And in between are the really new buildings with horrible, cheap cladding.
Worst halls: University Hall
Worst building: The Arts and Social Sciences Library (ASSL)
It is a huge rectangle block, which genuinely looks like a prison and you feel like you're about to walk down death row when entering it. Even inside isn't much better, with bare brick walls up the stair case and crusty carpets running throughout. Plus, the ground floor refurbishment looks shit.
Special shoutout: The Psychology and John Percival buildings
Coventry
Coventry is grimy, but beloved by many. But still grimy.
Worst building: Priory Hall
It's hideously ugly because it's grey and looks over the horizon like an abandoned old hospital.
Durham
The buildings are either absolutely amazing or horrendously brutalist.
Worst halls: Trevelyan College is a mesh of brown hexagons, surrounded by mud.
Worst building: Dunelm House
Theres been a debate on whether it should be listed, though the university wants to tear it down. It's basically just a big grey block of concrete that no one likes, and it's as ugly inside as it is on the outside.
Edinburgh
Edinburgh is stunning. Anyone who lays eyes on the historical buildings, instantly falls in love. But even Edinburgh couldn't escape the wrath of brutalism.
The David Hume Tower is 11 stories and blocks the beautiful panorama of Arthur's seat behind it. Plus, I'm pretty sure David Hume would be fucking insulted.
Essex
No you're not looking at a real-life version of Tetris, you're looking at Southend-On-Sea Campus in Essex. It's ugly and certainly doesn't blend in to the surroundings.
Exeter
It's actually not bad, quite green and the campus has the best student to tree ratio.
Worst halls: Moberly House – literal prison, ugly brick walls, old kitchens.
Worst building: Amory Building is a maze and its external facade has a reddy/brown hue akin to mixing a bucket of bodily fluids.
Hull
Wilberforce was apparently designed to look like a ship but to be honest everyone in Hull would rather drown, than to have to look at this building for a second longer.
Leeds
We don't even need to talk about any other buildings in Leeds, because the Roger Stevens is the biggest eyesore on campus and no amount of duck ponds or Costa cafes are going to change that.
It's more complicated than a labyrinth and you need the stamina of an Olympian to walk all the way to the top. And that stupid bridge should just fall down already.
Leeds Beckett
Ever wanted to turn, what looks like Jenga on the verge of collapse, into a building? Don't worry because someone else has done it for you.
The Broadcasting Place was awarded the Best Tall Building in the world in 2010. And the Burj Khalifa came second. SECOND.
Liverpool
Liverpool's campus has the most grade II listed buildings of any UK university other than Oxbridge but somehow they couldn't get rid of the Cypress Building
Located opposite the newly refurbished palace that is Vine Court and across the way from the beloved Sydney Jones, the Cypress building could not be more out of place. This decaying grey block of concrete is truly the biggest eye sore on campus.
A 9am seminar in the Cypress building (especially during Summer, as for some reason the building maintains it's 45 degree temperature 365 days a year) is a form of psychological torture.
Special shoutout: The Duncan Building
Manchester
The main part of the university is beautiful but the accomodations are horrendous, especially Whitworth Park Hall and Owen's Park in the Fallowfields area.
Worst halls: Oak's House, famously described as being modelled on a prison.
Worst building: The Tower because it's ginormous and all the things that go on inside it, like The Tower challenge are grim.
MMU
It just sits there, looking like a massive toast rack.
Newcastle
Main campus is beautiful, everything else is quite the opposite.
Worst halls: Castle Leazes Halls
Plonked in the middle of a cow field, it has to be one of the worst buildings ever. And there are 2,000 people cramped into it. Most of it has 17 people on one floor with a TINY kitchen, no communal space/table, so everyone just ends up sitting in the corridors to eat and only has three loos for the 17 people. It apparently used to be an old mental asylum.
Worst building: The Claremont tower and bridge is like a maze and windowless building no one can never work out if they're in the tower or bridge and they don't connect. The seminar rooms in the tower are soulless and airless. When you're walking around campus in the nice old and red brick bit, you see the shitty brown tower continuously out of the corner of your eye.
Portsmouth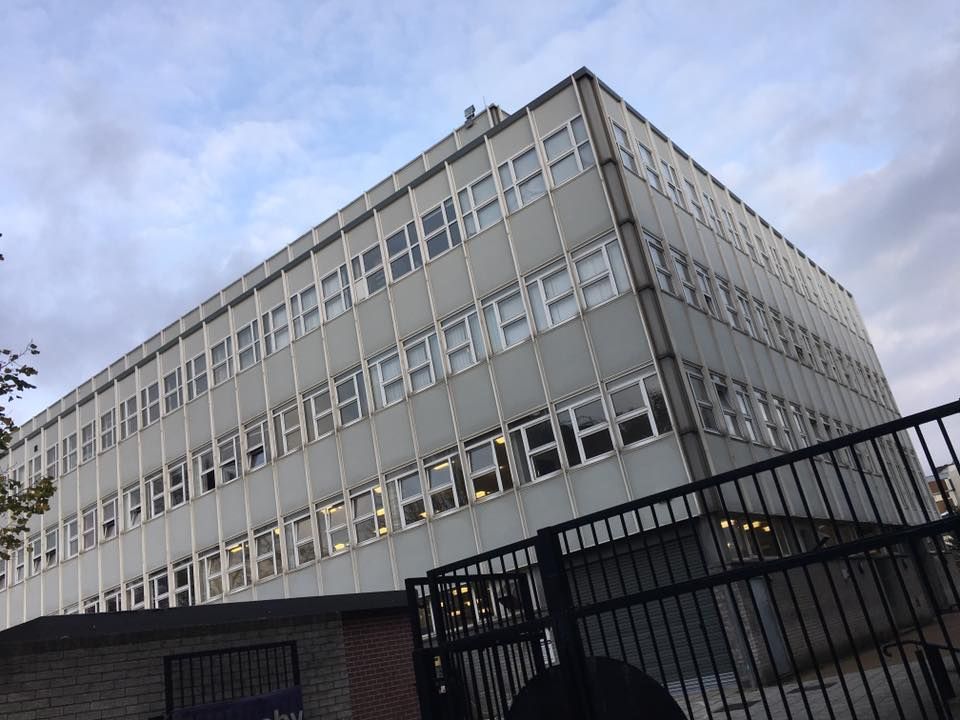 80 per cent of buildings are super ugly. The rest are revamped and pretty modern, but the humanities are built onto an old naval base.
Worst building: The Burnaby Building
Complete with six flights of never ending stairs and a lift that never functions, it is the bane of all humanities students' lives.
Oxford
Oxford? Surely not. Well the Denys Wilkinson building houses the astrophysics and particle physics sub-departments of the Department of Physics at Oxford Uni and it looks like the lab from Stranger Things.
Sheffield
The campus buildings in Sheffield are a real mash up of old and new.
But the Diamond building in Sheffield is just horrendous. You'd think splashing £81 million on a building would make it look less repulsive. But instead it looks like Swiss cheese inside. It's also literally next to an old women's hospital, which is now the Music building. And it doesn't exactly… blend in.
Sussex
Most Sussex buildings are dilapidated, uniform old brick and are devoid of any happiness. Even Jubilee and the Meeting House is ugly.
Worst building: Falmer House because some of the corridors are on the outside which is very impractical and it looks like someone has partially knocked down a Jenga tower. Why. Are. There. Corridors. On. The. Outside.
UEA
There's lots of greenery but also loads of concrete. So if you like brutalist architecture you'll love it here, if not you'll probably think it's ugly as hell.
Worst building: The UEA library is a huge grimacing block of concrete. Although it offers some pretty great views, it's own view is horrendous.
Warwick
Grey, with a pinch of concrete. The Piazza is made out of concrete. The Arts Building is made out of concrete. Senate House? Concrete. Why is everything made out of concrete?!
Worst halls: Living in Whitefields is like being in a social experiment and it's like a sauna in the winter – proper grim.
Worst building: There are many Brutalist masterpieces to choose from, but the Humanities building wins the top prize. You'd think that with all that money pouring in, they'd at least try to clad it up or something.
York
Concrete grimness everywhere, yet interspersed with the natural beauty of nature and the campus wildlife. This juxtaposition goes over the heads of most english literature students who were rejected from better unis.
Worst halls: "Derwent has asbestos" is a popular chant and also true. The buildings are further sodomised by the fact they contain actual real-life awful Derwent students. Gross.
Worst building: Central Hall. Does anyone care that it looks like a giant spaceship? No. The fact that Central Hall is our most notable and also ugly building is why no one likes us.
Contributions from: Flo Strachan, Jonny Long, Lucy Woodham, Greg Barradale, Annabel Murhpy, James Heale, Toby Moore, Sunniva Elisabeth Carlsen, Katie Tobin, Joe Banfield, Phoebe Libbish, Olivia Galyer, Anoshka DSouza, Flo Miller