Which Christmas film is your uni?
It's the most wonderful time of the year
It's that time of year again. You've put up your tree, you've arranged your Secret Santa present, but something is missing. What is it?
Why, it's the "Which Christmas film is your uni" article! It wouldn't be the holidays without it. Well here it is, so your festivities are saved. Some would say it's a Christmas miracle.
Cambridge – Miracle on 34th Street
The quintessential classic Christmas movie, the ultimate university. You feel like you should care about this because it's embossed on your psyche, but you would never want to actually dedicate your precious Christmas time to watching this classic, or spending a night out with anyone who went to Cambridge.
Oxford – It's a Wonderful Life
Basically the same vibe as Cambridge, but everything is just a little bit more depressing.
Durham – The Holiday
Students at Durham look like Cameron Diaz and sound like Kate Winslet, and they all lead a dual life. Half of it is in Durham, the Hollywood of the north, soaking up the glitz and the glamour of the endless champagne balls.
Then, when Christmas comes around, they'll retreat to their snow-powdered cottage in Guildford to cosy up with the family. You'll have to keep your fingers crossed for your own Jude Law, though.
UCL – A Christmas Carol
They're the dominant London uni, the Oscar-winner, the only one that should really matter; and Christ, don't they let you know it.
But for all their posturing and animated artiness and retro charm, spending even 25 minutes with an actual UCL student will bore you to death.
King's – A Christmas Carol (the Jim Carrey version)
Slightly-more up-to-date than their closest rival, KCL isn't really much more than a creepy, warped-looking version of UCL. Seriously, tell me you don't look like this after three straight days in the Maughan.
Imperial – Scrooge, or, Marley's Ghost
The original film adaptation of the Dickens masterpiece is dull, monochrome and silent, much like your average Imperial student. Seriously, for such an important institution you'd think one would hear a lot more from them.
LSE – Scrooged
The classic London Uni tale, but updated for an age of corporate shills: Scrooged's cynical, selfish business exec is cut from the same cloth as every LSE graduate there ever was.
Will their ruthless, cold ambition eventually give way to charitable Christmas cheer? No, probably not.
London Met – Mickey's Christmas Carol
There's no better place to get a Mickey Mouse degree than London Met, "Britain's Worst University." Hey, at least they might teach you to colour in between the lines.
Central St Martins- The Muppet Christmas Carol
Bet you'd love one of those puppets to be your final project, wouldn't you.
Royal Holloway – Barbie in a Christmas Carol
It's like Christmas but WITH MORE GIRLS and uni but WITH MORE GIRLS and everyone has beautiful hair and everyone lives in a Barbie dreamhouse fantasy at founders but yeah I mean good luck finding a Ken.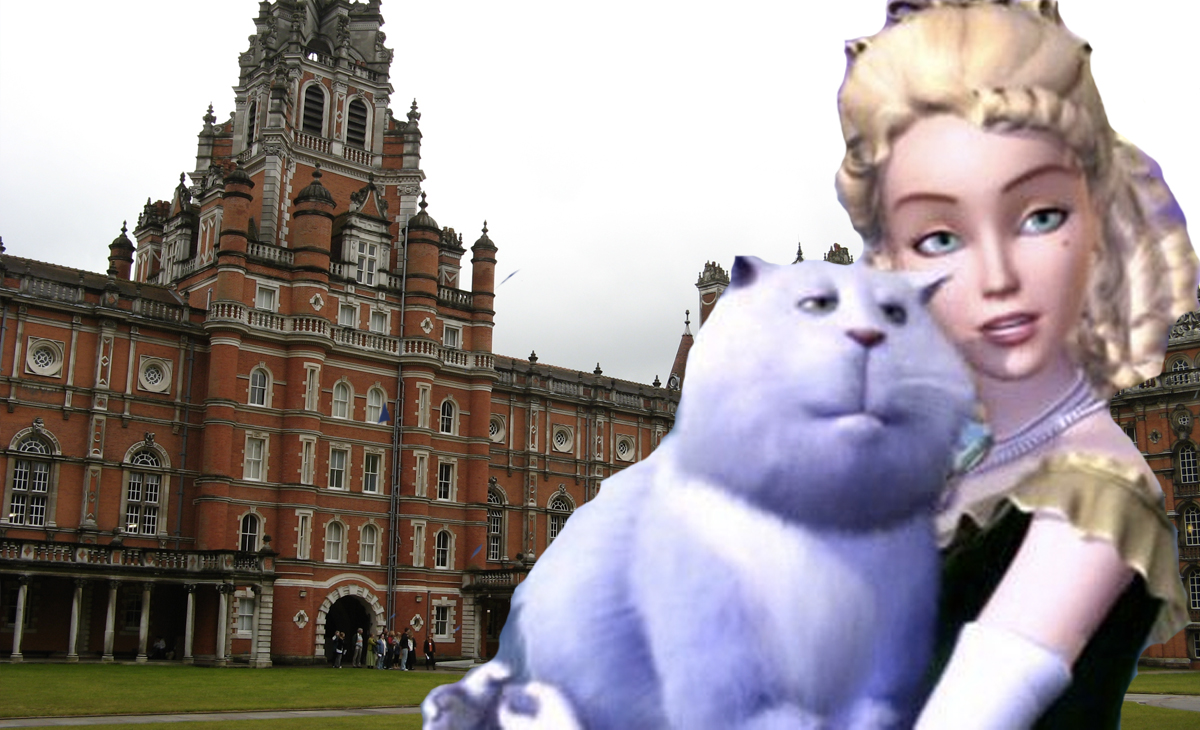 Leeds – Die Hard
There are a lot of parallels between Hyde Park and the Nakatomi Plaza: lots of dirty-looking rugby boys in string vests mingling with champagne-swilling future business megalomaniacs. Come on, tell us you haven't seen this exact jumper in Best Vintage: 
Leeds Beckett – Die Hard 2
Similarly to the Die Hard sequel, Beckett is like a dumbed-down, roided-up version of Leeds Uni. It's not all bad – some people even say it's more fun than the original.
Sheffield – Batman Returns
You definitely forgot that Batman Returns was a Christmas film, in much the same way that you forgot Sheffield was in the Russell Group/an existing uni altogether. Plus you definitely look a bit like Danny Devito after a night at Plug.
Hull – Christmas with the Kranks
It's shit.
Liverpool – Nativity!
You don't require the la-dee-da glamour of Love Actually and the holiday to get by – you have the charm of Martin Freeman, and you have the mayhem of his screaming gaggle of children every time you step through the doors of Level.
Who needs an all-star cast when you're having this much fun?
Liverpool John Moores – Nativity 2: Danger in the Manger
Put it this way: it's like what David Tennant is to Martin Freeman.
Liverpool Hope – Nativity 3: Dude, Where's My Donkey?
Put it this way: it's like what Martin Clunes is to David Tennant.
Manchester – Santa Buddies
You lead a charmed life, don't you? As gloriously blonde and pampered as a golden labrador puppy, your biggest worries are looking adorable and trying to restore the magical giant Christmas icicle.
On that note, you should probably stop taking pills.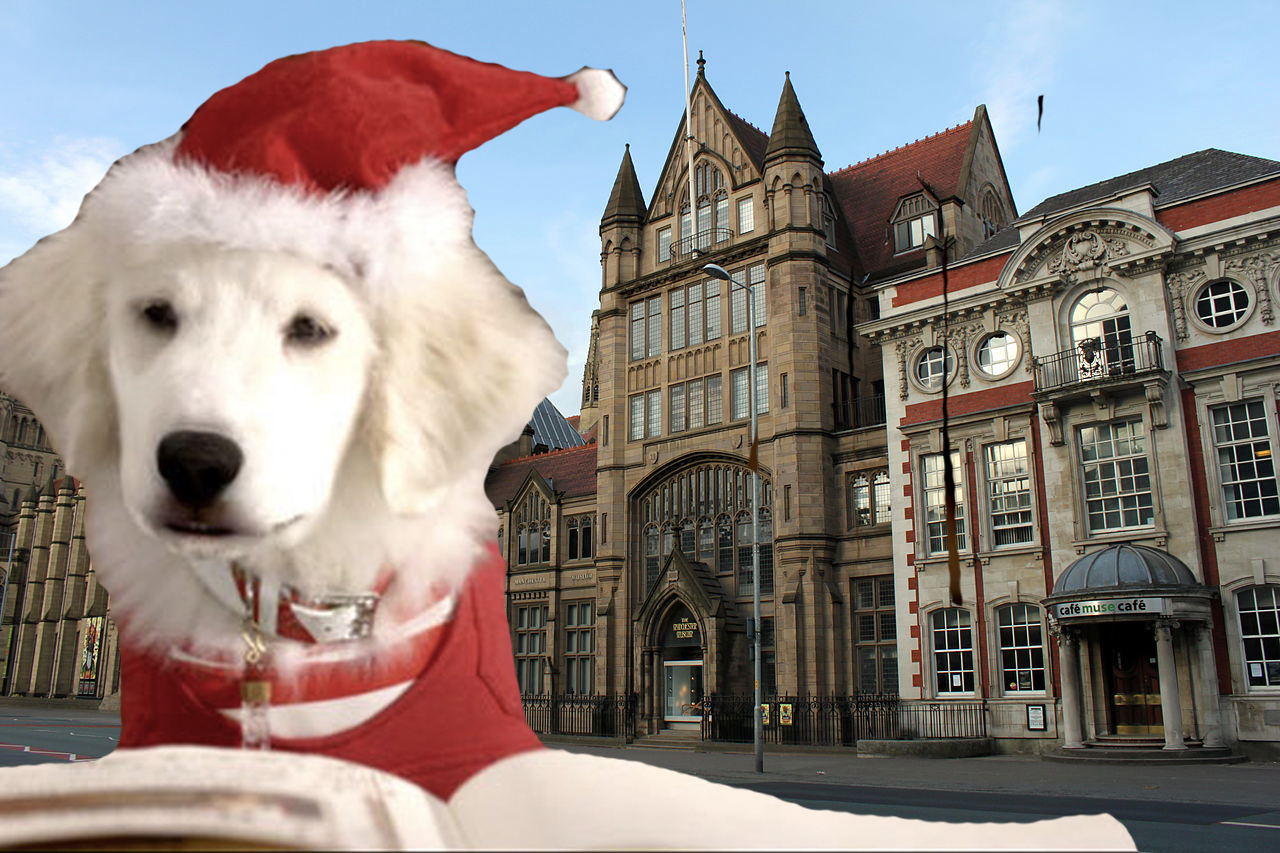 Man Met – The Search for Santa Paws
If ever there was a uni which could be described as "straight-to-video," this it.
Salford – Santa Paws 2: The Santa Pups
Because just when you think Met is the worst uni in Manchester, this comes along.
Newcastle – Love, Actually
Much like the UK's finest Christmas export, your average four weeks in Jesmond will consist of a large, incestuous group of posh Southerners shagging each other and generally making bad relationship decisions.
Spend a night upstairs in Swingers and you'll see that love actually is all around.
Northumbria – Four Christmases
Much like this different-storylines-woven-together film tries to be as good as Love Actually, Northumbria tries to be as clever and cool as Newcastle.
And while a night out on the toon and a night on the sofa watching Four Christmases is alright and doesn't require a lot of effort, it's just not the same, is it.
Trent – Home Alone
If there's one word to sum up Nottingham Trent, it's mischief. Finally away from their parents, they can set apart creating mayhem in the only way they know how: shagging, drinking, and placing elaborate networks of increasingly complicated booby traps.
Nottingham – Home Alone 2: Lost in New York
It's more ambitious, it's got bigger names, there's more money behind it – but it's just not Home Alone, is it?
Warwick – The Nativity Story
You know that it's supposed to be good but you just can't be arsed actually watching it or going there. And the last exciting thing that ever happened to people in Leamington Spa was probably the actual birth of Jesus Christ.
Sussex – Jack Frost
When you look into your mirror on a cold winter night and see an anthropomorphic snowman staring back at you, you'll realise it's finally time to curb the legal highs.
Leicester – National Lampoon's Christmas Vacation
You only came here to do American Studies so you could do some sort of USA road trip, and now you're stuck in a years-long saga of mind-numbing buffoonery.
Exeter – Barbie: A Perfect Christmas
In this Christmas film, blonde, vapid Barbie and her equally blonde, vapid sisters are stuck in the countryside (presumably Surrey) where they make friends with whimsical animals (presumably horses) because bad weather means they can't go to New York for the holidays ("But why daddy! I wanted to eat bagels and go to the Met! Get British Airways to upgrade us then! This is just like last year when it snowed too much to properly enjoy Val-d'Isère!").
And if that light smattering of existential angst doesn't exactly resemble a conversation you've had with literally anyone who went to Exeter University, we don't know what will.
Falmouth – Christmas Eve on Sesame Street
It's just arts and crafts and puppets isn't it.
Bristol – The Nightmare Before Christmas
Bristol like to think of themselves as a bit different don't they. A bit off the wall, a bit more creative than your average druggy posh uni. So it makes sense that they wouldn't be your average Christmas film.
Plus the entire sketchy stop-motion world of Nightmare Before Christmas, pale and trippy and devoid of any joy, is just how your average Bristol student sees the world after a heavy one at Motion.
UWE – Krampus
Same Bristolian horror vibe, much shitter.
QUB – Elf
Buddy's wide-eyed excitable journey to the big city, where he doesn't get everything exactly right, is also the journey of every single culchie when they make their way to Belfast for uni.
Yeah, they might eat Boojum and maple syrup for every meal and they whether it's a green elf costume or tatty old GAA gear they don't dress properly and neither of them know how to properly act in polite, modern society, but they're trying their best, so it's hard not to love them for it.
Cardiff – Bad Santa
Bad Santa would like to think it's a naughty, wild, classic Christmas film, just like Cardiff think they're a wild uni, but still classic and respected enough to be in the Russell Group. They're not.
Swansea – A Very Harold & Kumar Christmas
Somehow more dumb than Cardiff.
York – Arthur Christmas
Boooooooooring.
St Andrews – A Christmas Story
You know it's one of the big ones, and you know it's meant to be good. You just really don't fucking care about it, not one bit.
Aberystwyth – The Polar Express
The whole fucking film is a journey to a cold frosty land in the middle of nowhere, to the point where by the end you're not sure why you even wanted to watch it in the first place.
Which is how Aberystwyth students must feel on their long journey to a uni in the middle of nowhere that they don't even really want to go to.
Loughborough – Santa with Muscles
Just your average night out in Luff.
UEA – The Grinch
The students of UEA are essentially the Whos of Whoville – gaudy, twee little folk who spend their time drinking colourful alcopops and dancing gleefully at the LCR.
However spying down from their twisted peak are the Student's Union, who won't stop until everything that could be somehow, somewhere in some way be offensive is banned. They're the Grinches who stole sombreros, if you will.
Birmingham – The Santa Clause
Pretty middle of the road, isn't it? Don't get us wrong, Birmingham isn't a bad uni – it's just that, if you made a film about Birmingham Uni, it would probably be played by someone really bumout like Tim fucking Allen.
Aston – Fred Claus
Birmingham's less intelligent younger brother, Fred/Aston wants nothing more than to piss about with the elves/get pissed at the Gosta. When they end up having to take on some actual business responsibility, they are not going to be happy.
Edinburgh – The Snowman
Important, yes. Innovative, yes. One of the best? For sure. Still doesn't mean you'll admit to enjoying it as a fully-grown adult – not if you want to keep some semblance of cool, that is.
Glasgow – Frosty the Snowman
It's like Edinburgh, but colder, dancier and with more white powder.
Stirling – Rudolph the Red-Nosed Reindeer
Stirling, the Scottish uni,
Don't offer very good degrees,
But the Thursdays they hold at Fubar,
Still go down in history.
Strathclyde – Jingle All The Way
Sorry, Arnold Strathnegger, but nobody can understand a fucking word you are saying.
Lincoln – Gremlins
Obviously.