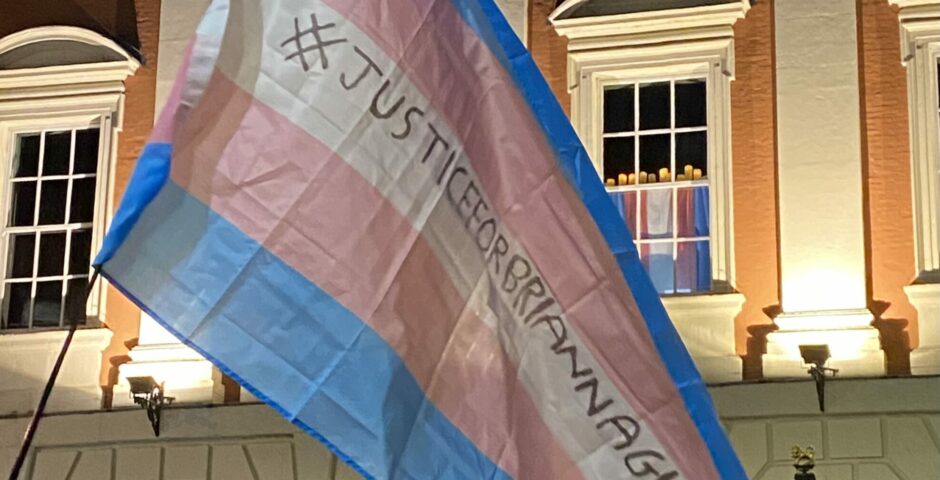 'Let's fight for a future where this doesn't happen': Vigil for Brianna Ghey held in York
'Rest in power Brianna. Rest in power to all the trans people who have died without us knowing them'
On Friday 17th February a vigil was held in honour of the murdered transgender teenager, Brianna Ghey in York's St Helen's Square.
The vigil, attended by members of the LGBTQ+ community and allies of York, was held to mourn the death of Brianna Ghey and to commemorate her life. The vigil was a safe space where everyone could come together and have something positive to hold onto in the wake of this tragedy.
This comes after similar vigils and protests around the country following Brianna Ghey's death, raising awareness of the realities of  trans rights in the UK.
Brianna Ghey was a 16-year-old transgender girl who was tragically murdered in Linear Park in Culcheth, Warrington on the 11th of February. Two 15-year-olds have appeared at Liverpool Crown Court and been charged with her murder. She was described by her family as "strong, fearless and one of a kind" with a "larger-than-life character"
The vigil was organised by The Portal Bookshop, York LGBT Forum, and Wolds Pride. The vigil began with Crow Rudd, one of the organisers, speaking to the crowd and highlighting that the vigil was not only a place to mourn Brianna but also to show support to all those faced with hate for being trans. They said: "The climate of trans acceptance is not great and in the wake of the tragic murder of Brianna, it felt right to gather us all together."
A member of The Portal Bookshop then shared some words. After thanking everybody for coming they addressed the trans people in the crowd: "We need you to stay. Don't get discouraged, because this is what happens when we lose one of you." They urged: "Adults, keep an eye out for the young people and reach out and offer support because we have to take care of one another. We need to stand together. We need allies. We need people to keep speaking up. We need the allies to challenge transphobia."
Jacob from York LGBT Forum then made a speech. He said: "As a non-binary queer person of colour from Warrington, where Brianna was sadly murdered, I am honoured to be here and see such an amazing turnout." They continued: "This vigil is a way to remember Brianna and the light that she shone in the trans community in Warrington. She was brave, and a leading light amongst the trans people."
One of the organisers spoke about the threats to trans rights, highlighting the varying levels, starting with the legal threats, saying: "We are faced by threats from the government and the media."
They continued: "We all have to stand together. If we don't there will be more vigils and fewer of us here."
They ended by saying: "Rest in power Brianna. Rest in power to all the trans people who have died without us knowing them. Let's remember the dead and fight like hell for the living. Let's fight for a future where this doesn't happen."
Adam, the final organiser, told the crowd how honoured they were to be able to speak and how tired they are of fighting back. They said: "I'm tired of seeing this hatred and I'm tired of people being hurt every single day. I hope everybody gets some sort of comfort tonight. We as organisations will keep fighting back and celebrating ourselves."
Following the organisers' speeches, an open mic was held for others to speak on this subject. Over 15 people shared their views and many spoke bravely about personal experiences.
One York student shared how their "nightmare has come to life".
One speaker, who travelled from Leeds to come to the vigil, celebrated trans people by saying: "It is amazing how the trans community has globalised. It is horrible to know that something like this could happen again."
They added: "We know what it is to be erased in our life, but we also know what it means to be erased in our death", referring to the media misgendering her and using her pre-transition name.
One attendee, Alice, stated how she has experienced "harassment, ostracisation, exclusion, isolation, violence" so often as a trans woman just for being who she is. She noted: "I have been a victim of this oppression my whole life and it has nearly killed me a fair few times and my mental health is severely affected by it. Unity has and always will be the greatest strength of the LGBT community."
Jessica, a student from the University of York, bravely spoke about Brianna, who she knew personally from also living in Birchwood.
She said: "I am ashamed to come from Birchwood because we as a community should be so much better. We should be protecting her and people like her. Brianna was one of a kind. She spoke about very important matters. She used what people thought was a weakness as her strength. She created this community.
"It is amazing that we have gathered all here today. I want to assure you that as someone from Birchwood that this will not happen again. We work very closely with the LGBTQ+ community but this is a national and worldwide problem. This is a very important section of society being targeted for wanting to be happy and everybody has the entitlement to be happy in this life."
Some of the speakers took a political stance. One urged the people at the vigil to think about which candidate will represent them best when they vote, whilst another mentioned how York has been voted a "trans friendly city" with all councillors, bar one, voting in favour of this.
After a few more speakers the vigil came to an end with everybody placing their lit candles in a group on the floor of St Helen's Square in an effort to present the togetherness that the vigil proved, and a minute's silence for everyone to mourn, and pay their respects to Brianna Ghey and her family.
Related stories recommended by this writer:
• 'Light up the Night' March held at Uni of York for Sexual Violence Awareness Week
• Inside the University of York's first ever BAME creative showcase
• The next two weeks of strikes at Uni of York have been called off