Dear Love Island, sleeping with lots of people isn't a big deal so stop making it shameful
Tyrique was branded 'disgusting' for taking home over 100 women
Love Island has been back on our screens for exactly two episodes and, already, there's a lot of slut-shaming going on. Predictably, when Catherine revealed she'd once kissed five men on a singular night out she got sideways glance judgement from all the boys. Almost (problematically) more so than when Tyrique admitted he'd slept with roughly 100 women, which is when Twitter truly exploded in aghast horror.
"Tyrique's body count is over 100?????" questioned one viewer. "Over 100 bodies is nasty work," added another. "A hundred plus body count at 22 is too crazy and disgusting. Ewwwwww," echoed a third. But, honestly, what is the big pearl-clutching deal? Why are we so anti promiscuity? Shagging around is great.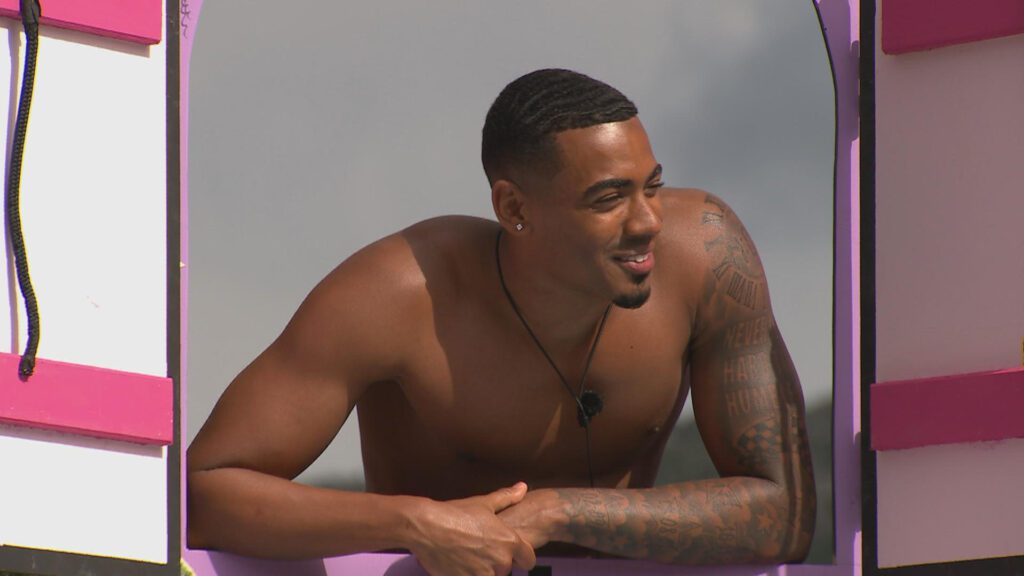 Tyrique, let's say, has been active since the UK's legal age of sixteen. That means he's slept with roughly 17 women per year. Meaning, one or two a month. Realistically – I know – it wouldn't have panned out this neatly. But even if he slept with the bulk of his conquests between 19 and 22, he's still only really averaging one partner every fortnight. For someone hot, single and socialising— that's unproblematic.
On a purely scientific basis: sex is good for us. Orgasming with another person helps you sleep better, weekly shagging boosts your immune system, reduces period pains and migraines, while men ejaculating 21 or more times a month reduces risk of prostate cancer. At its most vigorous, sex is also considered exercise.
From a romance perspective, it can also be fucking (sorry) great dating someone with a high body count. They're more than likely going to make you cum and will have actual bedroom confidence rather than boy's boarding school sex shame and repression, which causes men to move their body like an ironing board.
"Exploring different dynamics and connecting with diverse individuals can lead to a better understanding of one's own desires, boundaries, and sexual preferences," Heart Bingo's relationship expert and co-founder of dating site So Syncd, Louella Alderson, tells The Tab.
But using protection, honest communication and establishing boundaries with the people you sleep with are key to having multiple partners, Louella explains. "There's no right or wrong approach as long as the decisions are coming from a place of confidence and they respect all the parties involved."
And, despite many Love Island fans' assumptions, having slept with a lot of people in the past doesn't make you a bad person or partner, Louella affirms: "We are all on a continuum of valuing novelty vs. security, which varies for each of us within different areas of our lives," she says. "In general, people who seek novelty tend to have more sexual partners, and there is a higher chance that they innately feel less satisfied committing to one person for a long period of time.
"Past behavioural patterns tend to impact how we act in the future," she adds. "In short, it's logical that people who've had more sexual partners in the past are more likely to want more sexual partners in the future. Of course, this doesn't mean that people who've had many sexual partners can't sustain a committed and satisfying relationship when they find the right person, though."
Yet, every single year on Love Island, producers place the body count question into a challenge precisely to evoke the horrified and shocked reaction from the public we've seen in response to Tyriqe's sexual history. If dating someone who has a lot of conquests isn't for you, fine. But don't shame the people who enjoy the art of pulling. As long as they're respectful and have their STI checks in order, it's really neither here nor there.
Let the sexy single people live.
Love Island 2023 is on ITV2 and ITVX. For all the latest Love Island news and gossip and for the best memes and quizzes, like The Holy Church of Love Island on Facebook. 
Related stories recommended by this writer:
• Ok, was Ruchee actually in a relationship when she applied for Love Island? 
• Enough is enough, George Fensom should never have been allowed in the Love Island villa 
• Right, this is how good Tyrique from Love Island actually is at football