Harrison admits he stayed on Married at First Sight Australia for 'exposure'
Married at First Sight Australia 2023 groom Harrison Boon has admitted he decided to stay on the show for exposure. Harrison was matched with Bronte during the experiment and they did not get off on the best foot which set the tone for the rest of their relationship.
The show has now finished airing in both the UK and Australia and so that cast have been spilling everything there is to know about the experiment and their time during.
In an Instagram Q&A, Harrison was asked by a follower if he and Bronte stayed together to be on the show for longer and for exposure and he admitted that was for the case, for him anyway.
He responded: "In the end I stayed for more exposure. Was it worth it? No."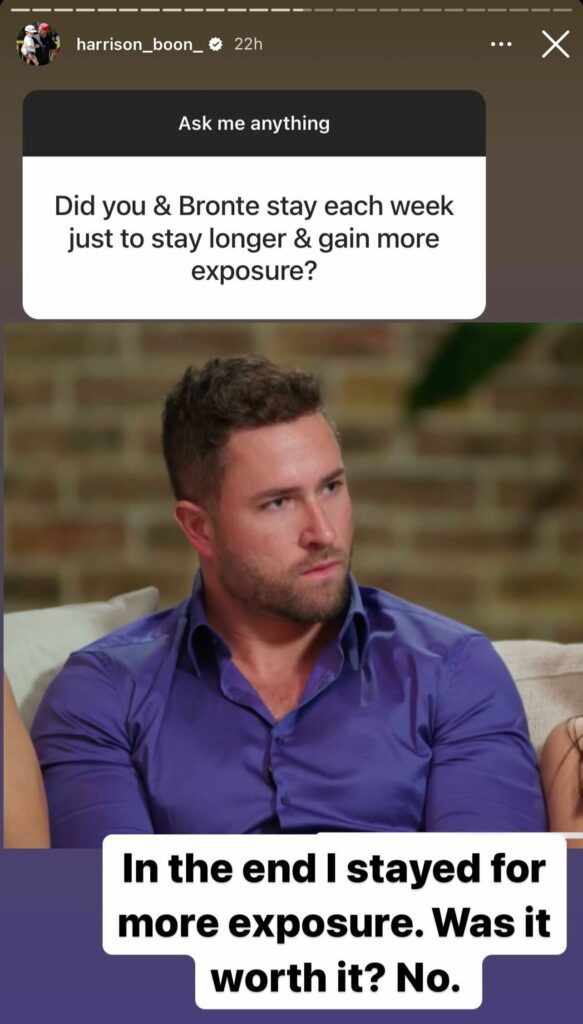 Bronte has also been quite vocal about her time on MAFS Australia with Harrison, claiming it wasn't a "true representation" of their relationship.
When asked by a follower during a Q&A if there were any moments she wished viewers got to see but never did, Bronte said her whole relationship with Harrison on MAFS Australia.
"All the happy moments of H and I were completely cut out, it wasn't a true representation at all, (only bad parts)," she began, continuing: "Which is why it looked SO bad when I stayed because it looked it inauthentic and fake when it was far from it!"
For all the latest Married at First Sight Australia news and gossip, iconic memes and the best quizzes, like The Holy Church of MAFS on Facebook.
Related stories recommended by this writer:
• Need to fill the MAFS Australia hole in your heart? Here are shows you can watch instead
• A roundup of the most wholesome pics from this year's MAFS Australia couples
• MAFS Australia icon Jessika Power calls out Tayla over her claims of an 'unfavourable edit'
Featured image credit via Nine Network Australia.