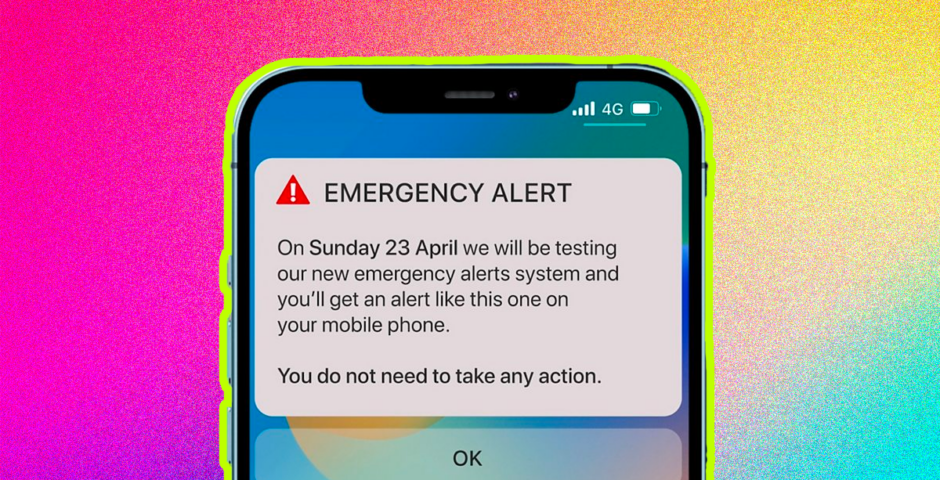 Everyone in the UK to have emergency alert on their phone this weekend – here's what to know
The sound is alarming, that's for sure
This weekend, everyone in the UK will have an emergency alert come through on their phone. Emergency Alerts is a UK government service that will warn you if there's a danger to life nearby.
In an emergency, your mobile phone or tablet will receive an alert with advice about how to stay safe. This weekend is a test of the feature, which in the future will see people get alerts based on their current location.
For the test, the public does not need to take any action. But here's exactly what you need to know, ahead of it happening.
The emergency alert will go off on every phone in the UK this weekend
The emergency alert will go off on every 4G and 5G phone across England, Scotland, Northern Ireland and Wales this Sunday (23rd April) at 3pm.
Emergency alerts will only be sent by the emergency services, or government departments, agencies and public bodies that deal with emergencies. Alerts will only come to you based on your current location – not anywhere you may have set as your "home" or "work" location within your phone.
What will the alert sound like?
The emergency alert will sound much like a siren, and will go off even if your phone is on silent. Your phone will also vibrate for around 10 seconds.
The alert will say: "This is a test of Emergency Alerts, a new UK government service that will warn you if there's a life-threatening emergency nearby. In a real emergency, follow the instructions in the alert to keep yourself and others safe. Visit gov.uk/alerts for more information. This is a test. You do not need to take any action."
Here's exactly how it will look and sound:
The sound during the test will automatically stop after 10 seconds. All you need to do is swipe away the accompanying message.
Why is the emergency alert happening and what is the test about?
The alert is happening to test the feature for future use. In the future, you may get alerts about things such as severe flooding, fires and extreme weather. Emergency alerts enable urgent messages to be broadcast to a defined area when there is an imminent risk to life.
The government has said the alert system "will transform the UK's warning and informing capability; by working with mobile broadcasting technology it will provide a means to get urgent messages quickly to nearly 90 per cent of mobile phones in a defined area when there is a risk to life, and provide clear instructions about how best to respond."
How to deactivate the UK emergency alert on your phone
It is possible to opt out of emergency alerts. You can simply turn your phone off, and it won't come through this weekend, or more long term, you can switch off emergency alerts in your settings – but this does mean you are switching off alerts for potentially life threatening incidents happening near you.
If you are in an abusive or unsafe relationship and have a second, hidden, phone, remember to turn it off for the alert this weekend.
How to turn off emergency alerts on an iPhone:
• Open the Settings app
• Tap the Notification menu and scroll to the bottom
• Toggle off Emergency Alerts and Severe Alerts.
On an Android, head to Settings > Safety and Emergency > Wireless emergency alerts, and then switch off "allow alerts".
Related stories recommended by this writer:
• Who exactly is Olympia Anley? The 'tone deaf' Bristol student shaming people's food shops
• Guys, BeReal will now add the song you're listening to on Spotify when you post
• 'Emotional warfare' and $50k fine for leaving: Love Is Blind stars speak out about the show