The 20 greatest fashion moments from Drag Race UK season four, ranked
Sminty Drop twerking and crying dressed as a moth was better than anything at London Fashion Week
If there's one defining quality that sums up season four of Drag Race UK, it was that the gagworthy fashion was off the absolute charts. On press day way back in September, Jonbers told a group of us journalists that this was going to be the season of looks and she absolutely was not messing around – this season had so many great runways and fashion moments in and out of challenges. Now the season's all done and wrapped and Ru's crowned a winner, here's my look back at the 20 greatest runway looks and fashion moments from season four of Drag Race UK, ranked!
20. Black Peppa's entrance look
This look was so good because of the way Peppa sold it. She stormed in with a face reveal under a mask modelled after her face, whipped her hair around like her life depended it and then modelled on top of the taxi with the kind of ferocity that had the other queens quaking. What an entrance!
19. Starlet's finale look
Starlet's drag was impeccable every time we saw her in anything, but no look slayed harder than this meticulously extravagant masterpiece that was literally bigger than the entrance to the runway.
18. Danny Beard's finale
Seeing the Liver bird represented on the Drag Race UK main stage by a Scouse winner that our city is so proud of thrills me more than you could ever know, tbh. The hair going into the makeup lines of the face? Amazing.
17. Danny Beard's Ruff and Ready look
Another ode to Scouse culture, the iconic Grand National at Aintree. The Viv served similar in season one, but Danny levels it up further with this stunning colour and beautiful construction. Her mug has never looked more gorgeous, and love the wig. Everything about this just pleases my eyes.
16. Baby and Dakota Schiffer's design challenge looks
Gorgeous, gorgeous girls gobbling up the design challenge and swiping victory in simple but effective Versace-esque print looks? Oh, yes. This picture gives me so much serotonin.
15. Jonbers Blonde Ru Are You look
I wholeheartedly believe that this is the most underrated runway look of the season. It's so cool!
14. Le Fil's West End Wonders look
Le Fil's tribute to The King and I is so ornate and detailed, you could just feel how incredible he felt wearing it and serving it with such drama on the runway. Every aspect is so well thought out and beautiful.
13. Sminty Drop's finale look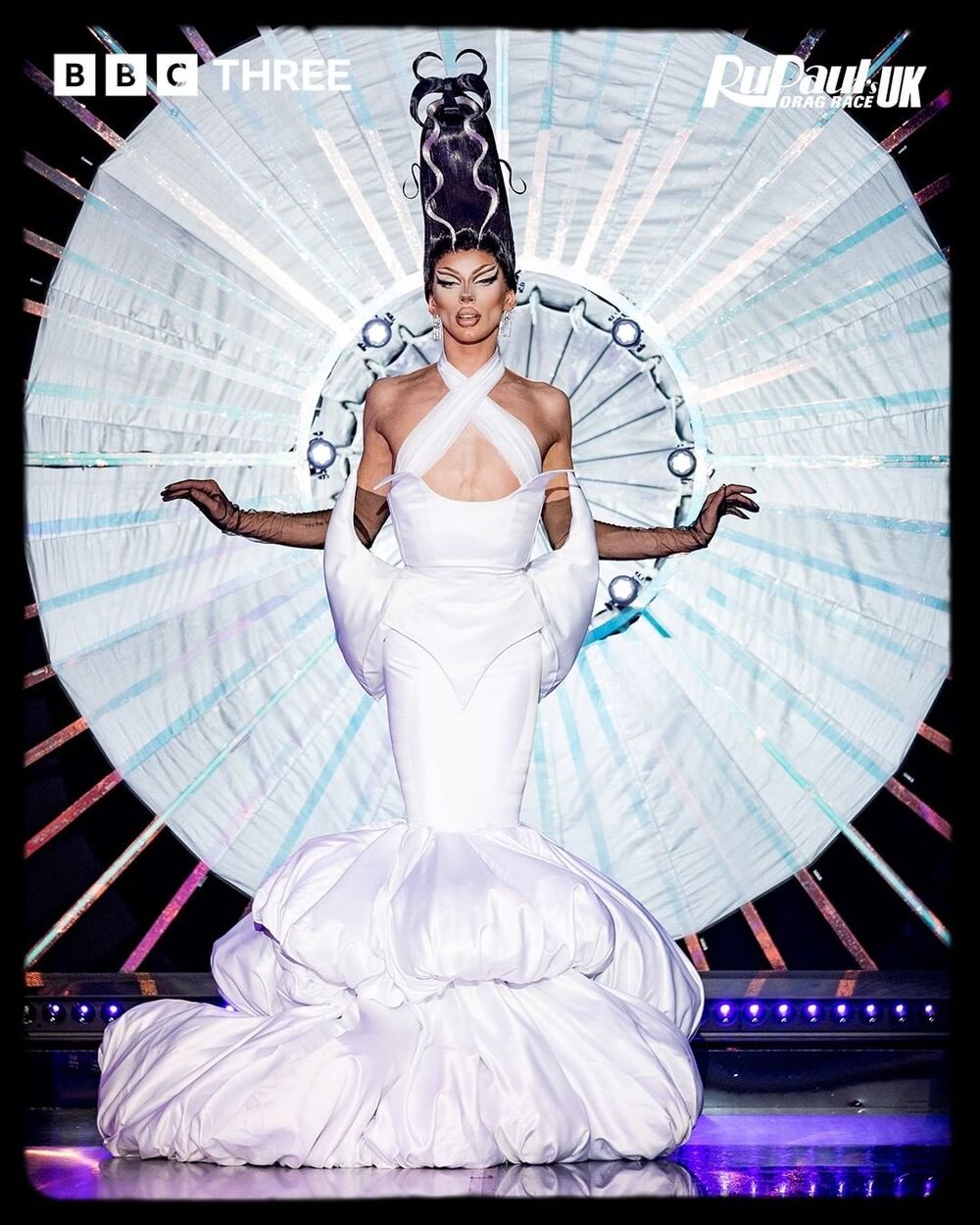 I'm a huge horror fan, so any reference to classic horror is a sure fire way to get yourself ranked amongst the best fashion moments of Drag Race UK season four to be honest! Mary Shelley is tooting this Bride of Frankenstein slay from beyond the grave.
12. Sminty Drop's entrance look
OKAY MOTOMAMI! Rosalía retired from the Motomami world tour after she saw Sminty clear her with this entrance look. It pains me every day how early Sminty left this season.
11. Jonbers Blonde's Ruff and Ready look
I mean, when RuPaul basically tells you it's one of the greatest runway looks to ever be on Drag Race you must literally ascend to another dimension. The colours Jonbers chose here are just delicious to me.
10. Sminty Drop's Ru Are You look
The clashing contrast of the period dress with the shine of the vinyl is my reason for living. An astronomical slay.
9. Cheddar Gorgeous' finale look
Cheddar Gorgeous' branding as a goddess alien queen has never been more fully realised than this showstopping finale extravaganza look. The detail in the face and the iridescent colour making her look like she's just emerged from intergalactic oil? Perfection.
8. Cheddar Gorgeous' Tickled Pink look
Dr Cheddar Gorgeous never failed to bring her thoughtful and wise intelligence to everything she did across this season, and her powerful pink triangle look that paid tribute to the ACT UP movement and the fight against stigmas surrounding HIV really showcased how artists cast on this show can take important issues and can educate mainstream audiences on queer issues through their drag.
7. Black Peppa's Pretty in Punk look
The more I look at this Black Peppa look the more I am absolutely obsessed. All the pieces compliment each other so well. The matte silver with the shiny panels and then that makeup style? Heaven.
6. Dakota Schiffer's Neon Nights look
Nerds really won with this one. Dakota Schiffer paid homage to Pokémon for her Neon Nights look, and I cherish it so much. The colour, the reference, the detail, THE COAT. I need that puffer in my life.
5. Sminty Drop's Mane Event look
The insect world never recovered from this. Moths bowed down at Sminty's feet and then cheered when she cried and twerked her way back to Manchester.
4. Black Peppa's Neon Nights look
I don't know if it's just me who adored this to the level that I did, because I didn't see much stanning for it when it aired in episode two, but I think this was the best Black Peppa looked all season. The dress itself is so gorgeous – LOVE the angular hip. It feels like the future – and the huge hair and hat and monochromatic colour scheme just are absolutely 10/1o for me.
3. Sminty Drop's BBC Keeping it 100 look
The Manchester Mannequin truly had the dolls panicking when THIS stepped out for the first runway of Drag Race UK season four, a showstopping fashion moment that's as breathtaking as it is baroque. It's SO good.
2. Cheddar Gorgeous' Neon Nights look
I mean, COME ON. This is artistry on the level of someone like Björk – artists who have a budget about 100 times bigger than Cheddar's. Psychedelic, fascinating and unmistakably Cheddar Gorgeous – nobody else in this competition could execute a look like this. Outstanding.
1. Danny Beard's West End Wonders look 
END OF!!!
Rewatch all the legendary fashion moments from Drag Race UK season four on  BBC iPlayer.
All images courtesy of BBC.
Related stories recommended by this writer:
• Just May on what it's like to be the first Drag Race UK season four queen to sashay away
• Starlet was the second queen to sashay away last night, here's what she has to say about it
• Pixie Polite from Drag Race UK was in a relationship with season two queen Tia Kofi