'None of us feel safe': Trans activists at Downing Street conversion therapy protest
The government is banning gay conversion therapy – but the ban won't protect trans people
Today, hundreds of trans rights activists and allies gathered in Westminster.
Organised by group Trans Activism UK, the Not Safe To Be Me protest saw hundreds stand against the UK government's exclusion of trans people from the ban on conversion therapy.
Earlier this year, the government decided to go ahead with its promise to ban conversion therapy, after years of planning. However, the ban will only cover gay and bisexual people, and will not protect trans people from the harmful practice.
TW: Discussion of conversion therapy practices, mention of suicide
One protestor, Daniel, told The Tab: "I've had a version of [conversion therapy] myself, but that was quite a long time ago. That was a time when there was a kind of accepted narrative that trans people were 'deluded', so the first line of treatment for me as a young trans person was anti-psychotic medication. And it was a fight to get out of that system, and to get access to the treatment that's allowed me to live my life."
Daniel is now a trainee therapist, mostly working with trans and non-binary clients, and work using a model which "allows for exploration of people's identity, doesn't shut down any options. And I very much support a full ban of conversion therapy, which includes trans people", they told The Tab.
"I think the term 'conversion therapy' is a misnomer, because we're not talking about anything that I would recognise as therapy. We're talking about practices which have one outcome … and that is for the person to desist as identifying in the way they identify, whether that's sexuality or gender identity. And for me, that's as far away from therapy as you can possibly get."
Callum and his friend are calling for a full conversion therapy ban, including trans people. They want it to stop people being "completely mentally scarred" by the harmful practise, and being "not able to live their lives after going through modern day torture", they told The Tab.
"Anyone who is going through conversion therapy right now or who has ever gone through it – there's nothing wrong with you. At all. Whatever you choose to be, conversion therapy just teaches you it's wrong, but it's not and it makes me really sad that people get kicked out of their homes or forced to go to those places. It's horrible it still happens in this day."
They then pointed to Downing Street, across the road, and said: "Boris, if you see this, fuck you."
Ali, who is non-binary and trans, told The Tab: "I don't feel like trans rights are being supported in this country." In a conversion therapy bill, Ali would like to see the practice entirely eradicated for all. "No one needs to be forced through traumatic experiences and be forced to change who they are… Let people be who are they are." Ali's been "disenfranchised by politics" and thinks no one "really represents us to the fullest extent."
Jack, who is trans and non-binary, said they feel protesting is "the only way the government will listen", and they're prepared to "keep doing it until they listen to us, eventually". They told The Tab: "I think it is absolutely ridiculous that trans people have specifically been excluded from the bill, it's not like they were forgotten to be included. They've gone 'we'll ban it for everyone else, but specifically not you', which is what's made it 10 times as hurtful.
"None of us really feel safe, and it's gonna make it a lot harder to be trans in the UK now," Jack says. "By definition we are a minority, and we all know that if you don't get in parliament you don't really get listened to."
Here's everything that happened at the protest:
The protest began at Parliament Square, by the Houses of Parliament, before being moved to be by Downing Street, spurring an impromptu march.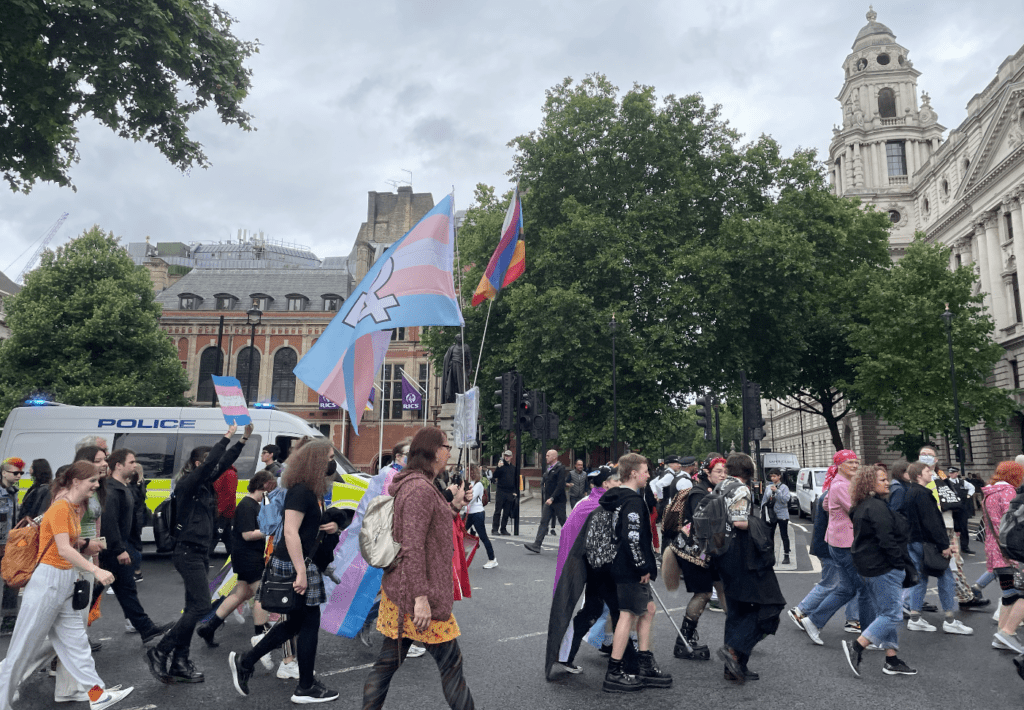 Signs included slogans such as "Ban conversion therapy for all LGBT+", "It's not therapy, it's torture", "The future isn't binary", "No LGB without the T" and "Trans feels like home".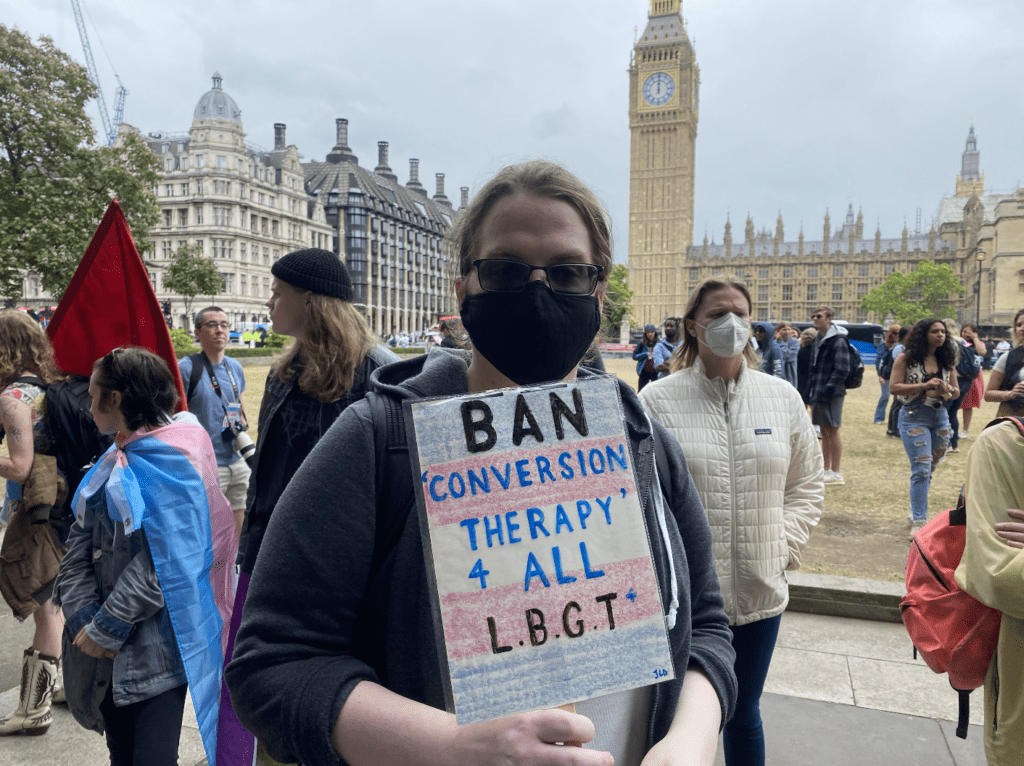 By Downing Street, protesters chanted, gathering to listen to speakers.
There were chants of "Ban conversion therapy", "Trans women are women, trans men are men, non-binary is valid", "What do we want? Trans rights! When do we want it? Now!", "Trans rights are human rights", "Protect trans children", and "Ban conversion therapy, chuck the Tories in the sea".
Speakers by Downing Street included asexual activist Yasmin Benoit, and Matt Mahmood-Ogston, founder of the Naz and Matt Foundation. In 2014, Matt tragically lost his partner Naz to suicide, two days after Naz's religious family found out about their relationship and confronted him about his sexuality.
For anyone needing support, the National Conversion Therapy Helpline is open on 0800 130 3335 and [email protected].
If you or someone you know has been affected by this story you can contact Switchboard, the LGBTQ+ helpline, on 0300 330 0630 or visit their website. You can also find help through young people's charity The Mix, and Galop, the LGBTQ+ anti-violence charity. 
Related stories recommended by this writer:
• 'It's upsetting and disgusting': Young trans people on the muddled conversion therapy ban
• Conversion therapy ban will go ahead but won't cover trans people
• Trans conversion therapy survivor was strapped to a chair and electrocuted repeatedly