The final 10 queens of Drag Race UK season three, ranked by who's most likely to win
Only one of them can get that crown
Two weeks into Drag Race UK season three and we've already seen two great queens sashay away. The final 10 are strong, and each brings something completely different to the table. It really does feel like it's anyone's game, and this is the official power ranking of all the queens still vying for the Drag Race UK season three crown, according to their track record so far. The power ranking takes all performances so far into account, like whether a queen gets high critiques or low critiques, if they've won a main challenge or if they've been in the bottom two.
Based on statistics, facts and SCIENCE alone, here's the current power ranking for Drag Race UK season three.
10. Vanity Milan
Sadly, in last place so far is Vanity Milan. I love Vanity and think she really has the talent and skills to change this all round and become a frontrunner, but so far she was safe on week one and then lip synced for her life on week two. She slayed that lip sync, and is clearly a great performer, but needs some wins and high placements to get up the ranking.
9. Charity Kase
Charity Kase has certainly been bringing the outlandish looks to the season so far, but has failed to fully win over the judges so far. Her high concept horror looks from week one got her safe, and her performance in Dragoton where she completely fluffed every dance move in the routine landed her in the bottom three, and she just narrowly avoided lip syncing.
8. River Medway
River Medway has quickly become a fan favourite on Drag Race UK season three, but power ranking wise she's falling near the bottom. On her first week, her charm and humour with THAT iconic point got RuPaul howling with laughter. She sold the garment even though the garments were lacklustre, and it pulled her through. Week two and River did a much better job, with her runway honouring that messy, Anna Nicole Smith style of red carpet look. River is so likeable, here's hoping she's on an upwards incline with her critiques from here on out.
7. Ella Vaday
Ella Vaday has done a completely decent job so far on Drag Race UK season three, but she's just not yet had that push over the edge that's got her high critiques or a win. Two solid safe weeks. Ella is so gorgeous, and her red carpet runway for episode two especially was immaculate. She just needs a few good weeks in the coming episodes to climb the ranking.
6. Choriza May
It breaks my little gay heart I can't put Choriza May at one on the Drag Race UK season three power ranking, because she is MY winner. She won the crown for me when she said the immortal words that were her entrance line. I also really believe she should have been in the top with high critiques for both weeks so far! But alas, Choriza has only been safe thus far. Here's hoping she gets some big wins in the future because let's face it, she deserves it.
5. Scarlett Harlett
Scarlett Harlett had a strong week one, with both her Queen Elizabeth I hometown look and her music look going down really well with the judges. Her week two was just a safe one, but she seems like a talented queen with a lot to give and a lot of talent across the board. A couple more high placements and a few wins will see her climb the power ranking.
4. Veronica Green
The returning queen of season two Veronica Green is off to a steady start with her Drag Race UK season three run. She's gone from safe in week one to high in week two, impressing the judges with her Dragoton performance and her Kylie Minogue 80s vibe red carpet. Veronica was a clear frontrunner before Covid halted her season two stint, and at this rate she's going to repeat that success on season three.
3. Kitty Scott-Claus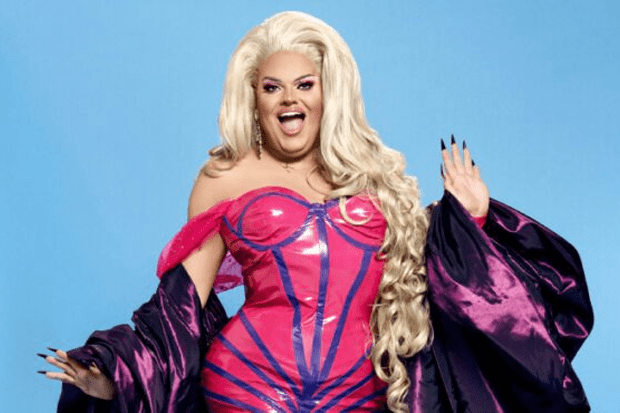 Kitty Scott-Claus is proving herself to be the full package, and after a safe and a high placement I hope she continues her upwards climb. Sure, her week one runways were a bit meh. But she was the funniest by far in Dragoton and was the only queen along with Choriza to get a belly laugh out of me. Her Marilyn / Material Girl runway was a safe option, but a gorgeously executed one. I'm dying for more Kitty. I see her in the top four!
2. Victoria Scone
Victoria Scone is making herstory, and there's no question in my mind that she's going to continue on her route to the top four if her amazing performances so far are anything to go by. But, there's a but. The injury! The cliffhanger! Is Victoria Scone going to be back on week three or will she have been deemed to injured to continue?! I hope she stays to dominate. She deserves it, and is surely going to be a threat to that crown.
1. Krystal Versace
The youngest queen on Drag Race UK season three is sitting comfortably at the top of the power ranking with two wins under her belt. Krystal Versace is yet to statistically make an error yet, getting overwhelmingly good critiques from the judges and if she carries on down this route she'll be unquestionably in the final.
For all the latest Drag Race UK memes and Netflix news, drops and memes like The Holy Church of Netflix on Facebook.
Recommended stories by this writer:
• We spoke to Drag Race UK's Anubis about her early exit and if there's a 'Brighton curse'
• These 19 Drag Race UK season three memes prove why it should be on all year long
• We spoke to all the new queens of Drag Race UK about what we can expect from season three