Thank you RuPaul's Drag Race: The show that brought LGBTQ+ stories to mainstream TV
'Having something so unapologetically queer is a breath of fresh air'
It is 12 years since our beloved RuPaul Charles, a maverick behind the global drag revolution, made herstory in series one of RuPaul's Drag Race. From the get-go, the show never strayed far from its roots of gender-bending queer artistry and flipping the dichotomies of masculinity and femininity.
However, 12 years and a global franchise later, Drag Race is now tethering closer than ever to being a household name. While we all clear our Thursday night schedules to watch the new episode of Drag Race UK, this is a wonderful indictment of how far we have come in accepting LGBTQ+ identities.
RuPaul's Drag Race has been a fantastic platform for raising issues which impact our community to the public eye. Only last week, two of our favourite queens of Drag Race UK, Bimini Bon Boulash and Ginny Lemon, had a heartwarming conversation about their non-binary identities. In parallel to this, series 13 of Drag Race US has seen the first transgender man on the show, and whilst this was delayed it was nonetheless welcomed by the wider community.
Drag Race has raised LGBTQ+ issues to an audience who may have never considered them, and so ultimately has been a force for good. As queer people, we owe Drag Race a degree of gratitude. As the show continues to grow and more LGBTQ stories continue to be told, we reflect on what this show has done for so many people.
Ru pioneered and pushed for our representation in TV
River is a drag queen and in her third year at Salford University. River is studying TV and radio production but has been involved with drag for four years now. River told The Tab: "Drag Race is important. Drag Race is important to queer culture, and I personally am thankful for it.
"There are plenty of gay people working in television but Ru was the one who pioneered and pushed for the representation we take for granted nowadays. Season one of Drag Race was the largest collection of drag queens on a single programme."
However, reflecting on issues like the show taking 13 seasons before allowing a trans contestant to take part, River said: "Whilst the show isn't perfect, it shines a light on issues usually too taboo to approach in normal conversation."
Just having something unapologetically queer is a breath of fresh air
Beth is a second year English literature student. They identify as non-binary and also adore Drag Race. They explained: "It's a show we watch as a flat regularly because it's fun, it's exciting, and it's so LGBTQ+. Just having something that is unapologetically queer that doesn't try to appease any straight audience is a breath of fresh air."
Beth says the show has responded well to complaints of transphobia, particularly through Gottmik being on series 13. They added: "Gottmik joined the show in season 13, as the first trans man on Drag Race. This move was huge for Drag Race and for trans men because it not only gives representation to a forgotten demographic but it shows that trans can be expressed in any way – trans men can enjoy feminine fashion and still be trans. I think it's beautiful to see."
It educates older people and non-LGBTQ+ people on our day to day struggles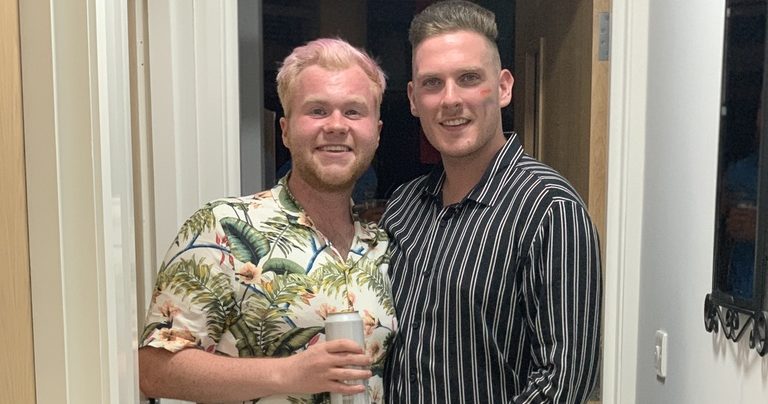 Caolán is a recent marketing graduate from Belfast and has a lot of praise for the role Drag Race has played in raising awareness of LGBTQ+ issues. He told The Tab: "I don't think we will fully realise the impact this show had and continues to have on pop culture and society in general for another few years. I can't remember seeing anyone gay or even remotely different on TV in a positive light when I was a child.
"I grew up in a small rural town in Ireland, attended a very religious Catholic primary and grammar school and it would have changed my life totally had I known then I wasn't the only person who felt the way I did, or that I wasn't a freak or a weirdo for being attracted to the other boys.
"My mum watches Drag Race and loves it. She talks to me all the time about how shocked and upset she gets at hearing some of the contestants' stories, particularly Dusty Ray Bottoms. Not only is it crucial for young LGBT people to see the stories being shared on this show to let them know they aren't alone and they are perfect the way they are, but it is also important as it educates older people and non-LGBT+ people on the day to day struggles so many LGBT+ people go through that heterosexual people just wouldn't go through."
In the Drag Race world, I feel nothing but love, acceptance and the ability to be myself in a safe community
Even casting back to series one of Drag Race UK, the beloved Blu Hydrangea who has captured our hearts with *that dress* as part of 'The Frock Destroyers'. Blu was a representative for the LGBTQ+ community in Northern Ireland, who have been left behind in UK queer discourse for so long now. As someone who grew up in rural Northern Ireland, that is something that would have meant a lot to me growing up.
I grew up in a religious family where there would have been no mention of being gay unless it was pejorative, never mind being trans or drag. I remember taking a long time to wrap my head around the concept of the show.
But, once I did I fully immerse myself within the Drag Race world I felt nothing but love and acceptance and the ability to be myself in a safe community. If 14-year-old me realised there was a life beyond the church and in a community like this with figures like Blu who is also from the North, that would have been really helpful.
Recommended stories by this writer:
• Drag Race UK has committed another robbery and these 20 furious tweets prove it
• 'I lost a lot of friends': What uni during the 1980s AIDS crisis was really like
• The gay shaming on It's A Sin isn't a thing of the past, it's happening to students today