Introducing Mimi Keene: The 23-year-old who plays Sex Education's queen Ruby
She has over two million Instagram followers
| UPDATED
Sex Education on Netflix is one of those shows where you can't help but fall in love with all the characters. However, one of those characters I never thought I'd say that about is Ruby. Ruby is the leader of The Untouchables, the popular girl, and is played by Mimi Keene. Season three has been her moment, and we all know Ruby's back hurts from carrying it.
She joined the series cast as the school's nasty popular girl, a stereotype which there always is at every single school. Usually, there's nothing loveable about these characters. Yet here I am – a self-confessed Ruby stan. In new episodes she's shown that women can be both strong and vulnerable and has had one of the greatest character arcs in the entire show.
Here's everything you need to know about Mimi Keene, the actress who plays her.
Mimi Keene is a 23-year-old British actress
Mimi Keene was born on 5th August 1998, making her one of the youngest in the Sex Education cast. She studied at the Italia Conti Academy of Theatre Arts in London between 2009 and 2014. The now London-based actress grew up in Hertfordshire.
Mimi Keene's first TV role was in 2013, when she played Brandy May Lou in the TV series Sadie J. Previously, her acting stage debut was at the Royal Court Theatre, in the 2010 play Kin, written about a girls' boarding school in the 1990s.
She played Cindy in EastEnders
If you've been racking your brains watching her in Sex Education and not knowing why you recognise her – she was Cindy in EastEnders. This is the role Mimi Keene is best known for.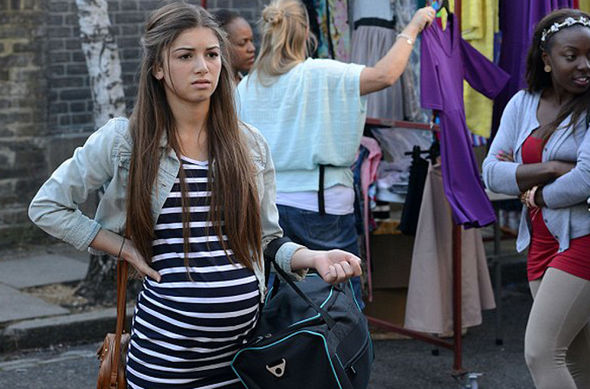 Cindy was a pretty troubled teen in EastEnders. She was born in prison after her mum attempted to kill Ian Beale. Her mum died in childbirth. Cindy's character was introduced into the soap in 2007 when Cindy pretended to be her dead mum and sent messages to Ian Beale's daughter, Lucy. Mimi played the character from 2013 until 2015.
Mimi Keene now plays Ruby Matthews in Sex Education
Mimi's next top role was as Ruby in Sex Education. She's the popular girl, Queen Bee of The Untouchables at Moordale. Whilst at first it seems as though that's all there is to her as a character, by the end of season two we all loved her. She is the iconic hero we didn't know we needed until now and has really turned full-circle with her emotions, especially with her relationship with Otis.
She has 2.1million followers on Instagram
In real life, 23-year-old Mimi Keene looks as though she's a lot of fun. She shares pictures of her at shoots and loads of pictures with her dogs – one of which had a cameo on Sex Education! Her handle is @mimikeene3.
She's friends with all of the Sex Education cast in real life
If there's one show where I truly believe all of the cast members are best friends in real life, it's Sex Education. And Mimi Keene is definitely part of that. She has pictures of her and fellow cast members on her Instagram. Living for it.
Sex Education season three is available on Netflix now. For all the latest Netflix news, drops and memes like The Holy Church of Netflix on Facebook. 
Related stories recommended by this writer:
• This is how old the cast of Sex Education on Netflix are in real life
• Sex Education production secrets: 18 behind the scenes facts about the Netflix show
• These are all the stunning real life filming locations in season three of Sex Education