Instagram surgery filters are going to be removed
Spark AR, the company behind Insta's AR filters, will systematically remove the filters
Instagram's AR face filters will be undergoing a review after concerns they're contributing to body dysmorphia, which is when people fixate on "one or more perceived defects or flaws" when they're not observable at all.
The company behind Instagram's AR face filters, Spark AR, is planning to systematically remove filters that offer "digital" plastic surgery.
Spark AR made a statement on its official Facebook page on Friday, October 18, saying: "We want Spark AR effects to be a positive experience and are re-evaluating our existing policies as they relate to well-being."
Spark AR will be "removing all effects associated with plastic surgery from the Instagram Effect Gallery, postponing approval of new effects associated with plastic surgery until further notice, and continuing to remove policy-violating effects as they are identified."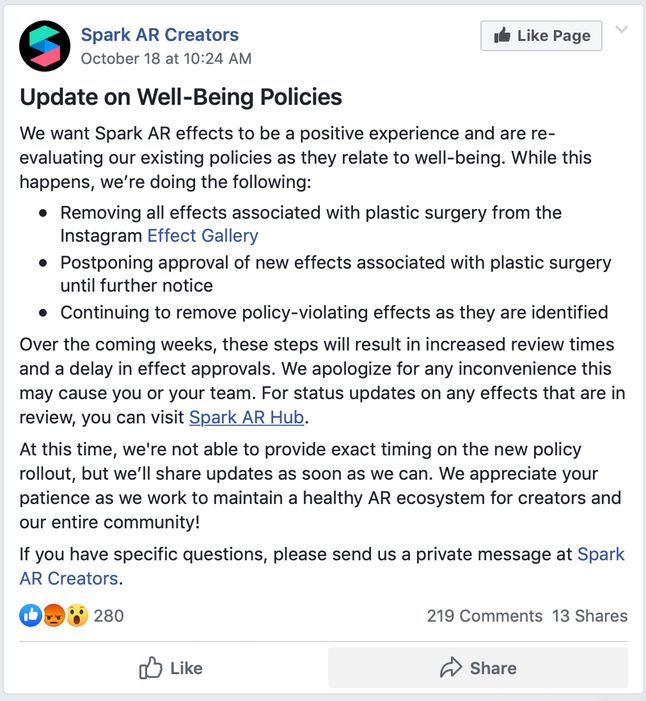 The post concluded with: "At this time, we're not able to provide exact timing on the new policy rollout, but we'll share updates as soon as we can. We appreciate your patience as we work to maintain a healthy AR ecosystem for creators and our entire community!
"If you have specific questions, please send use a private message at Spark AR Creators."
Related stories recommended by this writer:
• This is how you can find out how many people visit your Instagram profile
• What does it mean if my ex is watching my Instagram story?
• This is how Instagram ranks the viewer order on your Insta story