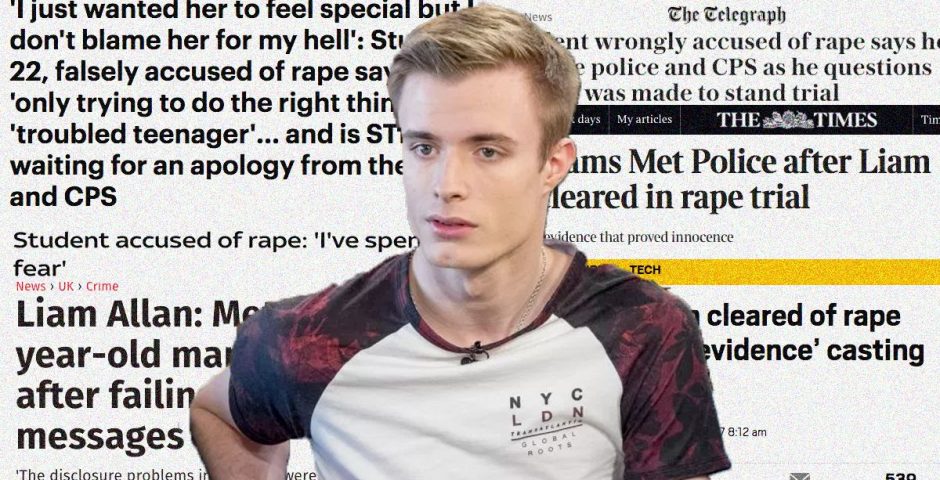 'It wasn't against my will or anything': How a rape case built over two years fell apart with a single text
Liam Allan was accused of six counts of rape by his ex-girlfriend, but police ignored text messages she sent to her friends
In September 2015, Liam Allan started university. Reading for a Criminology and Criminal Psychology degree, he was just like any other fresher. But just a few months into his course, he was accused of rape.
Over the next two years he was stuck in legal limbo. Accused of six rapes and one sexual assault by his ex-girlfriend, the case didn't end until December 2017 when crucial text evidence proved his innocence.
We don't know a lot about Liam's accuser. Privacy laws in the UK protect the anonymity of all victims of sexual assault for life, from the moment they make a formal complaint with the police.
He met his ex-girlfriend at a party through mutual friends. She was known in their friendship group for having a difficult home life.
Liam said he knew about her issues at home, but tried his best to always support her and not palm off the problems to someone else. He told his mum at the time that he was nervous about making the relationship sexual because he would be his girlfriend's first. He said he wanted to "make sure it was important and special and every fear and worry was gone" before they had sex for the first time.
As their relationship progressed over the next 18 months, Liam is adamant that it was consensual at all times and at no point was there any indication that she ever felt distress or discomfort.
Eventually, their relationship became strained. Liam felt like he was sacrificing too much and was left drained. And so, like so many couples in the first term of uni, they broke up.
Liam broke off their relationship just a few weeks into his time at Greenwich University. He made a new group of friends and became engrossed in his degree. He thought nothing of his ex. She'd been upset when they broke up, but she hadn't given him any cause for concern.
But then on a January evening, as he was coming home from playing football, he was arrested. Police officers, acting on a complaint from his ex, waited in a parked car until he approached his mum's house in Croydon.
The accusations took him by surprise. He was being accused of rape by a girl who he thought held no grudge against him. His accuser had told police that he had forced her hands behind her back, tied her to a bedpost and held a pillow over her face whilst having sex.
Although shocked at the accusations, Liam co-operated fully with police. He hadn't been charged formally, he thought it would all be over in a couple of hours. In reality, it would go on for two years.
Not sure whether he'd be charged, Liam says he was unable to sleep properly and unable to focus on his degree that required him to write essays on criminal cases – including rape.
Throughout, his family and friends never questioned his innocence and he avoided the witch-hunts that some accused of rape face.
Around February, Detective Mark Azariah, who Liam had been in regular contact with, told him that the case against him was weak and that in his report to prosecutors, he hadn't recommended charges.
Two hours later however, Liam got a call telling him he'd been charged with six counts of rape and one sexual assault.
For the next few months, Liam's life became all about preparing for the trial.
In July, his lawyers asked for full disclosure of texts obtained from his accuser's phone. A month later, The Met told them there were no "relevant downloads" and their request was denied.
In early December, the trial began. Liam was told by police that his accuser wouldn't be present, but she appeared behind a screen to testify against him.
He had to remain calm with the eyes of the jury on him, all looking for a hint that he could be capable of the shocking crimes he was accused of.
Liam's ex testified for 90 minutes on the first day of the trial. After she finished, Liam's lawyer revealed the texts that would effectively kill the case against him.
The night before, after police finally handed over the 58,000 texts recovered from the accuser's phone, Liam's barrister Julia had stayed up until 4am looking for the smoking gun. After reading through 2500 sheets of paper until 4am, she found it.
On September 3rd, days after the alleged assault, Liam's accuser had texted her friend about him. In the conversation, while discussing sex with Liam, she said "It wasn't against my will or anything."
After a second trawl, texts from the accuser to her friends were found, describing rape fantasies and desires to be choked during sex. Some of the texts read in court can be seen below.
———————————————————————–
From this point on, the system worked as it's supposed to. The judge ordered a two week recess and just before Christmas, Liam got the call that CPS were dropping his case.
He told the Mail: "I was bracing myself for bad news because up until then it had all been bad news.
"For a second I was speechless and then I just started screaming the whole house down. And then everyone started coming round to the house to congratulate and hug me."
Now his life is pretty much back to where it was two years ago, Liam said he doesn't hold a grudge against his accuser. He still doesn't know why she did it or whether she meant it to go that far, but he prefers to direct his anger towards the police.
In the days after his case collapsed, Liam gave interviews to a whole host of media outlets, telling them he hadn't had any form of apology or compensation for the ordeal he was put through.
Last week police finally apologised. In the report by the Met police, they admitted that officers didn't look through all 57,000 texts available and that while there was no evidence of malicious intent, there was a serious error in the way it was handled.
In the last two months, four trials have collapsed after evidence was disclosed at the eleventh hour. Now, the CPS is reviewing all rape and serious sexual assault cases to prevent the collapse of more trials. Liam says he's suing both the Metropolitan police and the prosecutors. He told the Mail on Sunday: "I am hoping to use my experience to help change system failures for the benefit of both victims and falsely accused people together."