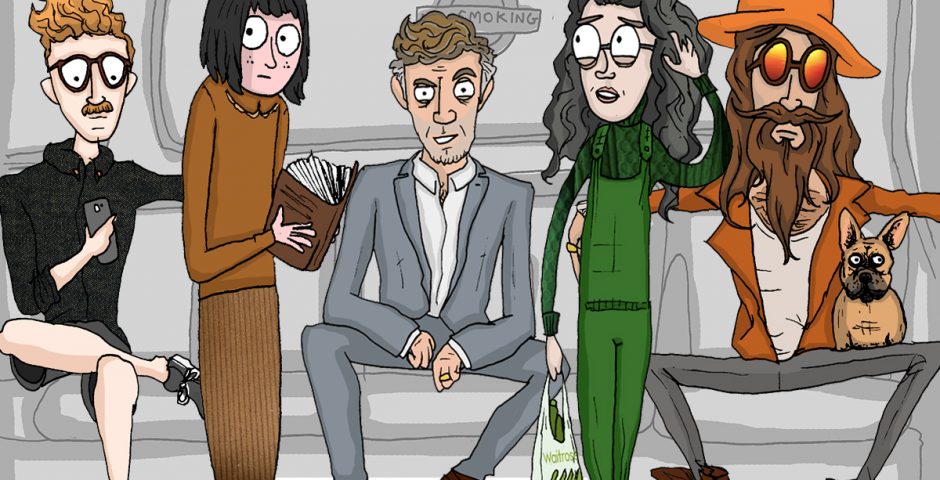 The ultimate list of London tube line stereotypes
The Central line is an Essex boy and the Northern line works at a startup
You can learn a lot about London from the tube, and you can learn a lot about Londoners from the way they use it.
Take the Jubilee line? You're probably a psychopath who works in finance. The Overground? You obviously smoke rollies and wear secondhand Adidas.
The tube lines have their own personalities, just like me and you – so we thought we'd illustrate what they'd look like if they came to life.
NORTHERN
He's nice enough when you're around him, but think about him when he's gone and you realise: the Northern line really is a twat. He never turns up on time, and when he does it'll never be his fault – whether he's blaming "planned engineering works" or an unexpected delay on the way over from his print-designer girlfriend's house in Kennington.
He lives in Angel, works at a tech company just off Old Street, and spends his evenings drinking negronis with his startup buddies in Borough Market. Why's he always so gloomy? He'd rather be riding his fixie bike than getting a busy tube, obviously.
CENTRAL
From the depths of Chigwell and Loughton comes the Central line, an Essex boy defined by his sweatiness and heavy-breathing. He's truly awful: a juddering shambles who makes you uncomfortable with his in-your-face nature, sweating and squeezing against you as he spits in your face that he wants to buy you a drink.
The Central line likes to pretend he's in the know because he moved to Bethnal Green and drinks in Mile End, but really he's as mainstream as they come: working in finance near Liverpool Street and splitting his weekends boozing with his mates on Oxford Street and shopping in Stratford with the missus.
Try not to get stuck with him when he hits his peak – the Central line can be really, really intense.
PICCADILLY
The Piccadilly line will undoubtedly be wearing a rain poncho and/or a bumbag. They've got London bedsheets, take a Union Jack towel on holiday and refuse to get an Uber because they're so loyal to black cabs. They don't even live in London – they've come in all the way from Heathrow, and they're stopping off at every sight along the way.
Piccadilly Circus, Leicester Square, Covent Garden: nothing is safe from the Piccadilly line's all-encompassing camera lens, even if Cockfosters does only exist as something to have a good old giggle at.
DISTRICT
The District line is your mad aunty who moved to West London way back when it was the hip place to be. Since then, she's been trying to get into Central London from Chiswick for a few decades but always either ends up going to Richmond, Wimbledon, Edgware Road or Kensington Olympia. There's just too many options when you get to Earl's Court, you can't really blame her.
Turnham Green is also a mindfuck, it's impossible to be on the right platform for the right tube and there's very specific rules for when the Piccadilly line is and isn't running. Once you go to West London there's no going back, but at least she has a nice quiet study to play with her violin and her cats in.
VICTORIA
The Victoria line is your stereotypical cool girl – and not just because her air conditioning is so on point. She lives with her equally attractive friends in Brixton, and goes out in Vauxhall and Stockwell until the early hours (after all, she doesn't even have to sleep any more).
People are drawn to her, and they can't help but fall madly in love – how could you not? Just know that when you spend a bit of time with her, you'll realise she's not as edgy as you thought she is. After all, she still visits Oxford Circus and St Pancras every once in a while.
WATERLOO & CITY
There's a real 1984, Invasion of the Body Snatchers, mob mentality to the Waterloo & City line. He's so important and wealthy that TfL created a niche tube line just to get him to work. Everyone taking this one-stop journey will happily squeeze into a sardine-can tube, even though they've theoretically got enough money to get carried into work on the back of a talking pegasus with golden wings.
They suffer the tube because the short walk from Waterloo to the Underground lets all of the plebs know that not only are they a big dog in some bullshit financial firm, they also own a sprawling house in Surrey.
BAKERLOO
The Bakerloo line wears brown corduroy skirts and chunky mustard jumpers, and spends her time either catching up on Penny Dreadful or publishing JohnLock fanfiction.
She really, really loves London, but in the sort of twee Dickensian way where she has a literary map of the city on her Maida Vale bedroom wall and gets a little pang of excitement whenever her train rolls through Baker Street or Paddington.
JUBILEE
The Jubilee line is a silver fox. Smooth, refined, impeccably presented, they're what you'd be like if you earned a million pounds a year. As well as being the best turned-out guy you know, you can't shake the assumption that they're a little bit evil.
Whether it's his glistening silver hair, his cold, steely gaze or the way he seems to float from place to place, there's more than just a touch of American Psycho about them.
METROPOLITAN
The Metropolitan line can only be described as a very bang average bloke. He wears a V-neck over a checked shirt, hangs out at Spoons for the excellent drinks deals, and will be settled down with the missus before he is 30.
He really, really loves North West London: it's where he'll be bringing his children up in a nice semi, and it's where he plays Sunday league. He really, really loves his easy tube commute among the Metropolitan line too – London's most modern, spacious and air conditioned line, despite it essentially being a regular train, and constantly smelling of weed.
After all, it goes all the way to Bakerloo (!!!) and Liverpool Street, if you're lucky. And all those other impressive London landmarks. Trip to Wembley Park, anyone? Chorleywood? It doesn't matter that every stop is barely London for the man who rides the Metropolitan line – he is content with his comfortable, suburban life in Harrow, or perhaps Ruislip.
Besides, he's not going anywhere for the rest of his life. Especially not South of the River.
CIRCLE
The Circle line has been going round and round for years: work in Temple, drinks in South Ken, home in Notting Hill, work in Temple, drinks in South Ken, home in Notting Hill. Over and over she goes in the same circle, never being appreciated for the work she does.
One day, she dreams of leaving it all behind and fleeing the city to start anew. In reality, she'd only get as far as Hammersmith before she got cold feet.
DLR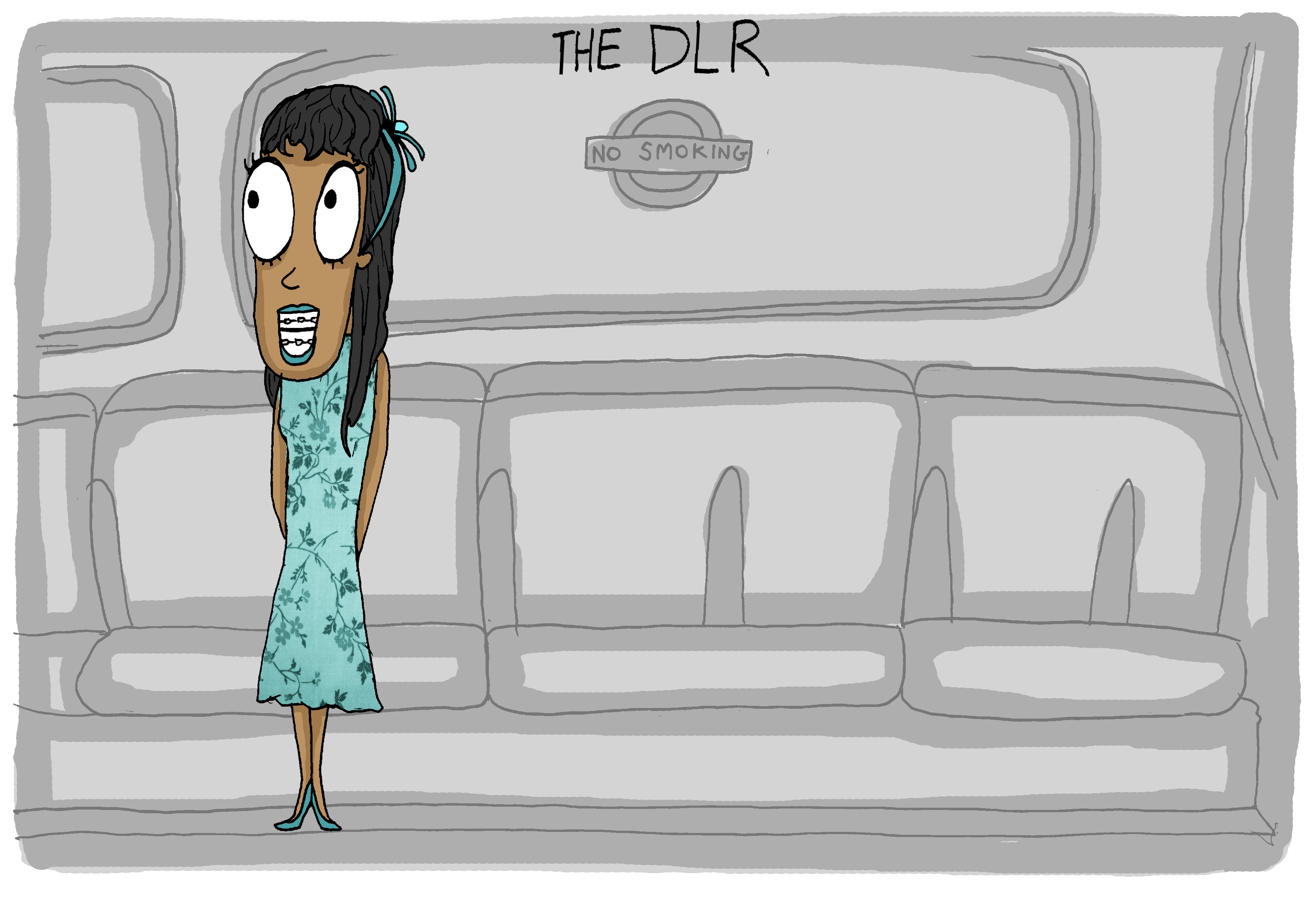 The DLR is impossibly wide-eyed: she needs to be to see the view from the DRIVER'S SEAT. She's either a recent grad or a city-shy intern, and she's working in Canary Wharf at a big company doing big things and following her big dreams.
She doesn't yet know that no-one uses the DLR, or that London is a terrifying trash compactor of lost hopes and pulverised dreams.
OVERGROUND
Do we really need to say it? The Overground is everything you'd expect from what is essentially a monorail tour of insufferable East London: topknots, French bulldogs, second-hand flannel shirts and well-waxed moustaches.
Like everyone on his line, Mr. Overground is extremely tall and extremely good-looking, but possibly the worst person ever once he opens his mouth. He wants you to join him for a barbecue in London Fields followed by a tumbler of his homemade gin in Seven Sisters. Do not oblige him.
And one must not forget the line that goes south of the river, to Clapham Junction too. This is a confused creature – they either work in Shoreditch and live in Clapham, or live in Shoreditch and work in Clapham. Either way, they are an Adidas-wearing, Ship-in-Wandsworth-dwelling hybrid, and no-one wants to spend more than five minutes around them.
NIGHT TUBE
Like a teenager who's just had his first night on the town, the night tube is slow, slurring and covered in sick. Sure, they haven't been around long enough to know the decorum of their older neighbours, but what they lack in experience they make up for in sheer giddy excitement.
HAMMERSMITH & CITY
Does anyone actually get the Hammersmith & City line? We've heard people talking about it, but we're not so sure.
With contributions from Josh Kaplan, Jonny Long, Roisin Lanigan and Grace Vielma.