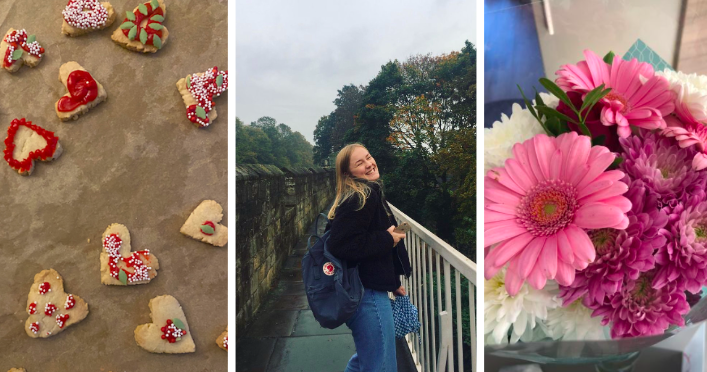 Here are the best solo date ideas for York students this Valentine's Day
'Tis the season of loving yourself!
With Valentine's Day coming up tomorrow, I'm sure nearly everyone has been asking each other: "What are you up to on Tuesday?" If your only response to this question is "I don't know" or "sitting in bed alone" then this is the article for you. Whoever said that a date had to be something that took place between two people was so wrong, solo dates are very much a thing. A solo date is basically another way of taking a self-care day and I definitely prefer them to regular dates. You don't have to waste time with boring small talk, and you can have your headphones in and block out the world with whatever music you'd choose the whole time.
So whether you can't be with your partner on V Day or you're simply going solo this Valentine's, there are PLENTY of things to be getting up to that will fill you with self-love. Here are the best solo date ideas for York students this Valentine's Day:
Baking
Nothing says Valentine's Day like sweet treats. Whether it's cupcakes or cookies, I'm sure you'll agree that all bakes can be improved by a couple of love heart-shaped sprinkles. If you're needing some inspiration, try looking up simple brownie recipes on Google,  there are loads of recipes online, many of which are single servings if you're worried about getting through a full batch of cookies (though isn't that part of the fun?)
Can't be bothered to bake but want to partake anyway? M&S have a "decorate your own heart biscuits" kit that has everything you could possibly need included.
Solo coffee shop date
Where's the best place for romanticising your own life? It has to be a café on a rainy day – and Lord knows we have a surplus of lovely cafés (and rain for that matter) in York. This is the perfect opportunity to take some well-deserved me time, grab the most luxurious hot chocolate on the menu, search Spotify for Lana Del Rey instrumentals and get cosy with a book or just people-watch as you let the world go by.
Some of my favourite York cafes include Brew and Brownie, Gatehouse, Partisan, Drift-in, Robinsons, Cafe 42 and the Vanilla cafe.
Pamper evening
Who said Valentine's has to be about loving someone else? Show yourself some love and grab some facemasks, light your favourite candles and press play on your favourite film for the perfect night in. As we approach the middle of term, I'm sure everyone could benefit from taking a night for themselves to really relax.
I'd also recommend tidying your room beforehand. I know, boring but also essential to feeling zen. Imagine waking up on Wednesday morning, with your skin feeling fresh and your bedroom looking immaculate… bliss!
Plan a 'Galentine's' or 'Palentine's'
You don't need a partner to celebrate the day. Use this as an opportunity to get dressed up and go out with your mates or have a cosy night in and cook a meal for all your friends. Bottomless Brunch is always a Palentine's favourite (day drinks and in bed by 10pm – sign me up!) but there are so many other activities to do with your friends to enjoy the festivities.
Take advantage of the discounts
Remember, the Valentine's Day deals don't just apply to couples. Take advantage of the discounts and grab a Dine-In meal deal from the supermarkets to share with a friend (or just to have yourself, I'm not judging). Dine-In deals in York supermarkets span from £12 at Tesco to £20 at M&S and Waitrose (including a bottle of prosecco!!)
There are also loads of online shops that are having Valentine's Day sales, such as ASOS (which has an extra 20% off at the moment).
Make the most of the study spaces being quiet
Self-love can come in the form of organisation. Use this time to get your life together and catch up on all the uni work you've been neglecting. With all the loved-up couples doing loved-up couple things, you might actually be able to get your fave seat on campus (Church Lane sheds I'm looking at you).
Pottery painting at Bish Bash Pot
Nothing says wholesome solo Valentine's Day like painting yourself a pot to have your favourite food on. Bonus points if you pick a heart design!
Go to the cinema
Take yourself to see the brand-new chick-flick at the cinema. Maybe the new instalment of Magic Mike is catching your eye, or What's Love Got to do With It? which comes out on Valentine's Day (it has Lily James in it *swoon*). Most cinemas are also screening The Titanic for its 25th anniversary. An absolute classic and perfect if you need a good cry. York Picture House is also showing some classics like Casablanca.
Buy yourself some flowers
Listen to Miley's wise words and buy yourself some flowers this V-Day. Receiving flowers from someone you love is always nice but you've made it this far through the article so I am guessing you haven't got someone buying them for you. But there's no better power move than buying them for yourself and arranging them in a vase for your windowsill. The Shamble's Market flower stall has lots of beautiful flowers to choose from at a reasonable price too.
So consider Valentine's Day as an opportunity to treat yourself. After all, there's nothing more important than loving yourself. And if you're still not feeling festive, just look forward to the reduced Valentine's chocolate on the 15th of February!
Related stories recommended by this writer:
• Strikes Day Two: Everything that happened at the York Uni picket line today
• 'Light up the Night' March held at Uni of York for Sexual Violence Awareness Week