Twins in their twenties: The girls
'Lucy got caught being a bit too friendly with my boyfriend by one of my friends, turns out it was me all along'
From Lindsay Lohan's Parent Trap (spoiler: Lindsay Lohan isn't actually a twin) to Mary-Kate and Ashley Olsen's Two-of-a-kind and Disney's Suite Life of Zack & Cody it's impossible to not wish you were a twin.
Sharing a womb, a bedroom, clothes and looks for the entirety of their lives. I asked what is life like for twins when they finally start to separate in their twenties?
Victoria and Lucy Saunders, 21
Victoria is currently studying at Sheffield Hallam University studying Hospitality Business Management, while Lucy works for an Insurance Consultant in Bedfordshire.
Victoria says: "Now we are in our twenties, we get on so much more compared to when we were younger. We have the same friendship group so when I come home from uni it's easier to see everyone.
"We've definitely got closer as we've got older and since I've gone to uni. I still think if we spend too much time together we will just end up arguing.
"We still manage to say the same sentences at the exact same time."
In school they always had the same teachers that Victoria says: "just couldn't tell us apart." Victoria would usually walk in and her teacher would say "Good morning Lucy," Victoria says: "there was no point in correcting him because it was more than likely going to happen again."
When Victoria and Lucy got to year 9 they both got their first boyfriends. Victoria recalls a story where: "Lucy got caught being a bit too friendly with my boyfriend by one of my friends, turns out it was just me all along."
Lucy says: "when we were 4 or 5, we decided the day before a wedding we were flower girls so it would be a goo idea to cut each other's hair. We were very unpopular with our parents that weekend."
Victoria says: "Recently, Lucy has moved in with her boyfriend so I see her a great deal less. I miss her the most when I'm in Sheffield, just because I would speak to her about absolutely anything and she's always there to reassure me."
Victoria and Lucy never found if they were identical or not: "We had our blood tested on a study for twins that took all day, they never got back to us. We phoned up to enquire and the hospital said the study never existed."
Sophie and Katie Dhaliwal, 20
Katie and Sophie Dhaliwal are hands down the coolest fraternal twins you'll ever meet. They are half-Indian and half-Fijian and both study at the University of Portsmouth.
Katie is currently doing her placement year at Hays Recruitment agency working in the compliance and strategic accounts department. Whilst Sophie is going into her final year at Portsmouth studying English Language.
Sophie says: "We hated sharing a room because Katie is dirty and messy, and I'm a clean freak." Katie claims this is an exaggeration and says: "I also used to hate wearing the same clothes as Sophie, when we were allowed to pick our own clothes I used to go OTT on making sure I dressed different from Sophie.
"We don't dress the same intentionally anymore, but occasionally accidentally."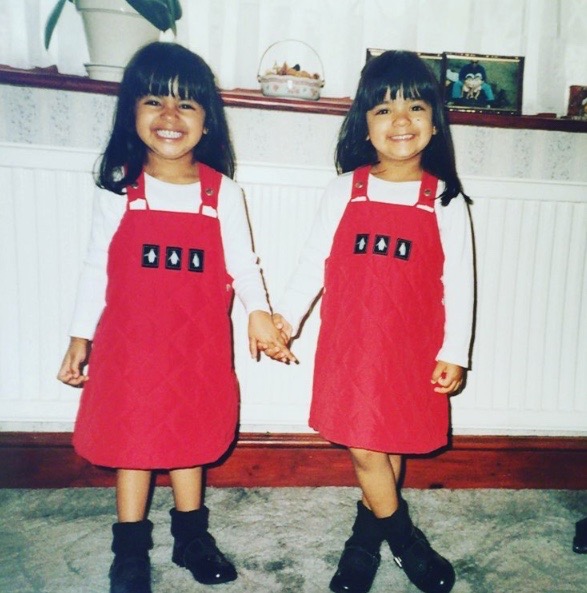 Katie and Sophie live together at university and are extremely close: "we have always had the same friendship group, we do bicker but we get on more than we don't."
They claim to have no telepathic superpowers, but "have always got the same marks on every exam we have ever sat."
Katie recalls a time when she was in primary school: "one of my best mates wouldn't invite me to her party because she said she had to invite Sophie too and she didn't want to." Sophie, still refers to said girl as a "little bitch."
Katie and Sophie spent 10 minutes arguing during my conversation with them about how they both ended up at Portsmouth University, Sophie says: "Neither of us got into our firm uni so Portsmouth was both of our insurance options.
"I always wanted Portsmouth as my back up uni and Katie copied me."
Katie: "She's a liar, she copied me."
Three gifs of Tyra Banks eye rolls later – no conclusion is drawn.
Sophie says: "I will feel lost without Katie while she is doing her placement year," and Katie concludes that "being a twin is kind of like having you're best friend living with you." Cute.