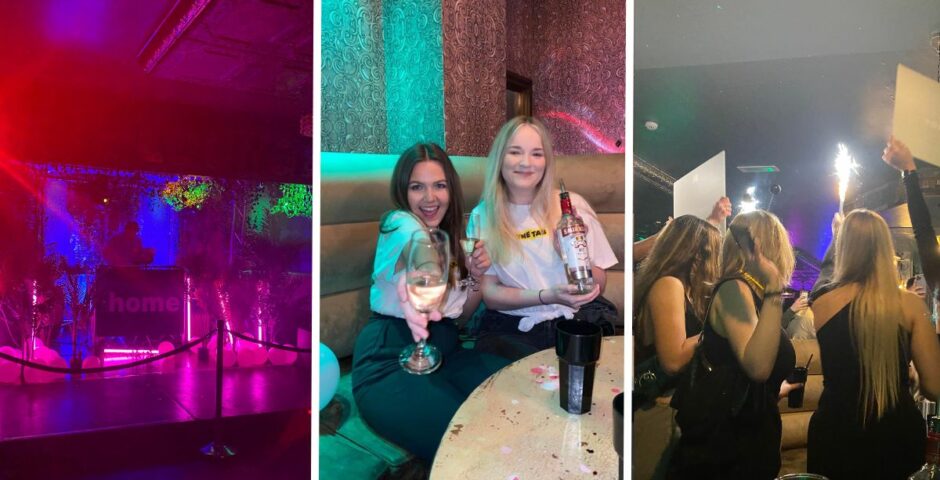 The Tab Lincoln takes Nova: Trying Lincoln's newest night out
If 'slay' could be personified into an event it would be Nova
Dissertation season is looming, which means this the ultimate period of procrastination for most Lincoln students and what better way to ignore those deadlines than trying out a new night out. Home invited us to the launch event of Nova, their newest event on Thursday's which will be replacing the iconic DIY Disco…RIP. From the social media posts, it seemed to be marketed as a glam evening that offers a sophisticated yet still fun experience. So of course we had to assess the vibes of Nova and see if it is worth the hype and worth the replacement of the beloved DIY Disco. Here are our thoughts.
Iconic entry
Now it's not that this shouldn't happen everywhere…but from the second we arrived, the team were treated like Tab royalty. Picture vodka bottles, hype girls with sparklers, confetti and dollar bills being sprayed all over the table. It certainly looked like a scene from the new Magic Mike film (unfortunately minus Channing).
We loved the warm welcome and it really advertised the event for what it is: a celebration. The vibe would be ideal for birthday parties, girly nights out or even breakup parties for those ready to enter their single era with a bang. We couldn't help but get excited for the night ahead and it was so easy to get into the vibe and let our hair down. Plus the staff were also ready for a good time and made you feel like a VIP which hyped us up even more.
Banger after banger
One of the first things we noticed was the playlist which had a mixture of 2000's tunes, hot girl anthems and old school remixes. The music was perfect for those who are wanting to ditch the two-step and have a proper boogie. It seemed the DJ knew exactly how to handle a crowd filled with baddies by throwing in lots of Beyoncé, Pussycat Dolls and of course Britney. After the vodka and prosecco we were certainly ready to shake it to some y2k tunes and ignore those impending 9am lectures.
Lincoln icons
No Lincoln night out would be complete without a trip to the smoking area to make friends with some fellow students and share a vape or two. Our favourite girl we met had brought her mum to Nova and despite this was still absolutely up for pulling. Her mum must be the best wing-woman.
We spoke with a member of the team who talked us through the event, and explained why people should come to Nova. She said: "we have the cheapest drinks in the city, the best vibes in the city and the baddest vibes in the city." We asked her if she'd had a good night and she couldn't stop smiling. She told us: "It's been so insane, I am so happy with the turnout we've had tonight and all of the support we've had. It's just been amazing."
Baddie vibes
The theme of the night was creating the VIP experience and Nova didn't disappoint. The pairing of glam decorations with prosecco and sparklers made this an Instagram worthy evening and different from the other events Home offers. The staff had the best energy and were singing and smiling all evening, making this a night to remember.
Overall we felt that Nova went out with a bang and is certainly worth a try if you're looking for something a little more classy but lots of fun.
Related articles recommended by this author:
•Write for us! The Lincoln Tab is recruiting new writers
•UoL Sports Teams raise money for Doctors Without Borders
•'This whole thing feels like a bit of a mess': Lincoln students react to the latest strikes