Here is everywhere you need to go for the ultimate Cardiff bank holiday cocktail crawl
If you're not stumbling home by the end of the night then you've done something wrong
The sun is out, exams are (nearly) over, and it's a bank holiday: there's never been a better excuse to drag your mates out and see the year off with some cocktails in town. If you're looking for some inspo for the best cocktails in Cardiff then we've got you covered, there are some real gems here that you won't want to miss.
Gassy's
If you're coming from Cathays then you need a little something to get you started before you embark on your journey. Gassy's has a pretty extensive cocktail menu and with a 2-for-1 deal on cocktails all day everyday it would just be rude not to.
Spoons
It has to be done, particularly when there are three of them in the town centre alone to choose from. We're on a budget people, and those pitchers won't drink themselves.
Revs
Revolution is an absolute staple for cocktails and it would be a crime to miss it. They really do have something for everyone, plus every flavour of vodka you could ever dream of if you just want a quick shot pit-stop. Our personal favourite cocktail had to be the Free The Nipple, although the name might have had a little something to do with it.
NQ64
At NQ64 you can play a game of Pacman whilst drinking a Mario-themed cocktail. If that doesn't convince you to stop by then nothing will.
The Philharmonic
If it's a hot day you'll have to stop by The Philharmonic for one of their cocktail slushes. They're all the fun of a Tango Ice Blast but with a bit more of a kick, a perfect way to cool off whilst staying in the drinking zone.
Be At One
If you're looking at the picture below and thinking that we've got milkshakes rather than cocktails then think again. They're Kinder Bueno themed cocktails, they taste just like milkshakes but…aren't? The cocktail menu at Be At One is absolutely huge and they, too, have a 2-for1 deal most days. Again, it would be rude not to.
Las Iguanas
We tried Las Iguanas' famous Caipirinha cocktails (pictured below) and they really were worth the hype. Whether you opt for strawberry or classic lime version, these will go down an absolute treat. The best part is that they don't even taste like alcohol…or maybe that's what makes them so dangerous.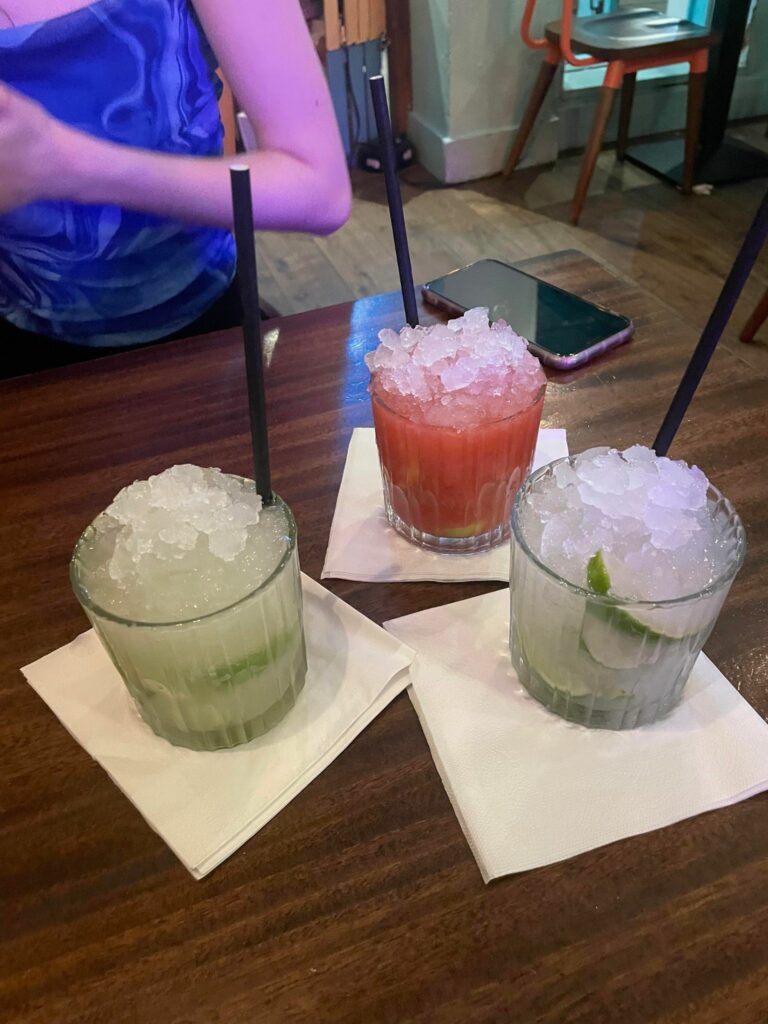 Heidi's
There's no place to end the night like Heidi's. Grab yourself one of their famous cocktail towers to see your crawl off and dance the night away on one of their three floors. Oh and don't forget to check out their free photo booths, the lighting is actually really good.
Recommended articles by this writer: