I went to a women's only club night and it was exactly what I needed
Hot and bothered – but not by men
A 'no men allowed' club night, you say? Yes, it actually exists. No one barges you out of the way and spills your G&T all over your skirt. Nobody has to accompany you to the bar to ward off unwanted attention when you go back for another round after your first drink was spilled, because the guy that did it somehow claims it's your fault. And nobody is spiking drinks.
These strictly no men allowed events have been organised by LICK, an organisation hosting parties 'for women, by women', since 2019. Its club nights are an inclusive space, which invites people to get together and celebrate inclusivity within the  LGBTQIA+ community and queer women.
Basically, it's good vibes and even better music in a club that feels safe to sing, dance, and have as many drinks as you want in without thinking twice about the vulnerability of being a woman. So, in case you're intrigued by exactly how LICK events go down, here's exactly how my first-ever women-only night out went for me:
8pm – kickstarting the evening
Getting ready for LICK's 90s-themed event was a blast. Madonna's 2008 album, red lippy and accessorised with teeny tiny hair clips. Two seconds later I took them right out again. It transformed the vibe from a baby spice updo to sleek posh spice, and I loved it.
Out the door I went, gladly leaving my nasty dissertation on tomorrow's to-do list. Arriving in Waterloo, I was startled by the congregation of what seemed a huddle of penguins in the middle of Platform 10. It turned out to be a Northcote puffer convention of 20 16-year-old boys going on their Friday night out. They were simply stopping to check their route. I brushed past them, leaving men behind for the night, spotting the Evening Standard magazine as I turned the corner. The girl power transpired from the page and stayed glossy in my mind for the rest of the evening.
9pm – pres
My friend, Sarah, and I start the evening properly at a pub in Waterloo. Rum and ginger beer for her, rum and coke for me. Don't worry, we pulled the uni socials hack and kept fuelling ourselves on the train there.
10pm – arrive 
As with every clubber's dream, there was no queue upon entry. Immediately, Sarah and I noticed how friendly all of the bouncers were, smiling with a face that said "welcome", rather than the usual bouncer glare that boomed "get the heck out".
Queuing for the cloakroom, it seemed that most people were in a similar state of awe as us. One person next to me literally screamed 'WOAH there's really no men here'. Indeed, the hall was a soup of delicious perfume and lip glossed lips shimmering under the club lights.
Off we went to buy drinks. We did soon realise that there were some male bartenders, male security and one mysterious male figure gazing down at us from the mezzanine. But, that was reserved for VIPs only, and sadly my writer's pass didn't reach that far. 
11pm – first loo break and pictures
Noticable was the effort that LICK events had put in to keep the dance floor spotless. There was not a single glint or crunch of broken glass, in fact, their team was mopping around us as we danced. Their attention to the cleanliness of the venue was valued immensely, as the bathrooms remained equally sparkling throughout the evening.
I knew that the bathrooms would really be *the space* to vibe-check the guests on the night. Everyone I spoke to passed with flying colours. Pure vibes, eager chatter and fire outfits.
12pm – fashion stalls 
To give you some context about my friend Sarah, I'd turn around for two seconds to reapply my lipstick and she would be nattering away to someone she'd bumped into in the corridor. Put us two together, and we made friends with 1/8th of the club (that may be a slight exaggeration).
In the fashion show that was the bathroom stalls, it was truly an easy feat to make friends. You could simply compliment someone's outfit, makeup, jewellery or all three. There was everything from massive fur coats with itsy bikini tops underneath, or no coat at all, every variation of cargo trousers, and many many shades of fluorescent pinks and yellows.

1am – more friends  

Sarah went to the bar for a minute, so I was left alone sipping my rum and coke. I don't say this as though she had abandoned me, but more to point out that you could easily wait around alone and not feel uneasy that you didn't have a friend clung to your side.
Nonetheless, a group next to me told me to join them as I waited, and I was once again touched by the welcoming sensation of the crowd. Hailing from just outside London, they were celebrating an 18th birthday party. Asking if they were enjoying themselves and they all shouted 'YEA' over the music. One mimed an action of covering her drink and then said how grateful she was that we didn't need spiking nets. So was I.
1:40am another drink
Before the event shut at 2am, we ran to get another drink. Due to the heaaaaat of the room (quite literally and because of all the rampant female energy) I asked for a cup of water to go with it. I value it when clubs give you water, rather than charging you £5 for a plastic container of tap water.
Technically, the cup looks more like a mug, but you get the idea. As you can see, my sleek posh spice hair was losing its va-va-voom and my makeup was getting shinier under the strobe lights. Either way, I didn't notice at the time and felt fabulous with my new accessory.
2am – home time 
Sarah and I cheersed one last time to the success of the evening and mentally prepared ourselves for the journey home. With sore legs from dancing all night to epic 90s songs and having herded fifty new friends, we concluded that we had just as much (if not, more carefree) fun than on a normal club night.
By this point, I guess I was looking for my keys. But it wasn't a frantic key-rummage search (despite the glass wedged in my corset)… because something in me said that if I had dropped anything important, someone would have had the heart enough to drop it off at the lost and found.
On our way out, I asked a security guard "how safe are these events seeing as there's no men?" He responded that they are safer than the normal club nights, obviously until drugs are involved (which at this LICK event there was no chance). But at that point, when drugs are involved, gender would not make a difference.
And so, we made our way home. It was the easiest route home us dizzy girls could have asked for, as the tube station was right out front of the LICK venue. It was so brightly lit that we were nearly blinded, and certainly had no fear of being followed home under the dentist-worthy illumination of Tottenham Court Road.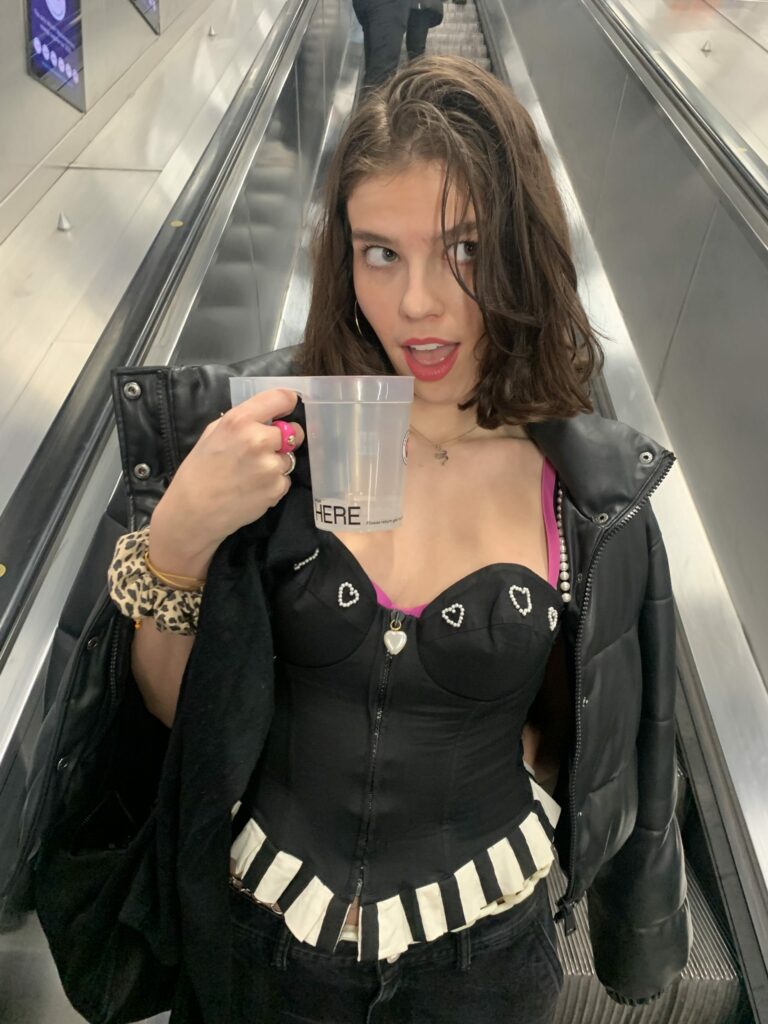 Naturally, my phone was going to die after all the picture-taking and Shazam-ing of songs throughout the night. Thankfully, I could just about order an Uber and the driver let me charge my phone. Sigh of relief. 
2:41am – just in time for McDonald's 
It might have been late and blurry at this point, but my phone had miraculously charged to 18 per cent. Surely that was enough for me to go to McDonald's and make it home doing that fake phone call thingy we ladies sometimes do? It sure was. If you don't get a Big Mac meal after a night out, you're doing it wrong. P.S to the guys at my local McDonald's who were howling like children for their chicken nuggets, you completely overshadowed the feminine energy that I had been basking in all evening. Boo you.
My final rating of the evening was an 11/10. I have zero complaints. LICK's next event is coming up in April and I think they are a shining demonstration as to why having a no-men clubbing scene can be enjoyable, safe and still let you feel sexy swishing around the dance floor – be it with friends, lovers or alone surrounded by others.
Related stories recommended by this writer:
• I went on a night out in London with £5 and this is how far I got 
• I purely drank Prime on a night out to see if it would get me wavy 
• I tried to eat and drink my way into making a profit from a first class train ticket