Every expansion pack for The Sims 4 ranked, including the brand new Growing Together
If loving Snowy Escape is wrong, I don't wanna be right
The Sims 4 is an expensive game. Not the base game, no, no – that's free to play now if for some reason you never bothered to start Simming in the last eight years. But if you want to get all of the expansion packs, the big chunk of DLC that (should) alter the game with changes, new CAS, new build and new gameplay mechanics you're gonna set yourself back a hefty amount. And not all of them are worth it, let's face it. I've been a hardcore Sims player my whole life, and this era has been the first time I've really had money to play with to invest in expansion packs – I've got them all, for my sins. Or, for my sims. If you please. Here are all 13 expansion packs from The Sims 4, ranked from worst to best.
13. Cats and Dogs
This is of course extreme personal preference, but cats and dogs add nothing to my Sims 4 experience. If you could control them directly, maybe I'd feel differently – but they're just… there. Add in here that this is the ugliest CAS of all time and it's a recipe for disaster, even if I love the gorgeous Brindleton Bay world that comes with it.
12. Eco Lifestyle
The Sims 4 Eco Lifestyle is one of the best concepts of all the expansion packs ranked here, but just never clicked with me. I love some of the aesthetic, HATE the CAS and whilst I think the build and buy nails the brief I just never use it. I like the dynamic of making the environment better or worse depending on your in game actions I feel like it's all talk and the game never alters that much?
11. Growing Together
Should have been a game pack.
10. Get Famous
The first pack on here I've genuinely had a lot of fun with, but one of those that you play for like five hours and then never touch again. Being famous is a bit exhausting, the acting job is fun til you've done it once and the world is very shallow. Love the CAS though.
9. Cottage Living
Everything in this pack works fine and looks great if it's what you're after, but for me this one is just so twee. I'm not a cottage girly, I'm a city girly. The clothes are… ugly.
8. High School Years
A bit of a missed opportunity in my opinion, because it's a perfect idea executed a bit hollow. Like, the school from the trailer? Doesn't exist. You get a blank empty corridor school instead! I like the proms and the after parties, and the CAS is lovely – but can't help like feeling it just isn't as wow and bow as it should be.
7. Snowy Escape
What I love about Snowy Escape is how it just feels completely different than anything else you can do in The Sims 4. Mount Komorebi is gorgeous, build and buy is made with a lot of love and I love the CAS. Having a non American themed world is always a treat, and Snowy Escape is the perfect destination world for holidays to switch stuff up if you live in a sunny area most of the time with your sims. Even if the snowboarding and skiing gets old, there's a lot to love.
6. Island Living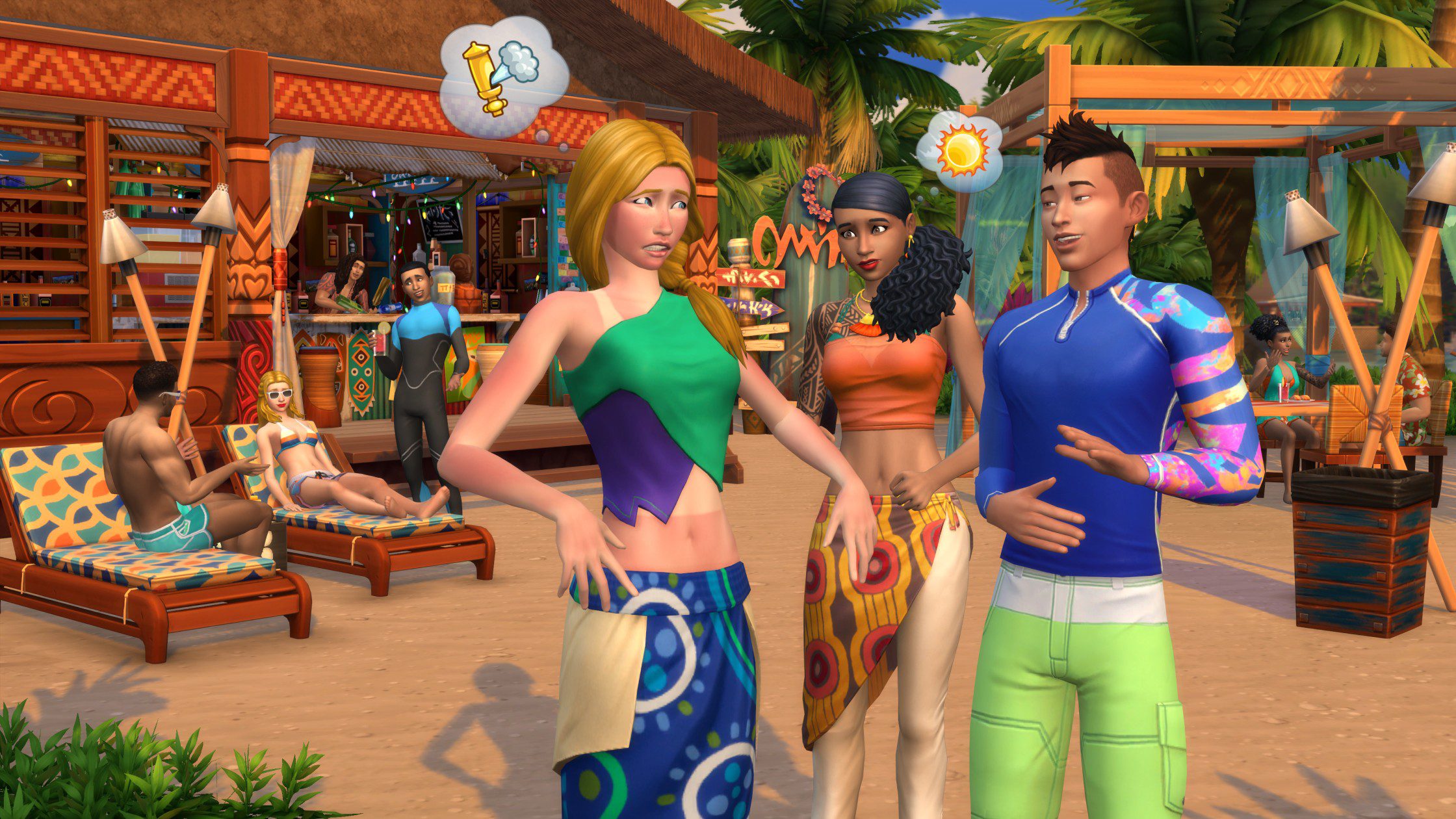 Depending on my mood, I can switch between getting Island Living or Snowy Escape ranked higher amongst Sims 4 expansion packs because they do similar things with polar opposite aesthetics. Both are such beautiful and essential worlds for the game. I LOVE building houses over the water and I love the CAS and waterspouts – I just wish there was more cross pack compatibility.
5. Get Together
One word: WINDENBURG.
4. Get to Work
Maybe it's nostalgia, maybe it's taste… The first ever Sims 4 dlc is still one of the best expansion packs ranked here. The three main jobs you might tire of quickly, but I love the retail mechanic and how you can open your own business and sell literally anything? Very immersive gameplay in my opinion!
3. Discover University
I'm a sucker for the carnage of uni packs, and this one is literally more stressful than going to actual university. Yet somehow manages to be so much fun, LOVE the student halls gameplay and the CAS is perfect.
2. Seasons
In an ideal world, all of the goodness of Seasons would have been in the base game – but it wasn't. So let's just celebrate it for what it is: Sims 4 Seasons is essential. It makes playing the game exponentially richer and more special. You wouldn't want life without the four seasons and you don't want your Sims to go through their little animated lives without it either.
1. City Living
Look, I can't live without it. San Myshuno is to me, perfect. To live in apartments is a dream, the world feels alive and fun, the CAS is diverse and high fashion, it feels so colourful and vibrant and I love it with all my heart and soul. Bias yes! But sue me.
Related stories recommended by this writer:
• Every season of Fortnite ranked definitively from worst to best
• Everything we know about Assassin's Creed Codename Hexe, the 'darkest' game yet
• An inarguable ranking of all 12 mainline Assassin's Creed games from worst to best