Here's exactly where you recognise the cast of Happy Valley season three from
That evil PE teacher is so familiar
I can't believe after the longest 7 years of my life, Happy Valley is back in our lives. Do we go as far to say it's the best British police drama of all time? I think we do! Obviously, Happy Valley is great because of one certain Sergeant Cawood, but it's also the ensemble cast who interweave Sally Wainwright's masterful mystery plot with such ease that's helped them go on to become household names. Season three of Happy Valley brings back cast members we've known for ages and introduces new ones, so here's where you recognise them from!
Sarah Lancashire as Sergeant Catherine Cawood
Sarah Lancashire leads the cast as Catherine, and I'm sorry but… She's the British Meryl Streep. End of. Sarah Lancashire started out famously as Raquel on Corrie – before going on to smashing period dramas like Lark Rise to Candleford and Oliver Twist. She has starred in Sally Wainwright's other show Last Tango in Halifax and played chef Julia Child in the acclaimed HBO show Julia.
James Norton as Tommy Lee Royce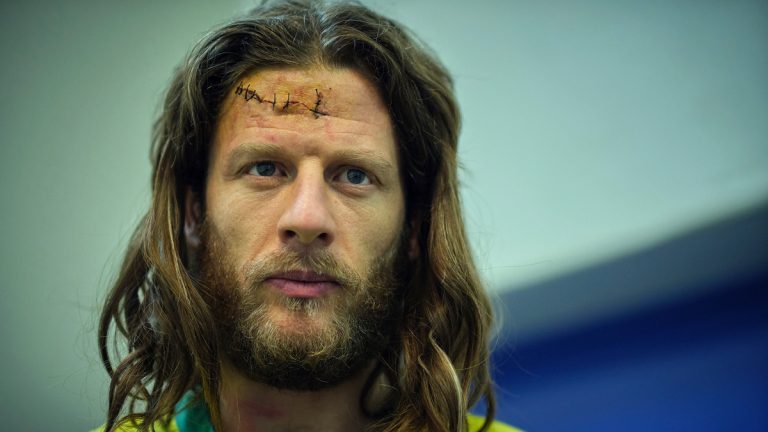 James Norton was a newcomer when he became the most hated man in the country after playing the evil Tommy in Happy Valley, but has gone on to have a huge career starring in Lady Chatterley's Lover, Black Mirror, McMafia, The Nevers and Greta Gerwig's insanely gorgeous Little Women.
Siobhan Finneran as Clare
The fact we get Sarah and Siobhan acting together as sisters is nothing short of a miracle. Siobhan Finneran has a CV as long as my arm, but she's best known for her roles in Benidorm, The Stranger on Netflix, Alma's Not Normal, Cold Feet, The Loch and The Moorside.
Other returning main characters in Happy Valley season three include Rhys Connah as Ryan, George Costigan as Nevison Gallagher, Ishia Bennison as Joyce, Charlie Murphy as Ann Gallagher, Derek Riddell as Richard Cawood, Con O'Neill as Neil and Karl Davies (who'll always be known as Andy Sugden to me) as Daniel.
New cast
Mark Stanley as Rob Hepworth
Evil vibes from this one, a bad egg. You might recognise him as DI Thom Youngblood in Trigger Point, Saul in The Girl Before or when he was recently in The Thief, His Wife and the Canoe.
Mollie Winnard as Joanna Hepworth
Mollie Winnard is best recognised from Coronation Street,  but she was also recently in the harrowing true crime drama Four Lives too.
Amit Shah as Faisal Bhatti
Amit Shah joins the Happy Valley season three cast as the pharmacist who's moonlighting as a drug dealer, and it doesn't look like it's going to end very well for him if the first episode is anything to go by. Amit I recognised from his episode of Doctor Who, but he's also known for playing Marcus in The Other One, Andy in Last Christmas and Dr Rendal in His Dark Materials
Happy Valley season three airs Sundays at 9pm on BBC One and iPlayer.
Related stories recommended by this writer:
• All the biggest acting stars who were once in the cast of Waterloo Road
• Only true fans of Waterloo Road can get full marks on this character trivia quiz
• These are the 24 most batshit crazy things that actually happened on Waterloo Road