This is what the Love Island cast actually do, according to their LinkedIns
Liberty was given a Pupil of The Year award
If we're being honest none of the Islanders are going to go back to their old jobs after Love Island finishes. It's just PrettyLittleThing collections and appearances on Celebs Go Dating from now on. So before they abandon the boring world of work altogether we need to do a deep dive into the cast LinkedIns.
Not all of this year's Islanders have a LinkedIn but the profiles of the people who do are full of extra juicy details we didn't know about them. Despite the oldest of them being 26 years old they've had a variety of jobs between them. There's been a prison officer, a lifeguard and a Track and Trace operations manager. No prizes for guessing who that is.
Naturally some of their bios are full of cringe details like a Coco Chanel quote, no I'm not kidding. These are the Love Island 2021 LinkedIns:
Sharon
Sharon works as a civil servant, so you just know she's gonna have a very detailed LinkedIn. According to her profile her current official title is Operations Lead at The Department of Transport, which she has been working as for the last nine months. This isn't her first government role, Sharon has previously worked in The Department for Environment, Food and Rural Affairs as an EU Exit Senior Policy Advisor and as a Track and Trace operations manager.
Sharon has been working in some form of government since September 2017. According to her LinkedIn she's currently studying part time for a law degree at Birkbeck. How does she fit it all in?
She calls herself an "advocate for social responsibility" and she's easily got the most in depth LinkedIn of all her fellow Islanders. Her list of achievements is endless and I now feel very unworthy. Sharon is an ambassador for The Young Woman's Trust, Miss International UK 2018 and raised money for NHS charities for four years.
Her LinkedIn says she speaks three languages, oh and she used to work at the Co-Op during college. At least there's something relatable.
Liberty
Liberty gives off big "girl you meet in the club toilets" energy and her LinkedIn is certainly a reflection of that. She kicks off her about page with a quote from Coco Chanel "A girl should be two things: who and what she wants". Liberty then goes on to discuss her passion for fashion and marketing. Didn't realise you could be passionate about marketing, but there you go.
Liberty explains everyone said she should be a doctor because of her good GCSEs – she got 9 As, an A* and a B. She's not just a pretty face people.
I'm not gonna lie there are a few things that made me slightly cringe in her profile. She says: "I can't wait for future fashion marketing which is starting to combine with new apps everyday such as 'TikTok' a new way of advertising to make target segments 'TiK'." However she is an angel who must be protected at all costs.
She currently has one follower and three interests – Nando's, Birmingham City University (where she studies marketing) and Pandora. Did you hear that Jake? Get down to Pandora sharpish to secure her a ring.
If you needed any more confirmation of how sweet Liberty is then you'll be pleased to know she was awarded the Pupil of The Year award at her school for being a "good role model". My heart 🥺.
Aaron
Unlike Chloe we weren't shocked Aaron went to uni as we'd already stalked his LinkedIn. But his economics degree is just the tip of the iceberg of his achievements.
His current role is listed as promotion model/ hosting team for Off to Work where he's worked events such as Facebook dinners and a royal wedding. He's been working there since 2018 but before that he worked as an ambassador for Snog the frozen yoghurt brand.
Aaron has literally been in some form of work since 2014, when does the man have time to sleep? He's been a lifeguard, which will come in handy if anyone gets in trouble in the villa pool. He's worked as an exams invigilator, club promoter, sales assistant at Superdry and as a Maths tutor.
Aaron is pretty well connected with nearly 400 connections and his profile features a very profesh photo of him in a nice suit.
Brad
Just like my affection for Brad his LinkedIn is very limited. He's got a few jobs listed and two connections, but he does have a fit profile picture so I'll give him that.
Brad has had a range of jobs including warehouse supervisor of a chalk company, a steel erector and a prison officer at HMP Northumberland. Let's hope he brings out the handcuffs soon.
Now though his current job is listed as painter and labourer which he's been doing since January 2019.
Chuggs
Newbie Chuggs looks like a classic Tory and his LinkedIn most definitely reflects that vibe. Right now he's the founder of a bucket hat company but he's apparently always had a "passion for entrepreneurship" and began by selling rare breed poultry around the UK. That doesn't scream Tory at all.
Even his first job was boujie af. Chuggs worked as a host for a company that covers events such as Royal Ascot and PGA Wentworth. Growing up he went to Feltonfleet School which costs over £7,000 a term for boarders and for college he attended Reed's School which costs over £11,000 per term to attend as a boarder.
His most recent LinkedIn updates are dedicated to his business Booby Buckets which he founded during the pandemic last year. During his profile section Chuggs describes himself as a "keen sportsman and rugby lover who enjoys the structure of keeping fit and a healthy lifestyle". Ollie Williams 2.0 is that you?
Millie Court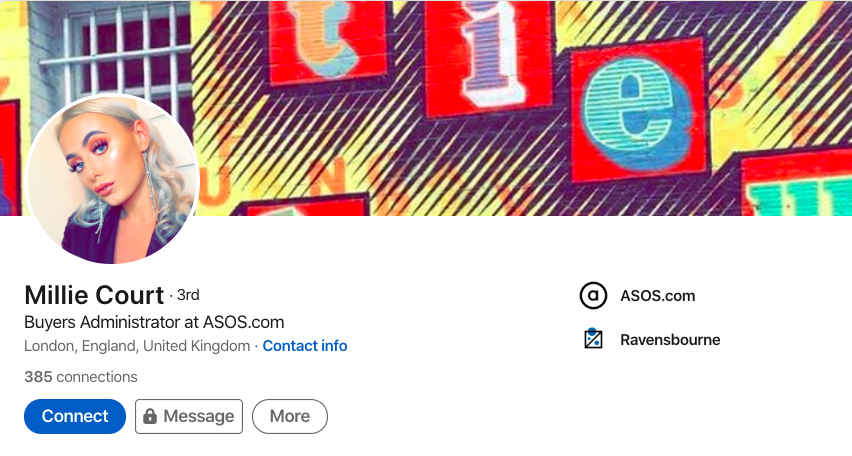 Love Island's latest bombshell Millie Court is a fashion grad and works at ASOS. Her LinkedIn fully proves her dedication to a career in fashion. She graduated from Ravensbourne in 2018 with a 2:1 degree in fashion buying and brand management.
During her time at uni she worked at Superdry as a sales assistant. Now her current role is as Asos as a buyers administrator which she has been working as since her graduation.
Her LinkedIn is pretty standard and doesn't contain a cringe bio, just a few other internships at small fashion brands.
For all the latest Love Island news and gossip and for the best memes and quizzes, like The Holy Church of Love Island on Facebook.
Related stories recommended by this writer:
•This is what all the Love Island 2021 cast did for jobs, before they entered the villa
•Based off vibe alone, here's who the new Love Island 2021 cast resemble