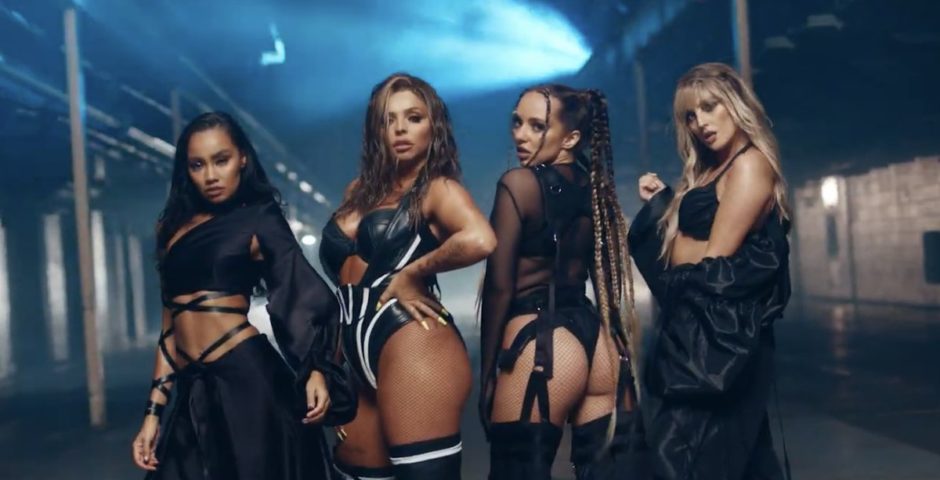 There's been 31 Little Mix music videos, but which one is officially the best?
If you knew that More Than Words had a video I will personally give you 50 quid
The biggest girlband on the planet dropped their 31st music video and I've barely calmed down from the excitement of it all. Any girl group worth their salt knows an iconic music video can make or break a single, and Little Mix haven't stopped dominating the YouTube charts with their videography since becoming the first group to win The X Factor back in 2011. The past decade has seen Jade, Perrie, Jesy and Leigh-Anne unleash a barrage of bangers – each with their own (mostly) memorable video to accompany it.
Picking a favourite Little Mix video was more difficult than my three years of uni combined, so I did the hard work so you don't have to. After much deliberation, blood, sweat, wine and tears, here's all the Little Mix music videos ranked from worst to best:
31. Cannonball
80 percent of this is a black and white slideshow of Tulisa and that's not an exaggeration. Less said the better – a cultural regret.
30. No Time For Tears
Not a single member of Little Mix is in this video and I can't endorse that. I'm happy for everyone in it having their screen time looking like they're doing a drama school audition in HMV, but I want no part of it.
29. More Than Words
This is literally just five girls sat in front of a green screen and if you knew this video even existed I will personally give you 50 quid.
28. Wings
One look at all the clashing colours of this Forever 21 sale section styled video could kill a Victorian orphan. Where it all really started for Little Mix and so it gets some bonus points for that and the song still goes hard, but it's all just a bit CBBC. This is a 2012 relic and should be in a museum.
27. Reggaetón Lento
A huge, summery, Latin bop that transports me right back to Summer '17, but when we get down to it this music video is literally Little Mix sat down in a Slug and Lettuce and it would be ethically wrong to pretend otherwise.
26. Change Your Life
I appreciate this as a nice little reflective moment on how much the girls' life had changed up to this point. It's really nice seeing them so happy but Perrie's purple and Jade's blue hair was a memory I'd spent a long time trying to forget and I can't stand the music video cliche of a group stood round big microphones singing emphatically so it loses points for that.
25. Only You
Okay, turns out I'm a giant hypocrite because despite the fact I dragged No Time To Tears to hell and back for not featuring a single member of Little Mix, here comes Only You a few places higher. My justification for this is that the little narrative of some queer girls falling in love and one of them randomly being a mermaid brings me some joy, and it's my ranked Little Mix videos ranked list so I can bend the rules as I please.
24. Secret Love Song
This is a sponsored #Ad put out by the London tourism board I'm sure of it. The girls looks great, Jason Derulo smacks his fists on the wall a bit and everyone sings their absolute tits off. The end!
23. One I've Been Missing
A cosy but inoffensive affair that feels like an advert for Marks & Spencer at Christmas. No evil fashion disasters going on here and whilst we're here this is a criminally underrated Christmas song and it deserves more love!
22. Word Up
This is a bit like watching behind the scenes of a JD Sports catalogue photoshoot but they look great, they're having a blast and it's all for charity so we can't be too cross about it, can we? Some bits of this sound and look like they're from High School Musical 3: Senior Year and now I've said that you'll never unsee it.
21. Shout Out To My Ex
A potentially controversially low placement for arguably one of the biggest and best singles of their career, but this video has aged like milk and I'm not afraid to say it. It is a lawless land – the time that 2016 forgot. Whoever edited this video should send each member of Little Mix an apology letter for putting them all in this weird, overly saturated Instagram Valencia filter. There's no narrative at all – they just drive through some purple trees and sit by a pool for no reason. They all look gorgeous though, and Jesy's "oh I deleted all your piycks!" moment is for the ages, but this song deserved better.
20. How Ya Doin'?
It's a gaudy affair but it works. It's what the Wings video wishes it was – an early 90s hip hop tinged affair and definitely one of their coolest earlier hits. Perrie's eye makeup this era should have been a criminal offence but the iconic presence of Missy Elliot turning up to prove why she's one of the biggest legends in music means we'll let her off.
19. DNA
This is the kind of comic book live action adaptation Marvel wishes they could make. The scenes on the random rooftop are better than Avengers: Endgame, not a joke, just a fact! Everyone looks a little bit uncomfortable in their outfits though which stops it from being the serve of the century, but it was the early days of the band and all is forgiven.
18. Hair
Full disclaimer: I hate this song! But they do the best they can. Very much a having fun with the girlies watching films and chatting shite at the sleepover vibe. For some reason Sean Paul facetimes them but he's on the song so they needed to shove him in somehow.
17. Break Up Song
This video is a major casualty of the Covid pandemic.  Released May 2020, usual music video resources weren't available so everyone is just doing the best that they could. The result is some morning TV themed affair seeped in an 80s vibe and colour scheme that features Little Mix predominantly made out of felt. I'm a little bit afraid of this video. It's all a bit Don't Hug Me I'm Scared.
16. Think About Us
A bit of a forgotten gem in the videography, and I'm a huge sucker in a music video for when the camera pans out and frames the green screen in the middle – it's so effective. Everyone looks sexier than the rest of us could only dream of. Leigh-Anne's hair is gorgeous. The snow falling on Jade is nothing short of cinema and deserved an Oscar.
15. Little Me
Their first black and white video, so you know it's serious business. Very sweet from start to finish, actually. Suits the lyrical content of the song really well, all the kids saying what they want to be when they've grown up works great and it all gets a bit Beautiful by Christina Aguilera.
14. Love Me Like You
What I love about this video is it chose its theme and committed to it. They sold us the entire Grease-esque, 1950s American high school prom dream and all that entails. It's well worn music video territory but they understood the assignment and did what they had to do!
13. No More Sad Songs
Sticking to the Love Me Like You theme of Americana, it's all a bit Lady Gaga's Joanne isn't it!? Rodeo chic, cowboy couture. Maybe the best they've all looked together as a group – all the outfits are completely correct. Leigh-Anne's could be in Vogue. The director of this video gets everything so right, the whole video feels very midwest humid and like you've just stepped off the plane on your holiday.
12. Wasabi
When you say fan favourite, I say WASABI. I love that this song is so beloved by Little Mix and fans and that it's just taken on this life of its own – and I think the video is such a great reflection of that. It isn't even a single and still has a video, that was fully filmed on tour, just because it's so cherished. Jade's Trevor McDonald t-shirt steals the show. The best Little Mix videos are the ones where they're having the most fun and I've taken that into account when getting them ranked. A joy from start to finish.
11. Move
Move is the best song Little Mix have ever done and ever will do, and the visual for such a song borrows heavily from the classic music video hall of fame. We've got the all white rooms straight out of Kylie's Can't Get You Out Of My Head. We've got the big backlit studio straight out of Buttons by The Pussycat Dolls. It's all the cliches but they danced their arses off. A banger.
10. Salute
If I knew construction sites were like this I'd have looked into becoming a builder. A huge wow from start to finish. They all look so dramatic – like Mad Max warriors off to fight in some wild video game battle and it's just so cool! This was the first time in Little Mix videos so far where styling didn't look super child friendly and showed them in a completely different, more mature, main pop girls light and it's perfection and has ranked highly because of it!
9. Strip
Hugely important video that celebrates body positivity and diversity in all its shapes and sizes. The whole thing courses with defiant energy (Little Mix wanted to release it as a single, the label wouldn't allow it, they made a video anyway) and feels like the kind of video that would have had such positive impact on its young female viewers. Piers Morgan was vile about it too, so you know it's good.
8. Bounce Back
Directed by one of the greatest photographers working today, Charlotte Rutherford, this video is just an unrelenting treat for the eyes. Every colour pops, every outfit works great and the whole inside-the-dollhouse theme is really fun. The way the colour scheme bursts from pinks, reds and oranges at the start into greens, purples and blues by the end is spectacular.
7. Holiday
Another eye popping feast, Holiday stands out amongst Little Mix videos as a pandemic release done right and the trippy nature has got it ranked high. It's almost entirely CGI but it's all so beautiful that it doesn't matter and never feels phoned in. Everyone looks 10/10, the mermaid aesthetic makes the song sound even better. Whoever styled the hair for this video needs a Bafta.
6. Woman Like Me
This is how to make a great music video. So many interesting scenes and set pieces, visually arresting moments (the books on the head bits especially) and OF COURSE the sheer presence of Nicki Minaj. Not too sure on the narrative (half of it is in a prison van and half of it is in the library of a Russell Group uni?) but I don't care. Nicki Minaj in the portrait looks like the opening credits of Netflix's Haunting of Bly Manor and I can never unsee it.
5. Black Magic
The Craft is one of my fave films of all time, so I'm a sucker for this video that is a direct homage to the 90's teen classic. The direct references to the scenes from The Craft  are so much fun I'm willing to forgive the dated eye roll that is the plot about "nerdy" girls wearing glasses suddenly becoming gorgeous cause they get hair extensions and a makeover.
4. Sweet Melody
If you're going to make a barebones dance video, you better make it as good as Sweet Melody. Simple in format but so slickly edited and well choreographed that it blasts nearly all their other visuals out of the water. Instantly iconic. Perrie's hair is the best it's ever looked. Jesy's last video as a member of Little Mix and she really went out on a high.
3. Touch
The coolest Little Mix had ever been at the time. Pastel colours, Yeezy inspired clothes, corsets over trackies, great choreography and just the perfect visual for the kind of song Touch is. A fan favourite, a Little Mix band favourite and a Tab favourite.
2. Confetti
What a triumph their most recent video is. Really fun concept of the girls appearing in boy drag and flirting with themselves, all the Drag Race cameos are amazing and a smart touch to pounce on the popularity of Drag Race UK S2. Honestly, one of the most important videos of their career because it's the first release without Jesy and they had to really put fans at ease that as sad as her departure is, they can still deliver the goods as a trio. For that alone, it deserves a runner up placement when we're talking Little Mix videos ranked. Side note: when I first saw Saweetie in this video I thought it was Rita Ora having a cameo.
1. Power
Motorbike! Motorbike! Moterbike! Motorbike! Bike, bike, bike, bike, bikebikebikebikebikebikeWOO!
The reason Power takes the top spot when it comes to ranked Little Mix videos is simple: it takes every aspect you want from a Little Mix video and does it to the fullest. Women's empowerment finale featuring all the girls and their mums? Check! A sun drenched New York setting? Check! Willam, Alaska and Courtney Act from Drag Race? Check Stormzy sat about in a barbers? Check!
They look amazing (shout out to Leigh-Anne's pink boots that practically go up to her neck) and you can just tell they're so proud of this video and happy to be there. The good vibes radiate off every second of this video, and if you aren't coming to Little Mix for your dose of good vibes then you're doing Little Mix wrong.
Related stories recommended by this writer:
• Little Mix net worths: Ok, so just how rich are they all, really?
• Which member of Little Mix are you, really?