Every iconic outfit worn by Scooby Doo's Daphne, ranked
Proving purple is the new black
Marilyn Monroe. Cindy Crawford in the 90s. Margot Robbie. Symone on the Drag Race season 13 runway. All flawless creatures and revered icons of beauty and glamour. But in the mid 00s, one heroine outdid them all. Because, if we're being honest, has a human being ever looked better than Sarah Michelle Gellar did starring as Daphne Blake in Scooby Doo and Monster's Unleashed? Absolutely not. A dazzling flurry of high kicking purple and ginger, Daphne always made dead sure she was setting the precedent for mystery solving chic. Across two films, fighting over 20 monsters and jetsetting between her native Coolsville and the exotic paradise of Spooky Island, we were treated to 16 ensembles that varied in successfulness but never lacked in iconic memorability. Here are all 16 Daphne Blake's Scooby Doo outfits ranked from shapeless to showstopping: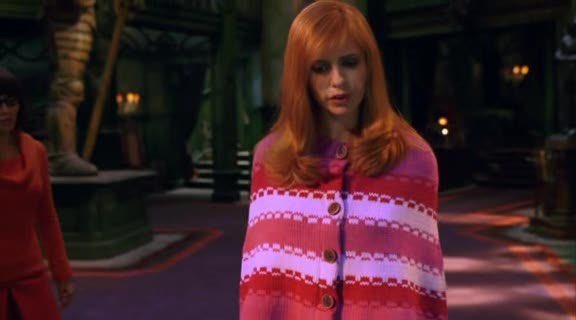 The only straight up Daphne misfire. A drab, sad and shaggy (pun intended) affair. Just one look at it and I'm itchy. If it's not Betty Suarez from Ugly Betty in a poncho we don't want it.
15. What climate is Coolsville?
Scarf, cardigan and miniskirt? Toasty warm torso and freezing legs? The bravery is admirable but the outfit is not. Why is this outfit 50 percent Elle Woods and 50 percent high school drama teacher? Lots of questions to be asked with not many answers.
14. A Mean Girls moment
Regina George personally rang Daphne to borrow this outfit. Most popular girl at Coolsville High School vibes. The separates are so simple but together feel so powerful. The noughties jumped out with this one. There's nothing more fashion than lounging round Mystery Inc. Headquarters in stiletto boots. Comfort is so overrated.Not sure what Brick Lane charity shop that cord jacket was bought in but it's a perfect monster hunting layering piece. Toes the line between being mumsy and retro but if you're gonna wear a jacket like this it better be with a ginger curly blow hair do on top. Tick!
13. Cartoon Daphne throwback vibes
Nice throwback to the classic cartoon Daphne outfit with the green scarf and lilac dress trim but the purple clashing is a slight concern. She's wearing it with lilac platform boots and I'm not too sure if the robbed-from-Trixie-Mattel's wardrobe go-go boots were the optimum choice for this wraparound dress moment but she's smiling and posing like she's wearing Versace's latest collection so who even cares!?
12. Recreating resort wear in her purple image
The poolside ensemble Daphne wears when she gets serenaded by that somewhat sexy possessed guy with frosted tips. If I was sat around the Spooky Island pool and this halter neck dream waltzed over I'd be too embarrassed to be seen in my 12 quid ASOS swim shorts. I'd just go back to the hotel room and call it a day. You just know she's got the best bikini lying in wait underneath too to end fashion careers even further.
11. Flared sleeves, flared pants
There's no better outfit to bust open a bad guy's lair in than this 70's tinged fuchsia overload. The icing on the cake (or icing on the Blake! Like Daphne Blake! Sorry.) is the movie star glamour hair billowing in the wind. Edgy Bristol Uni student girls would sacrifice a Victorian orphan in order to get their hands on a pair of pants like that.
10. A deleted scene karate hidden gem
In a little known scene in the deleted scenes from Scooby Doo lurks one of her lost outfits, we get to see the training that got Daphne ready for that infamous Spooky Island luchadore showdown. Traditional patterns and cuts make this look practical and chic and battle ready. Her most underrated outfit.
9. Spooky Island jetty arrival
I mean, come on. The hat. The bag. The latex boots in 40 degree heat. Just let it soak in for a moment that you're that much of a style icon you use an outfit this good just to walk off a boat in. This could honestly be a photo of Victoria Beckham papped on holiday. Every inch of it a wow. Bonus points for the fact she didn't fly in this, she changed into it after landing for the boat arrival. Two travel outfits. That's the level of style icon we have on our hands here.
8. The t-shirt with her face on it
It's called branding, babes. She's a business bitch, she IS the product. The fact this exists means that in Coolsville Daphne lives in a world where they sell Daphne merchandise. That is a world I wish to live in. #Ad
7. THAT jumpsuit
When Jackie Chan saw Daphne Blake defy gravity and kick a luchadore the size of a brick shithouse into a cavern causing him to plummet to his death, he retired. Her Bond girl moment, her Kill Bill moment, her save the bloody day moment. This should be on display on a museum due to the historical events that went down whilst it was worn. The golden D buckle is a heavenly touch.
6. The sexiest outfit on planet Earth
Who gave her the right? This is better than I will ever look in my worthless life. Her legs go on forever, the bag trim matches the dress trim. The audacity she had breaking into an off limits castle in this ensemble is beyond words. This outfit is singlehandedly why the phrase "less is more" exists in popular culture.
5. The velour outfit you begged your mum for in 2004
The cosiest entry on a Daphne Scooby Doo outfits list, because we pretend that poncho doesn't exist. This is the Daphne equivalent of slobbing around in your tracksuit and she's still wearing heels taller than my future. Beauty is pain!
4. About to be electrocuted by the 10,000 Volt Ghost gilet extravaganza eleganza
It's Pride season! This look fought for gay rights. It ended homophobia. Daphne got electrocuted by the 10,000 volt ghost so LGBTQ+ people didn't have to. She burned for our sins.
3. Disco-ne Blake!
Rumour has it that the reason Dua Lipa recorded Future Nostalgia was because she saw this disco diva ensemble and gained instant inspiration. It's a showstopper, let's face it. How do you round off two amazing films filled with both fashion and mystery solving victories? You dance to the music of Big Brovaz wearing this and snog Freddie Prinze Jr's face off, that's how.
2. Airport trench coat and enough luggage to clothe a family of four
This entire outfit costs more than my house. In fact, the sunglasses alone cost more than my house. It's luxury to excess. It has literally redefined what it means to travel by plane. She literally owned the aeroplane as soon as she stepped through the duty free in this. Huge bonus points for how it looks classically detective-y in dark glasses and a trench coat and she's going to solve a mystery.  The custom Louis Vuitton luggage, the clean lines of the coat, the little cube bag hand luggage… It's for the ages.
1. Coolsville Museum Opening red carpet GOWN
Remember when the Met Gala theme was "Notes on Camp"? This is why. Anna Wintour saw this ostrich feather sensation looking camp right in the eye and signed off the theme there and then. Out of all Daphne's Scooby Doo outfits, it's this Daphne Blake staple purple dress elevated to Red Carpet levels of formality and fashion – inspired.  It's RuPaul's Drag Race, it's The Muppets, it's Alexander McQueen, it's the number one reason why no one in Coolsville could ever come close to one of fiction's most glamorous fashion legends.
For all the latest Netflix news, drops, quizzes and memes like The Holy Church of Netflix on Facebook. 
Related stories recommended by this writer:
• This harrowing video of Scooby Doo without CGI is seriously freaking people out