These 30 memes from this week's Drag Race UK will blow your wig off
Start your engines, unless you don't want spoilers!
The penultimate episode of the first series of RuPaul's Drag Race UK aired on BBC iPlayer last night, and it was more tense than The Vivienne's botox. That did mean, though, that the memes that followed were so shady in the best way.
Combining the fight for a spot in the first ever British top three with the emotional arrival of the queens' family members was always gonna bring some drama to the main stage. One queen is now facing calls to be kinder to her mother and there's a conspiracy brewing that last night's result was a fix. The tea really was flowing, so there's plenty to sink your teeth into!
Here are our favourite Drag Race UK episode 7 memes:
1. Baga Chipz? More like Emotional Baggage Chipz
2. Not sure I'd say this to my mum, personally
3. Michaela Coel is stunning, Michaela Coel is CLASS
4. The resemblance is uncanny
5. Topical AND shady, we love to see it
6. Poor Mrs Chipz
7. Me after every. single. night out
8. Justice for Chezza!
9. What happens when you drag your mum on TV
10. They need to be stopped
11. Cheryl never would've won to this song tbf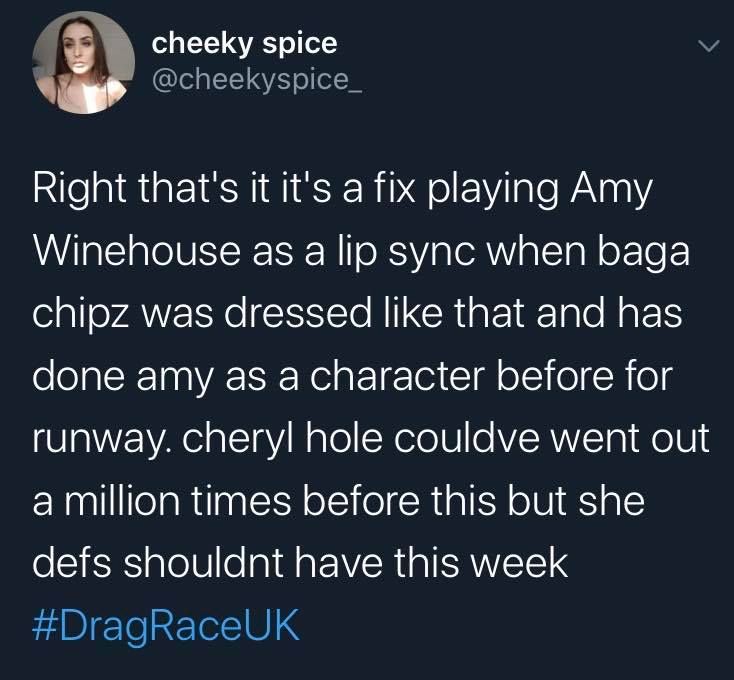 12. Step on my neck please ma'am
13. Think they mean Hocus Pocus* but YES
14. If you wanted a quick summary of the Baga beef:
15. Baga's mum if you read this you aren't podgey and old
16. Third-years at any given time
17. Get your pulling tips here boys x
18. Drag Race taking some inspo from Eastenders
19. Too late for best behaviour now, gals
20. It's still too soon for this joke
21. Imagine being on Drag Race as a fetus
22. BRIGHOUUUUUSE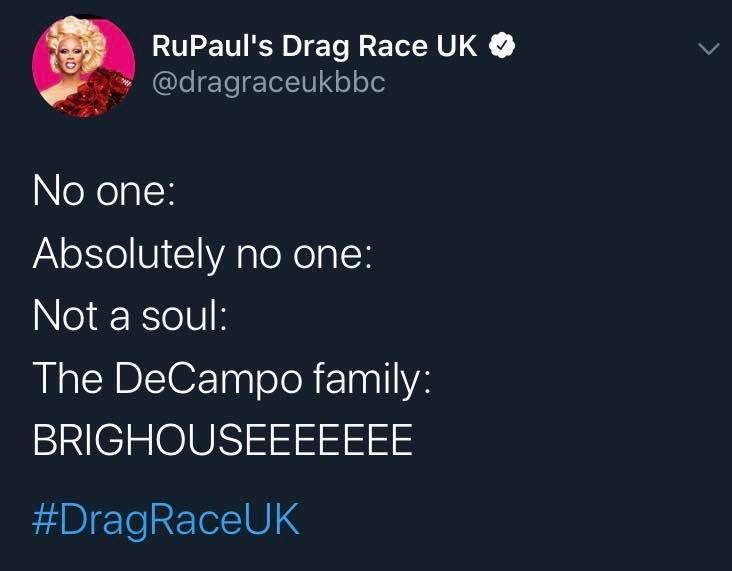 23. Third-years on their monthly night out
24. This is why we pay our licence fees
25. Cheryl should have won, I said what I said !!
26. Never cringed on someone else's behalf so much
27. You're a winner, baby
28. How do you make your mum cry on national TV?
29. Very, very harsh
30. Feel like pure shit just want her back x
Related stories recommended by this writer:
• These 35 Drag Race UK memes are so fierce they'll go down in her-story
• Quiz: How much drag queen slang do you know, really?
• Start your engines, this queen wrote her dissertation on RuPaul's Drag Race