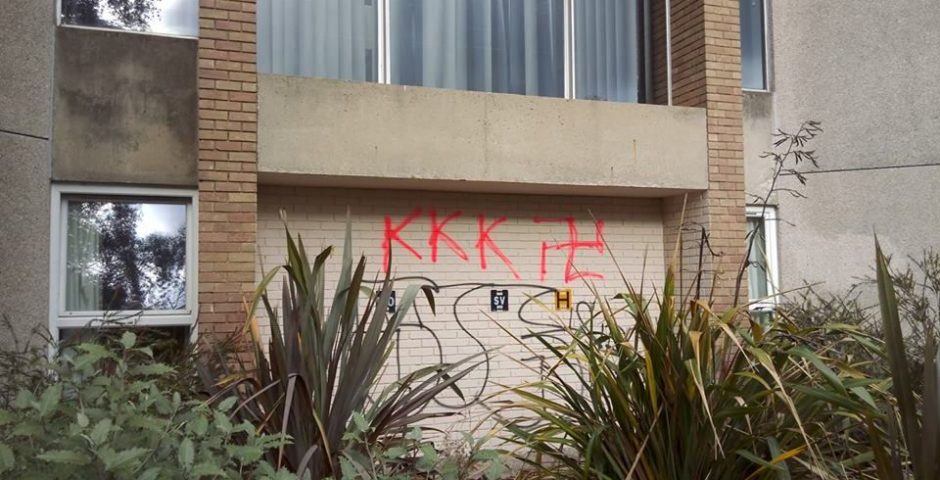 Swastika and KKK graffiti spotted on University of Kent campus
Kent University have removed the graffiti
Racist and antisemitic graffiti was found on the side of an accommodation building at The University of Kent yesterday.
A swastika and "KKK" were both inscribed on the side of Eliot College building, which is located on campus.
The University have said that the graffiti has now been removed, and that police have been told about it.
Tadek Markiewicz, a PhD student at the University, described the incident as "chilling", and pointed out that it had appeared on the 80th anniversary of Kristallnacht.
He posted: "I noticed it 100-200 meters away from the footpath. It is facing the most popular pedestrian way leading to the campus. Its location cannot be very coincidental."
Taking to social media, students described the graffiti as "appalling" and "heartbreaking".
Antisemitic incidents have doubled in Britain over the last six years. Last month, antisemitic graffiti was found on campus in York. In September, an NUS committee member resigned after comparing the state of Israel to the Nazis.
A spokesperson for The University of Kent told The Tab: "The University does not tolerate racism or antisemitism in any form and is taking this incident very seriously.
"The offending graffiti has been removed and Kent Police have been informed."
A spokesperson for Kent Jewish Society told The Tab: "As all should know by now, some person(s) have decided to paint racist and anti-Semitic graffiti on the side on Elliot, with 'KKK' and a swastika.
"I speak on behalf of Kent Jewish society to say that this is completely unacceptable behaviour at any time, let alone so close after the Pittsburgh attacks and on the 80th anniversary of Kristallnacht, which most will know as the beginning of the Holocaust.
"The swastika is the symbol of the most horrific anti-Semitic movement in modern world history. The Nazi symbol is representative of an ideology responsible for the annihilation of 2/3 of European Jewry, six million people, within living memory and the trauma of this lives on in many Jewish families.
"It is extremely important that we acknowledge all forms of anti – Semitism and it is extremely important to make sure both racism and anti – Semitism is stopped the moment it becomes present, if we don't set a precedent for events such as these, how do we know they will not occur again? Racism and anti – Semitism is never acceptable and to all the Jewish students on campus specifically, stand proud as a member of the Jewish community, do not allow this incident to make you feel uncomfortable to do so.
"To be clear, Kent Jewish society condemns all types of hate crime and promotes a safe space on campus for all races and religions."
Kent Police have been contacted for comment.