I went charity shopping in Manchester and sussed out the best places so you don't have to
Because second-hand lovers shouldn't gatekeep
I've been into charity shopping for years now, so I consider myself a bit of an expert in deciding what constitutes a good charity shop and what doesn't. As fast fashion makes its way out and second-hand shopping becomes increasingly popular, I have searched the depths of Manchester to see for myself where you are actually going to find the best second-hand pieces based on price, quality and stock.
Here's a rundown of the best areas to buy your sustainable garms (and how to get there from Fallowfield):
Ashton-under-Lyne – 10/10
Coming in strong is Ashton-under-Lyne, my favourite place to go on an afternoon charity shopping trip. Firstly get yourself onto any bus towards Piccadilly gardens. Then you've got two routes to choose from: either you can take the tram to Ashton-under-Lyne (the lengthier journey), or take the train from Victoria station. Either way, the trip will cost just under £5.
The main attraction in Ashton is the gigantic Barnardo's situated opposite the tram stop. The first time I came here I was in absolute awe: most items of clothing on the rails range from £1 to a maximum of £5, but the best bargains are inside the massive two for £1 boxes at the front of the shop. I left with eight items for the price of just £6.50, cheaper than shopping fast fashion and higher in quality.
Other charity shops in the area include Age UK, British Red Cross, Cancer Research, British Heart Foundation, Salvation Army, Willow Wood and a whopping three YMCA shops – with this variety it's virtually impossible to leave Ashton empty handed. Oh and also, Manchester's IKEA is right by Barnardo's so don't forget to go in there and get the meatballs!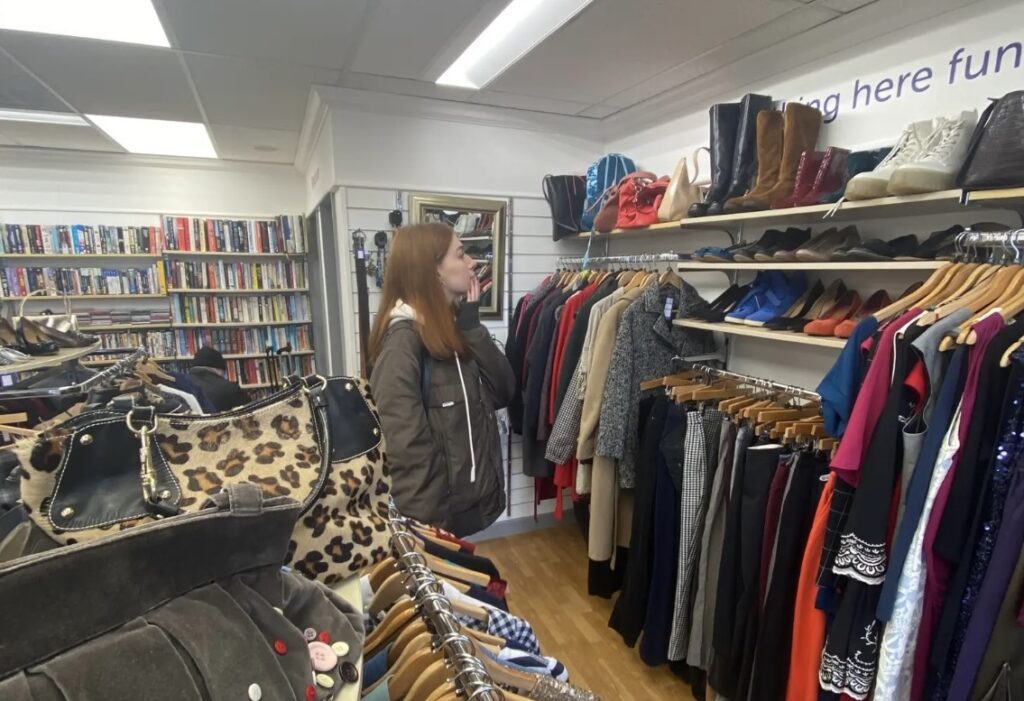 Stockport – 6/10
I recently visited Stockport for the first time and I'm not sure it was worth the journey. To get there from Fallowfield, either take a train from Piccadilly station for roughly £3 or get on the 42 for an hour's bus ride.
When I first arrived in Stockport I checked my phone and found I had no service, meaning I had no idea how to navigate myself around a town I had never visited. So, to figure out where the charity shops were, I used good old-fashioned road signs.
The first shops I arrived at were Age UK, which was probably the best shop of them all, and St Ann's hospice. With my data still not working, I had to ask a shop assistant where I could find the rest of the charity shops. I headed down to the main square and found a British Heart Foundation and two Cancer Research shops, one of which sold everything for £1. I don't know if I visited Stockport on a bad day to go charity shopping but I really did not find a lot. 
Altrincham – 8.5/10 and Sale – 6/10
Taking the second spot is Altrincham. Unfortunately, getting here without a car from Fallowfield does prove to be a bit of a long journey, however it is possible. Hop on the 41 bus outside Owen's park to the Sale metrolink stop and either stay in Sale or get the direct tram to Altrincham. For the total of this journey you are looking at around £5.
Firstly, Altrincham has proved to be a successful area to go charity shopping for me recently. You are greeted with a Cancer Research when you hop off the tram, and this shop never fails to amaze me. From handbags to jeans, you are bound to find steals in here. Other shops I have been successful in are Sue Ryder (this shop also has it's own vintage section which is really good), Scope and Oxfam. You are almost guaranteed to find something in Altrincham and it's also full of cute lunch spots, so make a day out of it!
Secondly, Sale. You aren't spoilt for choice in this town, however I visited a few months ago and bagged myself a pair of vintage Diesel jeans! The choice of charity shops in Sale include: Scope, Oxfam, Roy Castle, British Heart foundation, Age UK (where I found the most choice) and St Ann's. Overall, a decent option for second-hand finds but probably best as a stopover on your way into Altrincham.
Wilmslow – 9/10
Wilmslow is another top contender for charity shopping. The easiest way to get here from Fallowfield is to take the direct train from Mauldeth road, setting you back about £6.
Ever since starting university in Manchester I've always been told Wilmslow is where all the 'rich' people live, but do the charity shops reflect this? When I visited back in October I was amazed at the amount of charity shops there were as well as the stock in them. I wouldn't say they lived up to the designer clothing expectations I had in my head, but nevertheless there's a lot to choose from. The charity shops in Wilmslow are as follows: Roy Castle, two Cancer Research shops, British Heart Foundation, Blue Cross, Salvation Army and Oxfam.
Withington – 5.5/10 and Didsbury – 8/10
These two are ideal for students living in Fallowfield – just grab any magic bus to Withington and grab the 42A or 142 to Didsbury.
I love staying as local as possible, however the one downside of Withington and Didsbury is that every other student has the same idea to go charity shopping here. I've personally never managed to find anything in Withington's charity shops – the selection is good but not good enough for me to part ways with the last of my loan. A solid 5.5/10.
With Didsbury, you have a higher chance of not getting back on the 142 empty handed. In the past, I've found loads of steals in the charity shops, as well as having seen a lot of designer items on my trips there. Your best bet for a wide selection of clothes is Mind, but other Didsbury charity shops include Oxfam, Cancer Research, Barnardo's, Cat's Protection and Sue Ryder. Didsbury is also a nicer day out than Withington, bumping it up to an 8/10.
Conclusion
All in all, Ashton and Wilmslow may be further afield but are worth the journey if you're a committed second-hand buyer. Playing it safe and going to the Withington spots on your doorstep, however, might not bring the same success. After this conclusive ranking, I hope you feel inspired to empty your PLT basket and visit some of the spots yourself.
Related stories recommended by this writer:
• The type of tattoo you should probably get based on your Manchester Uni halls
• Looking for a playlist refresh? Here are 50 songs to perfectly fit your Manchester student vibe
• Today I definitively deduce where the best lunch spot is on Manchester Uni's campus