UCU announces 18 days of strikes over the next two months at more than 30 London unis
There might also be marking boycotts that 'strategically target the summer finals'
The University and College Union (UCU) announced 18 more days of strikes between February and March at 150 UK universities, including 31 in London. The exact dates will be confirmed next week.
This is an escalation in the union's dispute with university employers over pay, working conditions, and pensions, which had just caused three days of nationwide strikes last November.
The union will also re-ballot to renew its ability to call industrial actions at all 150 universities further into 2023. If successful, marking and assessment boycotts might be called in April to "strategically target the summer finals" unless the disputes are settled.
UCU represents academic staff such lecturers and tutors at universities and colleges across the UK. Over the past few years, it has called numerous strikes, action short of a strikes, and marking boycotts over two disputes: one for better pay and working conditions, and the other against cuts to pensions and benefits.
These industrial actions have disrupted almost a month of teaching for students last year.
The upcoming strikes come after the Universities and Colleges Employers Association (UCEA) failed to meet the UCU's demands for "a meaningful pay rise to deal with the cost-of-living crisis [and] action to end the use of insecure contracts."
It was revealed that earlier this week, the UCEA offered a pay rise of between four and five per cent to the UCU to settle the dispute. But Jo Grady, general secretary of the UCU, said the union will not settle until employers "put more money on the table" and "bring forward discussions on non-pay related issues."
She said about the decision to call more strikes: 'Today our union came together to back an unprecedented programme of escalating strike action. The clock is now ticking for the sector to produce a deal or be hit with widespread disruption.
"University staff dedicate their lives to education and they want to get back to work, but that will only happen if university vice-chancellors use the vast wealth of the sector to address over a decade of falling pay, rampant insecure employment practices and devastating pension cuts. The choice is theirs."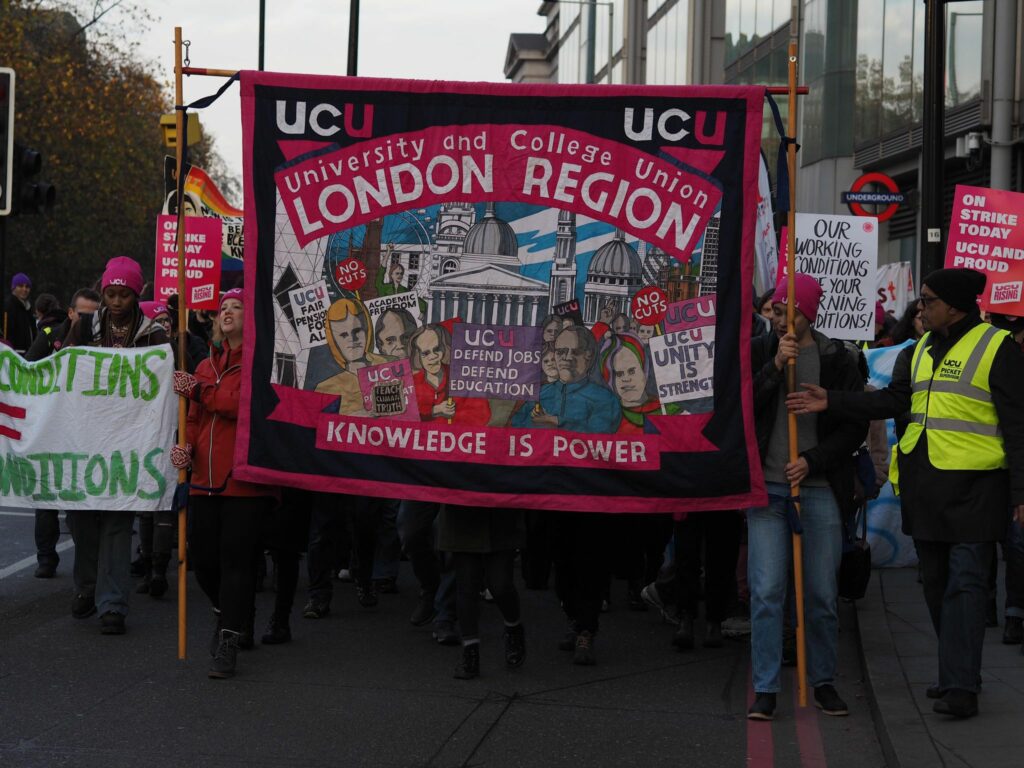 Unless an agreement is reached before then, these London unis will be hit by the new wave of strikes in the next two months:
Birkbeck, University of London
Brunel University London
City, University of London
Courtauld Institute of Art
University of East London
Goldsmiths, University of London
University of Greenwich
Imperial College London
King's College London
Kingston University
London Metropolitan University
London School of Economics
London School of Hygiene and Tropical Medicine
London South Bank University
Middlesex University
Queen Mary, University of London
Roehampton University
Royal Academy of Music
Royal Central School of Speech and Drama
Royal College of Art
Royal College of Music
Royal Holloway, University of London
Royal Veterinary College, University of London
Senate House, University of London
SOAS, University of London
St George's, University of London
St Mary's University, Twickenham
University College London
University of the Arts London
University of West London
University of Westminster
Related stories recommended by this writer:
• Here's how the university strikes will impact you as London students
• 'We need education to change': The head of UCU on how the strikes are affecting students
• In pictures: All that went on at UCU's 'historic' strike rally in London