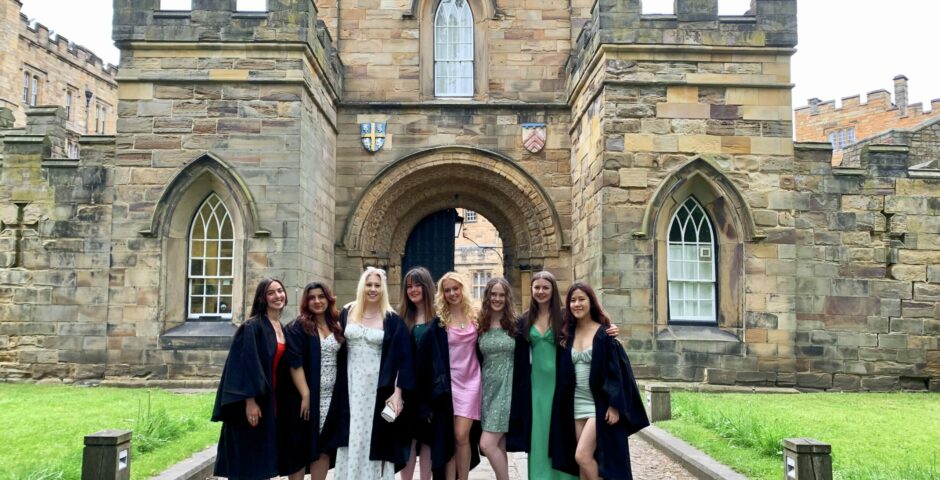 The 10 things about Durham that shocked me as an international student
Yes, Durham really is advertised to us as Hogwarts
As a city girl who grew up surrounded by high urban skyscrapers, Durham's 1,000-year-old architecture, historical buildings, and riverbanks are a stark contrast to where I lived. Here's a little perspective from a fresh-off Heathrow Airport international student from Singapore.
1. How hilly the roads and pathways are
My fitness app has not seen this much activity until my arrival in Durham. It sure doesn't help when rushing for formals and balls while climbing these cobble-stoned altitudes in heels or rushing to a 9am lecture. The only good thing I would get out of this is the growth of my calf muscles which will be twice the current size by the time I graduate. 
2. Why does everything close so early?
As a city girl accustomed to the hustle and bustle of city life and sometimes having days starting late at night, it was surprising to know that shops close before 8pm. Adapting to the early closing hours of shops in Durham was a definite challenge, and nightclubs closed at 2am, leaving us only approximately two to four hours of dancing compared to the nightclubs back home that only close at 4–6am. It is criminal for the night to end at 2am. On the bright side, this does make "pres" and "afters" more appealing.
3. How much this town revolves around the university
The little city of Durham seems very much intertwined with the university, which is evident in the significant ratio of students to local residents. The events and activities happening in this city heavily revolve around the student population, which means you can always see familiar faces anywhere you roam.
It is not surprising to unexpectedly encounter four of your seminar mates during a quick trip to Tesco for grocery shopping in the city centre. This makes grocery shopping or catching up with close friends a lot more stressful as I do not want to bump into anyone in my fashionably criminal combination of socks and sliders with no makeup on. 
4. That the Cathedral is actually part of the Harry Potter film
Most international students associate the classic and iconic film Harry Potter with the UK. For some of us, it is the first thing that comes to mind when we think or talk about the UK. Believe it or not, some students even applied to Durham for its association with Harry Potter, with university agencies using Harry Potter to advertise and promote applications.
Even though the Harry Potter films were not primarily filmed in Durham, if you did not already know, some scenes were actually filmed at Durham Cathedral, which was used as a location for the Hogwarts. Durham's association with Harry Potter makes being in Durham feel like we live in a real-life dark academic fairytale, especially when walking around the Castle and Cathedral in our black academic gowns. 
5. Walking around town in the academic gown
Picture this: strolling through a cobbled street surrounded by medieval-looking buildings, donned in academic gowns while making your way to your formal. This sounds like an excellent reason to apply for the "gowned" colleges to cosplay as one of Hogwarts' students if you are a big fan of Harry Potter. Passerbys, presumably the locals, would shower us with "congratulations", mistaking us for graduating. You would almost never catch other universities doing the same thing, except for Cambridge and Oxford, of course.
6. The Housing problem
Queuing up in the wee hours of the morning to rent a house that you may or may not have seen in real life just so that you can have a roof over your head for the next academic year was definitely astounding to me. On top of that, we had to make this decision nine months before the next academic year. This is an incredibly stressful period, with houses selling out so quickly, for an over-populated student town. 
7. People actually live and dine in the Castle

University College students are privileged to live in the 950-year-old Castle and even dine in the beautiful historic Great Hall. How often do you get to say, "The Castle is my university accommodation?" Almost never. Speaking from a Castle student's point of view, a formal at the Castle is a must-have experience as a Durham University student. I hope this picture would do the job if my words do not persuade you.
8. Collegiate culture – college families, college bars, and stash
Every day during term time, Durham town is saturated with students in black college puffers and stashes, roaming around with their bright big college logo and initials shown. It is part of our personality and identity at this point. The constant rivalry between Hill and Bailey colleges and the stereotypes made for every college serves as a conversation starter. However, sometimes these college stereotypes have gone as far as having students not wanting to associate with others based on their colleges. One example of a conversation which could be heard in the nightclubs would be, "Hi, which college are you from?" "Oh, I am J*hn Sn*w. " "Ew". Is it really that serious? 
9. Durham's drinking culture
It is not an exaggeration to say that almost every social event in Durham involves some form of drinking. The widely-known Durham College bar crawl is a tradition whereby students (try to) visit every bar from the Hill to the Bailey before ending up at the nightclubs. It is a great opportunity to catch up with your friends before heading off to Cheapskate Fridays at Babylon or Sunday Night Klute. However, one may have to watch out for potential liver failure.
10. The breathtaking beauty of Durham
This little town's vibrant river views, especially during spring and summer, are a serene escape after completing your summatives (final exams) of the academic year, especially after spending several overnights in the library, be it at the Bill Bryson Library or your college library. In addition, watching the sunrise from Observatory Hill should be part of every Durham student's bucket list. Regardless of the season, summer or winter, this little town never fails to awe me with its scenic views. It is truly an honour to consider Durham my cherished home away from home. 
Related stories recommended by this writer:
• So you're going to Durham and want to be on the Bailey? We'll find the college for you
• I tried the viral TikTok Milan pasta and this is how it went
• Durham Duz Dance 003: From Durham student to international DJ John B