From Era 1 to Problématique: Every Kim Petras album, ranked from worst to best
After insane demand from fans, Kim's scrapped debut album Problématique is finally out
The career of Kim Petras will be studied in the pop culture history books for eons. As a day one stan of Kim, I'm sure even she won't mind me saying that it's all been, quite frankly, a fucking mess. After a rip-roaring start with a lead single featuring Paris Hilton in the music video, to a runaway underground viral smash when she featured on Charli XCX's acclaimed Pop 2 mixtape on the ultimate pop anthem Unlock It – it felt like Kim Petras was destined to be a main pop girl. And now, six years later, she sort of is. She's won a Grammy and become the first trans person to get a Billboard number one single. But along that major label way has been scrapped albums, abandoned lead singles, public label feuds and now the sudden release of Problématique, the scrapped major label debut that was shelved in favour of Feed The Beast. Now, with six full length projects under Kim Petras' belt, here they all are ranked by a super fan, from Era 1 to Problématique.
6. Slut Pop
In the first truly nonsensical move from Republic Records, after a three hit run of career best singles with Malibu, Future Starts Now and Coconuts – everything was halted to release Slut Pop, a complete and utter vibe shift. To this day, I don't know who this was for or why it was made. If it was Republic chasing a hit single, why was this their answer? If it was Kim just doing any old shit to pass the time, erm, fair play I guess! When this first came out I hated it, but to be honest – I've softened on it. It's not all bad. It's all well produced, the title track and Your Wish Is My Command are great and I will at least commend it for being focussed on a theme and cohesive.
What I will not commend it for is Throat Goat. A career low. No one should have to endure it.
5. Feed The Beast
Well, here we are. Kim Petras' major label debut: A Frankenstein's monster album where they quite literally just threw stuff together. After the label scrapped Problématique, an album I never thought til yesterday we'd be able to get ranked alongside Kim Petras' other albums, she made her major label LP debut with Feed The Beast. To say this album, its release strategy, its sales and its critical reception have been a mess would be the understatement of the decade. In my opinion, Republic got what was coming to them – and perhaps if they trusted Kim Petras' vision from day one this album wouldn't be the chaos that it is.
If Jesus Was A Rockstar was the lead single, then Brrr, then Alone with Nicki Minaj. Alone got viral traction on TikTok before it released to a lukewarm reaction, resulting in a second release of a more EDM heavy "Alone 2.0" to please fans. Revelations, Coconuts, Hit It From The Back and Sex Talk were all on the original tracklist of Problématique, so here they are alongside the likes of Claws and Uhoh with no rhyme, reason or thought. Unholy, the number one hit single she had with Sam Smith, is shoved at the end. Listening to Feed The Beast gives you whiplash.
That being said, I wonder if I didn't have all the context around the album in my general knowledge as a fan if I'd feel so frustrated with it. The title track is brilliant, Uhoh and King of Hearts are balls to the walls bangers and Claws and Minute are an outstanding showcase of how Kim Petras is one of the best vocalists in the industry, period.
4. Problématique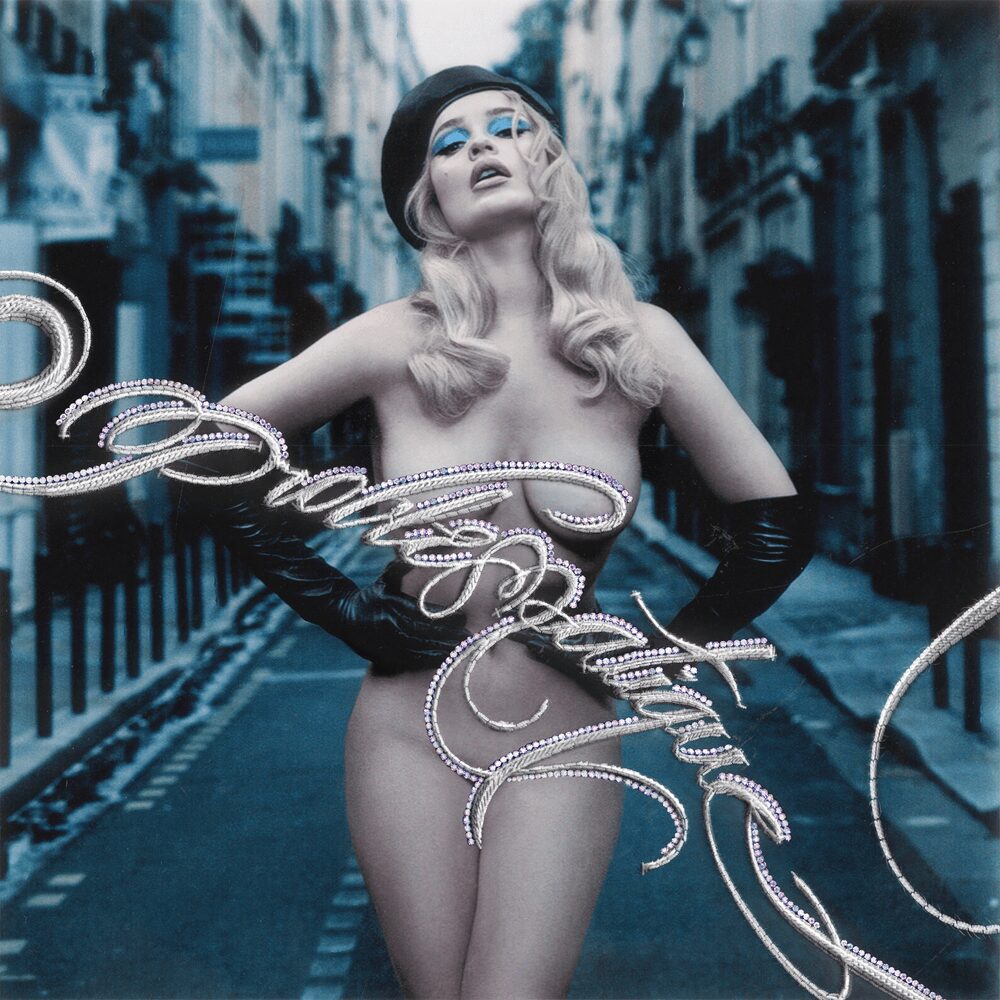 I cannot believe the day has come, but Problématique is out in the world. Over the weekend, streets whispered that on Monday 18th, Kim Petras would surprise drop the shelved album. The streets were right. And it's excellent – one listen is all you need to realise this is clearly a better record than Feed The Beast, one with a cohesive trashy europop sound and en français excellence. The title track, Je T'Adore, Treat Me Like A Ho – it's Kim Petras at her very best.
What hurts though, is I still feel like Problématique is a shadow of the greatness it could have been if Republic let Kim Petras execute her vision like she intended. I'm glad to have these songs officially released in my life, but if this album had Future Starts Now, Coconuts, Hit It From The Back and the other songs shoved onto Feed The Beast it would be ranked amongst the best Kim Petras projects easily. Whilst it's not the masterpiece it could have been a couple of years ago, it's a blessing nonetheless – 10 tracks of jubilant pop greatness that deserve their time in the sun. Oui oui.
3. Era 1 (or, The Summer I Couldn't Do Better)
Not a girl, not yet a woman – not an album, not yet a… collection of singles shoved into a playlist, or a random collection released and removed from streaming called The Summer I Couldn't Do Better after Can't Do Better appeared in The Summer I Turned Pretty. This collection of songs is obviously not an album, but it is a crucial collection of songs and a fully fledged era that's too important to not discuss and get ranked alongside the other Kim Petras releases here. Era 1 is TEXTBOOK Kim Petras. It's pop at its poppiest, and features some of the best songs she's ever done. And honestly, ever will do. It barely gets better than this.
I Don't Want It At All and Hillside Boys are perfect first and second singles, like Katy Perry on gay acid. Heart To Break is still to this day one of her greatest ever songs, a perfectly crafted pop song – the ones the girlies just don't make them like anymore. All The Time is urgent chaos, and 1,2,3 Dayz Up in collaboration with the late, great SOPHIE is one for the ages. The only thing that holds Era 1 back is the lack of official album release and a proper tracklist. With a bit more vision, it would be perfection.
2. TURN OFF THE LIGHT
A fully fledged Halloween album made with the love and dedication Mariah Carey devotes to Christmas? Just perfect, actually. Produced within an inch of its life to make sure every single sound on this album slaps you around the head with maximalism, and a grave shaking mix of clubby instrumentals and horror tinged pop bangers, TURN OFF THE LIGHT is one of the most unique pop projects ever made. It's crazy that no other pop girl ever has committed to the horror shtick on a full album before this, but here we are.
SO many highs on here, but There Will Be Blood and Close Your Eyes are the two centrepieces from the first and second half respectively. Kim attacks them and they both go so hard. Massacre sampling Carol of the Bells and becoming a Krampus-esque festive nightmare? Inspired. Shout out also to In The Next Life – Kim's only song where she's singing her native German. Would cherish some more German verses.
1. Clarity
For me, Clarity is Kim Petras at her cleanest, leanest, boldest and best. It loses some of Era 1's bubblegum pop in favour of a more hip-hop inspired sound, alongside Weeknd esque R&B on the behemoth banger Icy. It's got disco, it's got emopop, it's got Ariana Grande vibed Another One and it's got Do Me – the best song ever made. I'm being hyperbolic of course, but Clarity plays out like a showcase of what kind of pop star Kim Petras is and what she can be. It jumps genres in ways that feels like "look what I can do" as oppose to Feed The Beast's "look what we've shoved together".
Clarity has, well, Clarity. In a career of chaotic release strategies and scrapped albums and lead singles that go nowhere, Clarity feels like Kim Petras at the peak of her creative control – with this and Turn Off The Light a testament to her vision when she gets given the reins she's such a superstar with.
Problématique, the new album by Kim Petras, is out everywhere now – along with all the other albums ranked here. For the latest music and reality TV and entertainment news and gossip, like Pop Culture Shrine on Facebook.
Recommended stories by this writer:
• Every Kylie Minogue album, definitively ranked from worst to best
• Kylie's new banger Padam Padam is Twitter's song of the year and these memes prove it
• The 50 greatest Kylie Minogue singles of all time, ranked