Update: Uni suspends policing students who made rape and voyeurism jokes in group chat
Derby University is launching a full investigation
The University of Derby has suspended the students who made jokes about child rape and voyeurism in a group chat.
In an email to The Tab, a University spokesperson said they were "working with an external specialist agency to carry out a full and formal investigation" into the messages.
"We were incredibly disappointed to see the degrading and offensive language used in online forums about some of our female students," the University said. "Such behaviour is unacceptable, will not be tolerated and is being addressed with the upmost urgency."
"I hope my uni takes it further and sets an example for other unis," a girl who was discussed in that chat told The Tab. "If it gets dropped it'll just be another Warwick Uni situation where these 'lad chats' reoccur."
Two of the students in the group chat are current Derbyshire Constabulary Special Constables, it has been confirmed, and have both been suspended while enquiries into their conduct take place.
A spokesperson for the constabulary said: "The type of language seen in these comments is completely unacceptable and the organisation utterly condemns it.
"The force, and the public, expects the highest standards of behaviour from our officers, staff and volunteers, whether on or off-duty, on social media or otherwise.
"Those found not to have upheld our standards will be dealt with robustly through either criminal, or misconduct, procedures."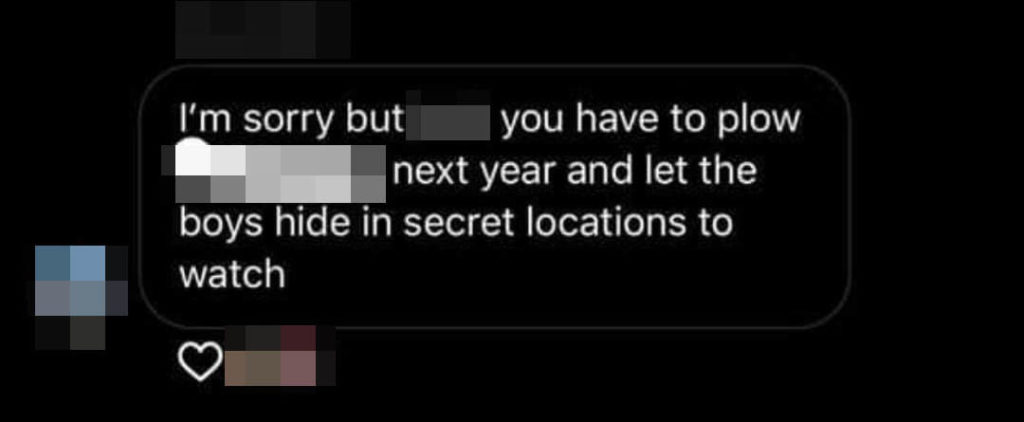 The screenshots leaked from an Instagram chat involving six students, five of whom were on the University's policing course, and showed the men rating girls' appearances, and joking about using child rape as a chat-up line.
"Straight in the vag, then in the gob, then back out her gob straight back into the vag," read one message.
Another suggested the chat-up line: "Are you a child, cause I want to rape you."
The screenshots were shared on Facebook by a girl claiming to have been discussed in the chat.
She said: "The comments made about each of the girls are degrading and humiliating and shows their complete disrespect to women.
"The same boys in this group chat are aspiring to be police offers. PLEASE do not let these boys get away with this."
She later told The Tab: "I don't want the boys to be pestered, I just want them off my uni course."
Members of the group chat joked about watching one of the men having sex with a girl whose picture was shared.
"I'm sorry but you have to have to plow her next year and let the boys watch in secret locations to watch," one message read.
The University added: "We are following our Sexual Misconduct Policy and processes to ensure this is conducted fairly and thoroughly, and have offered support to the female students affected by this."
Students seeking support following the incident are encouraged to contact Derby support services via email ([email protected]).
Related stories recommended by this writer:
• 'Let's do it all again': Second Warwick boys group chat exposed
• Exposed: Cov Uni Cricket have a group chat where players rate girls they've just had sex with
• Second year rape victim forced to remain on campus with her alleged attacker
Featured image by Lianne99 (via Wikimedia Commons)