Policing students made child rape and voyeurism jokes in their group chat
They suggested one of them have sex with a student while the others hid and watched
A group of policing students made jokes about child rape and voyeurism in a private chat, it has emerged.
Screenshots taken from an Instagram chat between group of six men at the University of Derby show one member suggesting the chat-up line: "Are you a child? Cause I want to rape you."
Another member of the chat encouraged one of the men to sleep with a girl while the rest of them hid "in secret locations to watch."
Update: The University confirmed in an email to The Tab that five of the six students in the chat were studying policing. The students in the chat have since been suspended.
Screenshots from the chat were shared to Facebook by a girl whose pictures were shared in it.
"The comments made about each of the girls are degrading and humiliating and shows their complete disrespect to women," she said. "The same boys in this group chat are aspiring to be police offers. PLEASE do not let these boys get away with this."
She later told The Tab: "I don't want the boys to be pestered, I just want them off my uni course."
Members of the chat would share girls' Instagram posts with the group. Under one image a member of the chat said: "She's a minger. I follow her."
"Nice bottom however," read the reply.
Girls' photos were also rated by the group, screenshots show one member sharing a girl's post with the caption: "Zero lips. Minging face."
Replies from group members included: "See your point," "would still bum it," and "I'd stay away from her."
One member of the group described graphic sex with a girl whose Instagram post was shared in the chat.
"Straight in the vag, then in the gob, then back out her gob straight back into the vag," he said.
Sharing a photo of a girl in a bikini, one of the men said: "Summer time is fantastic."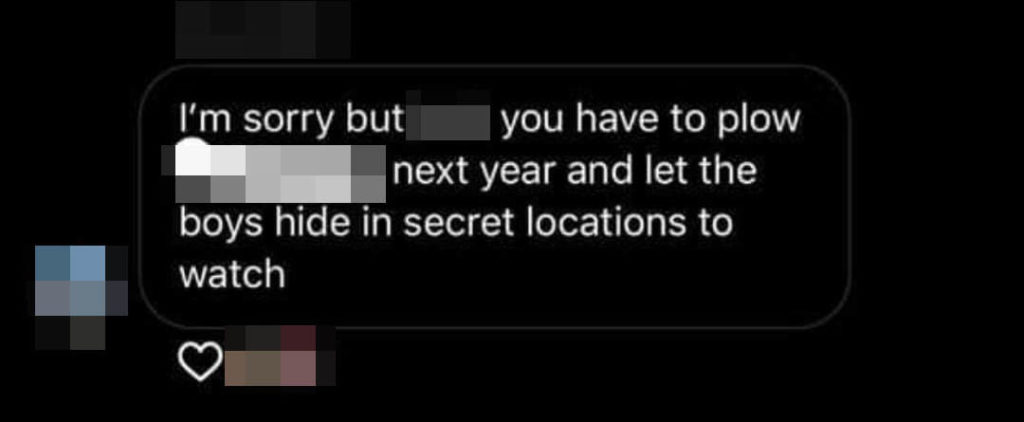 The University of Derby's policing course is designed to develop "both the practical and theoretical knowledge needed to become an effective police officer," with the aim of giving undergraduates "a head start for a future career in the force."
The degree is licensed by The College of Policing, and the University's website says it will give undergraduates "the required qualification to pursue a career as a police officer."
Screenshots of the chat were widely shared on Facebook. In the comments, a University spokesperson confirmed an investigation had been launched, and told the poster: "We are really sorry to hear about this.
"We are doing a full investigation into this as a matter of urgency and will be in contact directly with yourself and the other girls involved.
"If you do need any support from us at all in the meantime then please do not hesitate to reach out to us on [email protected]"
The University has been contacted for further comment. 
Related stories recommended by this writer:
• 'Let's do it all again': Second Warwick boys group chat exposed
• Exposed: Cov Uni Cricket have a group chat where players rate girls they've just had sex with
• Second year rape victim forced to remain on campus with her alleged attacker
Featured image by Victuallers (via Wikimedia Commons)