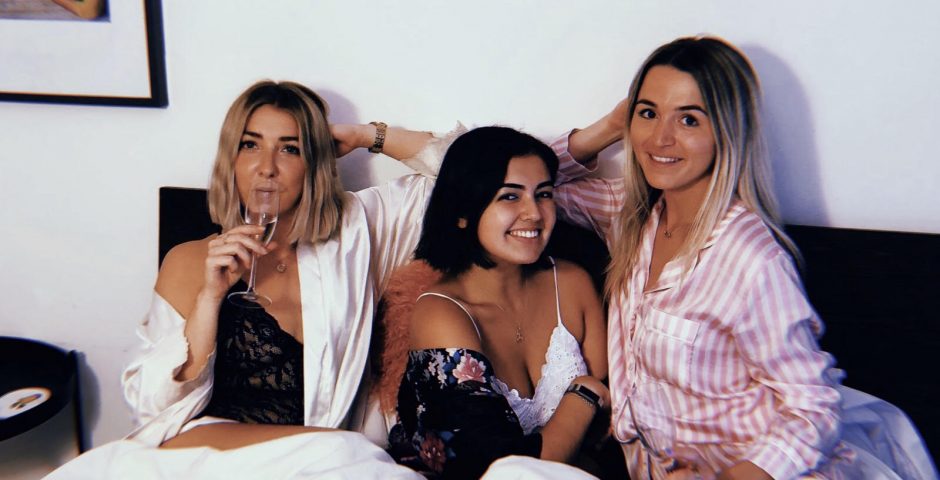 We've made a sex confessions podcast to help you through horny isolation
| UPDATED
RIP sex. Gone but not forgotten. In fact most definitely on our minds 24/7 now that most of us (couples in isolation together kindly fuck off) are not having it. To help you through these desperately horny times, why not listen to our very thirsty podcast?
Introducing "Is it in Yet?", a sex podcast from the girls at The Tab. Every week, Grace, Lucy and Diyora discuss their sex lives, and more importantly yours. In our bedroom with a bottle of Prosecco, obvs.
You can listen to our latest Sex Confessions from Isolation episode, on Apple podcasts and Spotify, or even right here:
Follows us Instagram for the horny memes, more of your confessions, and to listen to new episodes first.
People are saying"Is it in Yet?" is the most honest and hilarious sex podcast out there right now. If you don't believe us, just read the reviews:
We talk very candidly about everything from dry spells, to our kinky fetishes to The Ick. Expect the best and most outrageous, grim, hot, sordid, hilarious, terrifying, weird, gross, explicit sex stories you've ever heard and should definitely avoid listening to in public.
You can listen to season one now on Apple podcasts and Spotify. Make sure you subscribe to hear every episode when they get released.
"Is it in Yet?" is out now: follow our Instagram to hear the most tragic stories first. 
What to expect
Every week we get a bit pissed, give you our finest advice and hear from listeners with real-life sex stories. Seasons one and two are now available in full on Apple podcasts and Spotify.
We'll also be playing games like "the ultimate sex 'would you rather?'" and "Predictive text Bumble". We are joined by special guest and resident boy Josh Kaplan who will chime in and give his views on sex from a male perspective.
"Is it in Yet?" is based on The Tab's hit sex column "By disappointed girls", where our readers and contributors talk very openly about their sex lives, and what you should and shouldn't be doing in bed if you want to have good sex.
Their advice has been read over 3 million times already, and includes extremely crucial tips such as:
How to get featured on our podcast
If you have a kinky, weird or hilarious sex story, or a creepy DM that everyone needs to hear ASAP, DM us on Instagram here. To get featured, send us:
Group chat worthy sex stories
Sex and love dilemmas for us (and other listeners) to help you solve
Really terrible DMs that the world deserves to be warned about
We'll read out the best ones, and invite some of our listeners onto the show to discuss their story. We will never reveal your full name (or theirs).
Join the club
Follow the "Is it in Yet?" Instagram to keep up to date with episode releases, hear the most outrageous stories first and for the 10/10 memes.
You can listen to season one now on Apple podcasts and Spotify.
Recommended stories by this writer:
• Spanking, Watersports and Foot Worship: These are your secret fetishes
• The Tinder poo man and McDonald's Cumface: First date horror stories that will make you want to stay single