If these 11 things happen, your pancake day is officially more traumatic than wholesome
9. Finding out your pan isn't actually non-stick
Pancake Day: possibly the greatest day of the year. Happy? Eat pancakes. Depressed because the Pret subscription still isn't back? Eat pancakes. Stressed about your dissertation? Eat pancakes. Tuesday? Eat pancakes. Basically there's nothing they can't cure (not including hangovers 'cause that one's *very* hit or miss)
There is nothing with more elite vibes than a messy student kitchen, filled with your mates, all fighting over flipping the pancakes – Corrine Bailey Rae is singing in the background, you've actually managed to collate five clean plates, and even sourced the only clean cloth to actually wipe the table down for once. The table is covered in everything from maple syrup to lemon and sugar. Looking around, you know this is truly the crux of life, and will remember this as your quintessential student experience forever.
But, alas, things never run quite as smoothly as this, and you will undoubtedly experience 8/11 things which will turn your pancake day into more of a mare than a dream:
1. The fight over whether to make fluffy American pancakes or crêpes
Cue a squabble and strop with the one housemate who think crêpes are better not taking part any more.
2. You realise how expensive toppings actually are
I would hereby like to start a petition that all houses should have maple syrup, golden syrup, and sugar already in the cupboards when you move in. With every year comes the mental maths of trying work out if it's worth buying a whole bottle of golden syrup and splashing out on strawberries in February just for pancake day.
3. No one actually owns any scales
And so begins the yearly traditions of Googling a grams to tablespoons converter and hoping the outcome is the same.
4. Your student kitchen is dangerously under-equipped to do any form of baking
No one has any kind of mixing bowl, Anna is trying to combine the wet and dry ingredients with a slotted spoon, and Jamie using an empty vodka bottle to measure out the millilitres of milk required. Carnage.
5. Your only frying pan is still "soaking" in the sink from Friday's stir fry
Cue a sudden, frantic (and definitely half-arsed) attempt to wash it up.
6. You all fight over who gets to flip the pancake
Usually the final two contenders being the housemate who works in a café, and the one who claims he always won the egg and spoon race at school.
7. The designated pancake flipper drops it and the pancake ends up folding in on itself and resembling a scraggy mess
It's either going to be raw, or looking like scrambled eggs.
8. You forgot you started heating up the pan and the butter is now boiling
Whilst everyone frantically ducks to avoid molten butter burns.
9. You find out your non-stick pan is no longer living up to its name
Full-on chiselling at welded batter.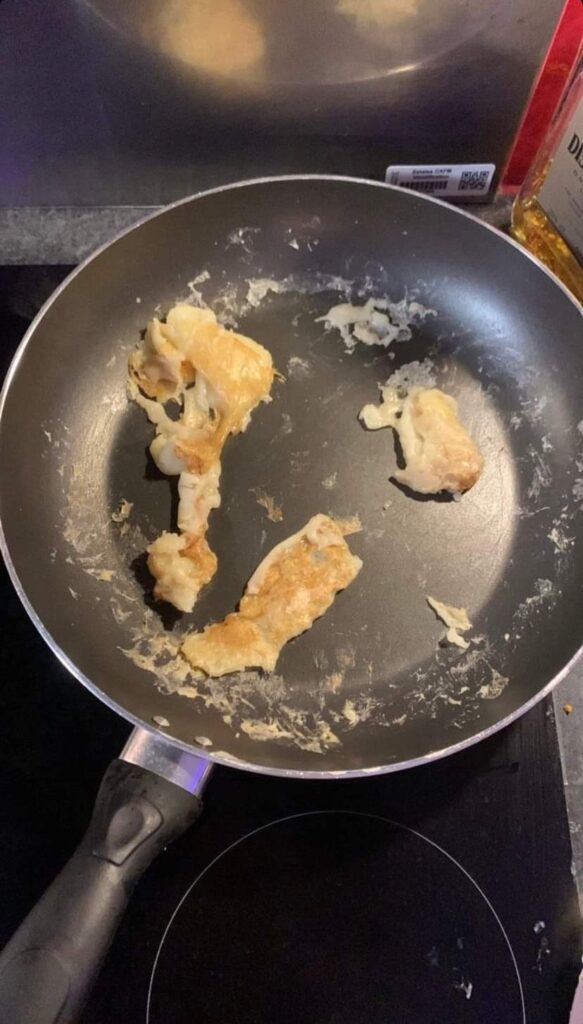 10. You look up and realise there is flour on e v e r y surface
No Dettol can rescue you from this nightmare x
11. No one clears up
Seeing as it was a group thing, everyone should help clear it up right? Although, it never *quite* works out as one of you is already running late for a lecture you'd forgotten about, another has a workshop in the afternoon, and the rest of you are going out tonight. Better leave it until tomorrow…
Related stories recommended by this writer:
11 reasons you should immediately start writing for The Tab Exeter
Here's a rundown of the best brunch spots in Exeter to cure those Freshers' Week hangovers