MAFS UK gossip column: Porscha's 'plan', and the groom Ella cheats on Nathanial with!?
Week two and the chaotic gossip is everywhere
Welcome to The Tab's MAFS UK 2023 gossip round-up, bringing you the pettiest drama, most scandalous rumours and the least believable tabloid exclusives from around the web.
People think they've worked out who Ella cheats on Nathanial with…
Nathanial has already shared in his controversial interview with The Mirror that he leaves the experiment and Ella gets with another one of the grooms, and since he's said that everyone has wondered who it might be. Well, after last night's episode preview showed the VERY loved up Shona and Brad hitting the rocks for the first time, viewers online think that maybe he's the one Ella cheats with.
One person wrote: "Brad's gonna be the one to crack on with Ella, isn't he? And I am LIVING FOR IT."
Another fan said "I predict sexually adventurous Brad will try to run off with transgender Ella . He has the look of wanting something a bit more exciting." Another pointed out: "The way Brad was shoving women out the way to physically embrace Ella. They gonna cheat together."
Guess we'll wait and see…
Has Porscha's 'plan' been rumbled?
Last night, during the first commitment ceremony, after a week of pure chaos and misery – Porscha voted to stay in MAFS UK 2023, causing gossip to fly on why the hell she would when she doesn't even seem to like Terrence.
After the episode, a fan wrote online: "Porscha is absolutely unhinged. She hates Terence, can't stand to be in his company, wouldn't even speak to the man.. she only wants to be on TV. She's not on here for the love. She's on here for the attention."
Do Brad and Shona end in tears? These Insta clues from Reddit suggest so…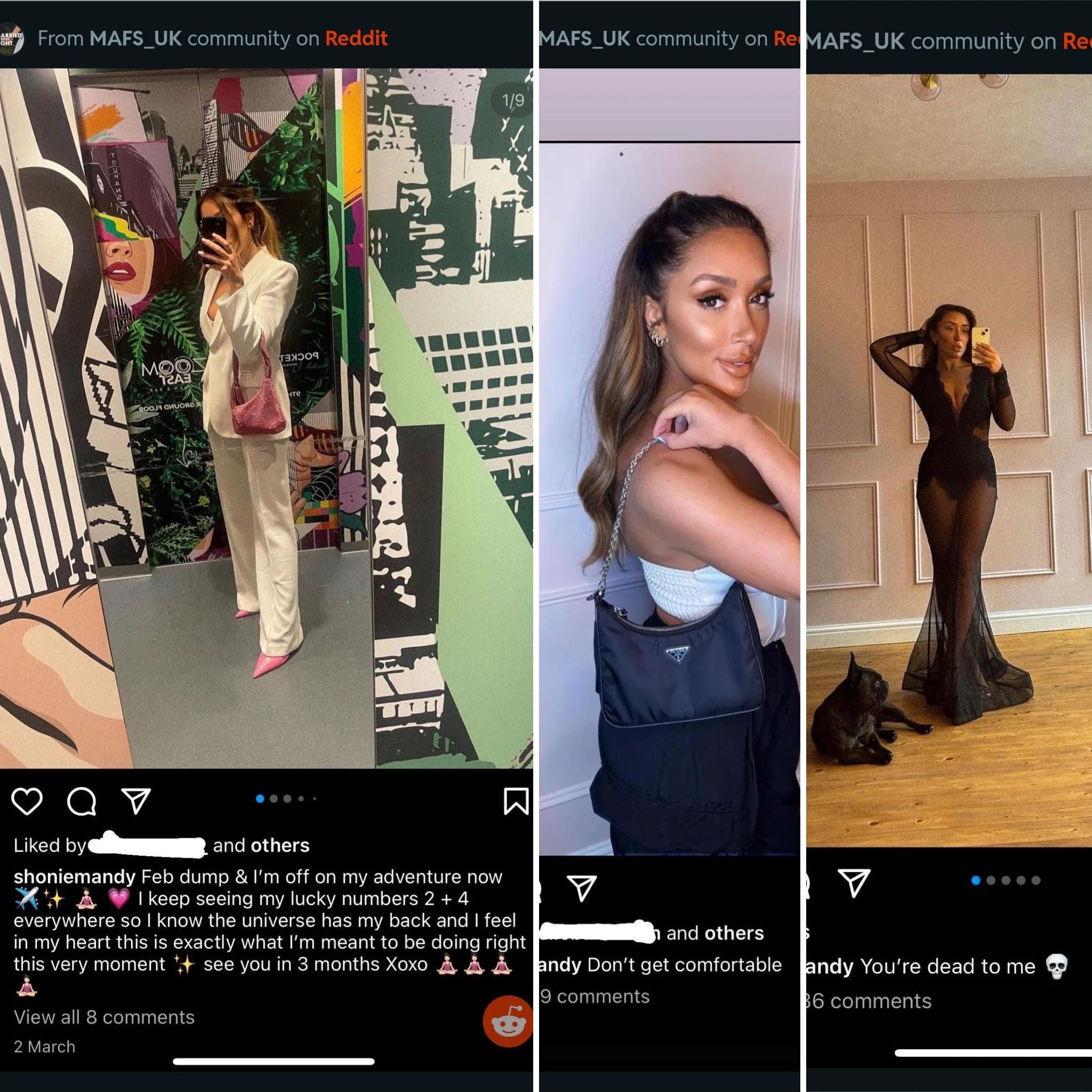 Eagle eyed MAFS UK viewers screenshotted a few Shona Instagram pictures, suggesting that it doesn't end well for the two lusty lovers. Obviously this is all speculation, but these three screenshots certainly tell a story…
The entire Thomas VS Adrian and Nathanial saga
Thomas has been outspokenly against Nathanial and his behaviour on MAFS UK so far – so posted on his story when he saw Adrian and Nathanial hanging out.
"Stop sending me the picture of Adrian with Nathaniel," Thomas said on his story. "They want a moment to get in the newspaper, that's up to them. I don't give a shit, honestly. I've spoke to loads of the cast and you won't know that I've spoke to them because it's private. I find it weird. Nathanial's hot right now selling stories to the papers, well I don't dance with the devil, so each to their own."
Adrian, in a now deleted post alongside a picture of Thomas, Adrian wrote "It's time to put a nail in this coffin. To finally end what has been a very tumultuous journey. Our time on MAFS was unforgettable and at times Thomas was a supportive person and we grew a love for each other."
Adrian said the edit of the show didn't reveal the behaviour of Thomas and his mum Helen on their wedding day.
"I will no longer associate myself with someone who is at the core a bully. Even when he puts political stances in place in order to protect himself, through false accusations and a skill to turn a positive into a negative he has little regard to how he is a threat to people's mental health and well being."
MAFS UK 2023 continues tonight on E4. For more like this  and for all the memes and gossip, like The Holy Church of MAFS on Facebook.
Related articles recommended by this author:
• MAFS UK week two: Thomas Hartley's brutal verdict after the first commitment ceremony
• MAFS UK's Adrian and Thomas are having major beef on Instagram over Nathanial saga
• Channel 4 has clapped back against Nathanial's claims MAFS UK 'manipulated' him