The definitive ranking of every All Stars season of Drag Race
I can already hear screams of 'Shangela was robbed'
RuPaul's Drag Race All Stars once felt like a rare treat. A ceremonious event. But as Drag Race as a franchise conquered the globe and no time is ever really spent without a season airing, and this means All Stars becomes an annual event like the regular season. Couple that in with a few VS The World seasons and the returning queens sagas never end. Everyone has their favourite season of Drag Race All Stars, but it's clear which ones are a success and which ones perhaps should have been a year where we do without the spin off and give it some breathing room. With that in mind, here's all the All Stars seasons of Drag Race definitively ranked from worst to best.
10. All Stars 8
I LOVE Jimbo, and I think she's one of the most iconic and deserving winners in franchise history whose trajectory to victory in this season has been a ride worth sticking around for, and I absolutely CHERISH Jessica Wild and her soft shell. I love Monica Beverly Hillz going viral and I love LaLa Ri getting her acclaim and coin, and I love Mrs Kasha Davis on my TV. But that's it. That's it for this mess season. Bad maxi challenges, average runways, and bad vibes. It's the most bored I've been with any Drag Race since season 11. So much so that I sometimes left it five days to even watch the latest episode – which I've never done. We need a desperate shakeup and fast.
9. Canada Vs The World
It all went down the pan when Icesis Couture left – still one of the most heartbreaking exits from any franchise of Drag Race in my opinion. I am a firm believer that Icesis Couture is one of the greatest drag queens of all time. It was devastating to see a frontrunner go in such a sad way. That aside, this season just felt over before it even began. Released in the tail end of 2022, it felt like nobody was watching and it went off with a whimper and not a bang.
8. All Stars 1
A infamous mess – the dreaded pairs twist killed the season before it even began. On the up side, it's got one of the best casts ever and so many of the Untucked moments from this series are the most quoted ever in the history of the show. Thank god most queens came back for another go. Seriously though, if this didn't have so much mythos around it we'd never have got any more All Stars seasons. We owe it a lot – even if it's owing it to being a what not to do guide.
7. UK Vs The World
One of the most chaotic seasons of telly you could ever watch. The rules were out the door, the queens were savage and faves went home left right and centre. Pangina cried her eyes out, Jimbo debuted the iconic ghost and Lemon was ROBBED. I remember at the time finishing this season with nothing but "wtf" in my mind, but looking back now I do kind of respect its chaos and we got a load of iconic moments from it.
6. All Stars 5
The Shea Coulee supremacy is most pleasing to me. This season had the unfortunate timing of being in the midst of a global pandemic and airing in tandem with the inaugural (and way better) season of Canada's Drag Race. All Stars 5 did have the iconic and timeless icon that is Alexis Mateo, though – her DADDY YANKEE I'm In Love verse makes this season worth watching for that alone.
5. All Stars 4
I hated the double winner twist, but this season is iconic. It's slept on. There are so many funny and iconic moments of chaos in this season. Gia Gunn alone should have won All Stars 4 an Emmy. Naomi Smalls is a legend, and the runway looks have arguably only been better in All Stars 7.
4. All Stars 3
Often unfairly hated on when it comes to getting Drag Race All Stars seasons ranked – AS3 lives in the shadow of AS2 and the legacy of "Shangela was robbed", but it's a great season that deserves more love. The cast are absolutely incredible, Kitty Girl arguably is one of the best rumixes we've ever had and the most consistent and there are just so many iconic and dramatic moments. The main challenges are nearly always excellent too. A great season of telly.
3. All Stars 6
An underdog season that gave us the first trans winner of a US season and so many great challenge moments that no one was expecting. I absolutely ADORE the Super Bowl halftime show challenge. So many queens got a second chance to show their talent here in ways no one was anticipating – it's just a really satisfying season to watch and feels like so much fun.
2. All Stars 7
The most celebratory season of Drag Race ranked here – the best of the best competing on All Stars in a way that celebrates what makes each winner special. Just complete and utter magic. Every episode is a joy, every runway has one of the best outfits ever seen in the franchise and it's perfection seeing old and new legends rub shoulders together. Speaking of Legends, the song slaps. I could watch this season forever and be happy.
1. All Stars 2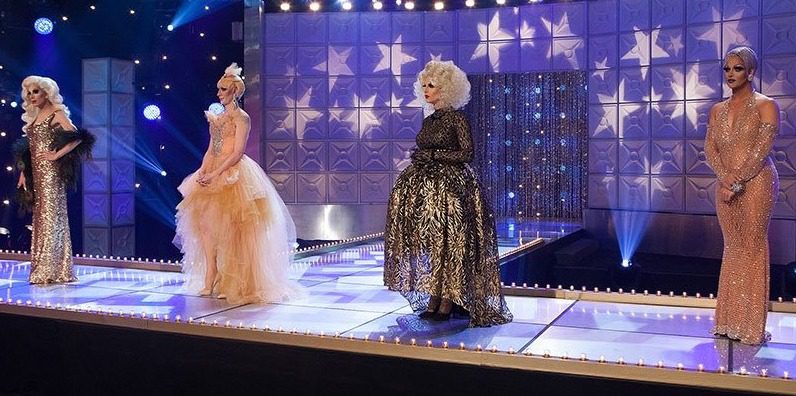 The best season of RuPaul's Drag Race ever made, let alone All Stars – I'd rank AS2 at the top of any list, any day of the week. It is THEE benchmark in reality TV. The drama is through the roof. The runways are amazing. The cast are faultless. The lip syncs are legendary. The twists left jaws on the ground and still shock you on rewatches. Everyone was hungry for All Stars 2 because it had been YEARS since AS1, and all expectations were met and more. We have so many seasons of All Stars now because this season was so good. I will worship it until the end of time.
For all the latest reality TV news and gossip and for the best memes and quizzes, like The Holy Church of Love Island on Facebook.
Related stories recommended by this writer:
• Here's where the All Stars 8 queens finished on their original Drag Race season
• All the Drag Race All Stars 8 promo looks, ranked by how hard they slay
• The definitive ranking of all 30 Drag Race promo looks ever worn by RuPaul