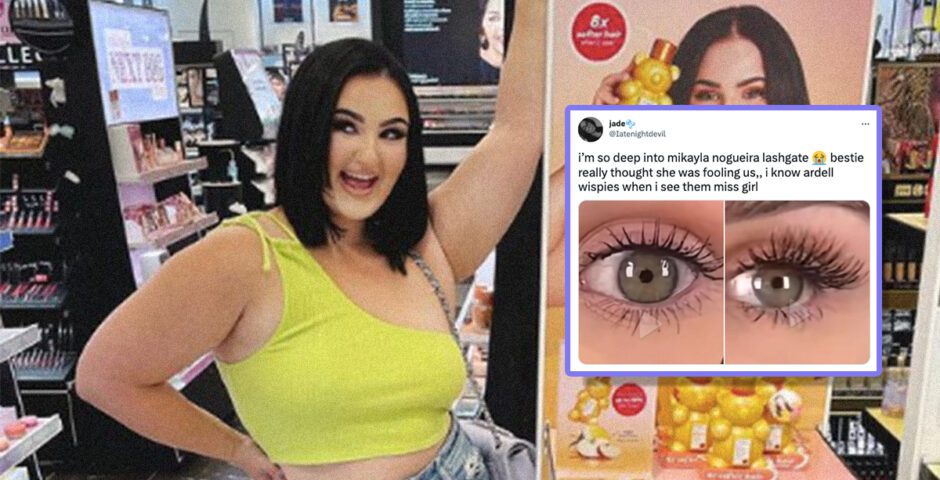 Lashlighting and finishing at 5pm: Here's Mikayla Nogueira's history of TikTok controversies
Of course Jeffree Star has piped up
Mikayla Nogueira is a name that we all now know from the recent L'Oreal's lash drama from TikTok, but this isn't her first controversy.
Just when we though we were done with drama in the beauty community, Mikayla Nogueria has been accused of lashlighting. As in gaslighting but it's about wearing false lashes. Other beauty influencers have been calling her out for it and it's been a wild time. This isn't her first controversy though. But before we get into it, here's a rundown of the mascara drama between Mikayla Nogueria from TikTok and her lashes.
Mikayla Noguerio TikTok lash L'Oréal lash drama explained
A few days ago, Mikayla posted a video where she was raving about L'Oréal's $14.99 telescopic lengthening mascara. She added a coat of the mascara on camera showing additional length and volume to her lashes. Then she added a second coat, cut the camera to a different angle and suddenly she had very long and very full lashes. She claimed the final look "looked like false lashes" because so many were saying they were fake. The video has had millions of views and has been called out for lying about the results of the mascara.
Even MUA Jeffree Star claimed the mascara looked "bizarre." He said: "The mascara is on and it's cute and then all of a sudden there's some extra shit on the end."
Other controversies
The video has sparked such a big debate about influencer culture. But this isn't Mikayla's first taste of internet drama. Last September a video from 2021 resurfaced which showed her complaining about how hard it is being an influencer. In the video she's heard to say: "Try being an influencer for a day, try it. The people who say it's easy are so far out of their minds."
Then just a few weeks ago, people accused her of editing her body in videos. Her response wad her filming a before-and-after video of trying on shapewear.
Beauty industry drama is too iconic I fear.
Related stories recommended by this writer:
• Here's everything we know about Jeffree Star's rumoured NFL boyfriend
• MrBeast is facing backlash after paying for blind people to see again in latest YouTube video
• Explained: What is the Perky Dance move taking over TikTok and how do I do it myself?