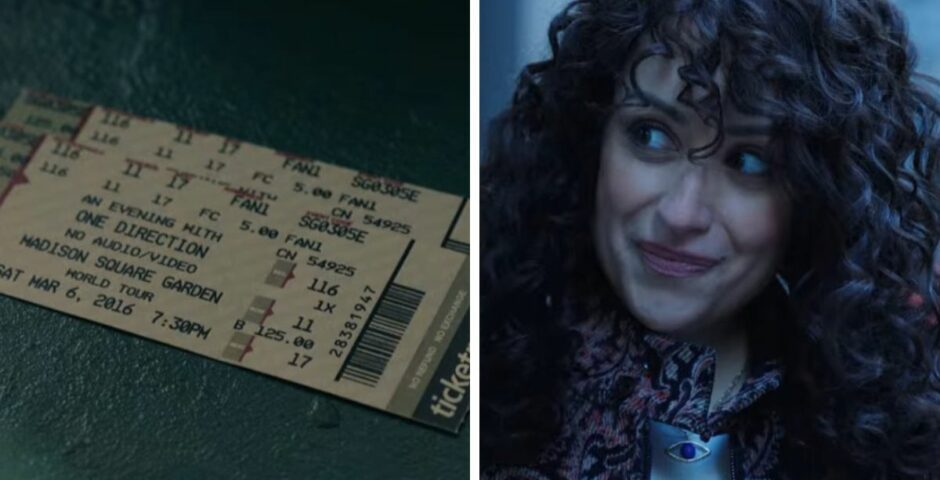 There's a major plot hole in the Green Kaleidoscope episode and it's hilarious
A prayer for my 1D fans right now x
Kaleidoscope fans have noticed a glaring plot hole in one of the episodes. The new heist thriller series follows a group of thieves as they plan to pull off a heist like no other, a heist that had been in the making for 24 years. In the Green episode, which takes place six years before the heist, viewers are introduced to a number of characters, including Leo, Stan, Ava and Judy. However, one moment in particular that have made fans truly laugh out loud is the major plot hole in the opening sequence. Here's a rundown of the awkward One Direction plot hole in Kaleidoscope:
When Judy goes to visit Stan in prison to give him sim cards for the prisoners, Judy slips two One Direction tickets for the prison guard to turn a blind eye. While many people continued watching without giving it a second thoughts, many hardcore Directioners have realised how wrong it all is.
The tickets were for an evening with One Direction at Madison Square Garden in 2016. However, One Direction split up way back in 2015, an entire year before the tickets are dated for. One Kaleidoscope fan noted that One Direction only ever performed at Madison Square Garden once while they were a band and that was in 2012.
The fan said: "Why is no one talking about One Direction tour tickets in 2016 mentioned in the Netflix series Kaleidoscope? The fact that 1D went on hiatus in 2015 and weren't even together in 2016. Also they played MSG only once in 2012. It hurts being a Directioner."
Another user said: "The One Direction cameo in Kaleidoscope. Real ones know what's wrong with the date."
Kaleidoscope is available to watch on Netflix now. For all the latest Netflix news, drops and memes like The Holy Church of Netflix on Facebook. 
Related stories recommended by this writer:
• Kaleidoscope fans are convinced this minor character is the gunman at the end of the series
• Whilst you pick your jaw up from the floor, here's the ending of Kaleidoscope explained
• Here's everything you need to know about the events that inspired Netflix's Kaleidoscope
Featured image credit via Netflix.