Ranked: The Netflix actors who have gained the most followers on Instagram
I wonder why Regé-Jean Page gained so many after Bridgerton????
When you watch a new Netflix show, it's almost like you're on auto-pilot when you go straight to Instagram and search for the cast. It's just how it is. But, some actors seem to be a lot more popular than others, with millions of us ogling their Instagram pages after they appear in Netflix shows, and them gaining ridiculous amounts of followers from it.
To map how influential TV shows of the last year have been for the actors, experts at Uswitch.com have looked at the Instagram followings of leading actors, mapping their increase for the month after their shows' release.
Bridgerton's leading actor, the Duke Rege-Jean Page, had the most significant spike in Instagram followers after the show's release with an increase of over 3.7million. I wonder why? The show with the highest average follower spike for all main characters is Outer Banks – with the cast having an average follower increase of over 1.2million after the series was released.
Here's the full breakdown of which actors saw the biggest increases in their Instagram followers after appearing in a Netflix show.
So, which Netflix actors saw the biggest increase in their Instagram followers?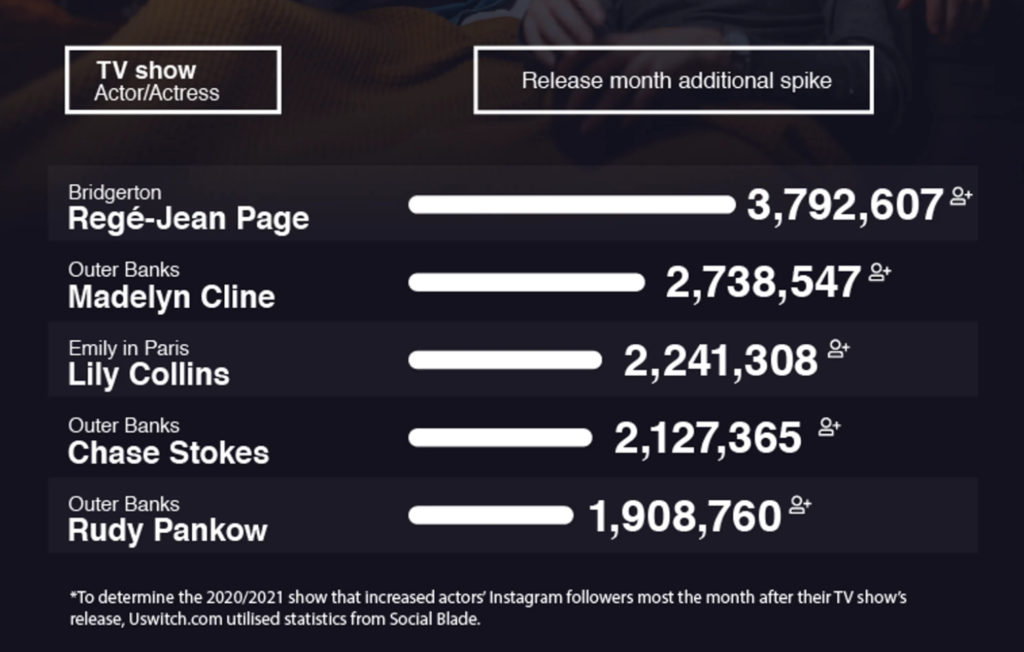 You're probably not at all surprised that the actor who has gained the most from a Netflix series is the one and only Duke of Hastings himself, Regé-Jean Page. There's no evidence to say this spiked after people watched episode five, but I'm sure they did (if you know, you know). In the month after Bridgerton was released, Regé-Jean gained over 3.7million followers.
View this post on Instagram
Madelyn Cline starred as Sarah Cameron in the TV series Outer Banks, a role that evidently resonated with a lot of viewers as 2,738,547 of them decided to keep up with the actress on Instagram. In third place is Lily Collins – 2,241,308 were obviously impressed with her social media skills in Emily in Paris.
View this post on Instagram
The fourth and fifth place are both claimed by Outer Banks cast members, Chase Stokes and Rudy Pankow, who each gained 2,127,365 and 1,908,760 new followers after the show's release, respectively.
Finishing the top 10 are Anya Taylor-Joy, Phoebe Dynevor, Madison Bailey, Felix Mallard and Darren Barnet. Given the last two being the heartthrobs in their respective series, I'm seeing a bit of a pattern emerging here.
View this post on Instagram
The subject of the affections of the Duke of Hastings was also popular too – Phoebe Dynevor had 1,744,045 people decide to follow her after Bridgerton. Yet another Outer Banks alumni, Madison Bailey, was able to secure 1,615,460 new followers after the popular Netflix original was released.
View this post on Instagram
Also just out of the top 10 was Jonathan Daviss from Outer Banks (960k gained), Maitreyi Ramakrishnan from Never Have I Ever (830k gained), Nicola Coughlan from Bridgerton (641k gained) and Jonathan Bailey also from Bridgerton (568k gained).
View this post on Instagram
These are the top shows on Netflix which have boosted the actors' Instagram follower numbers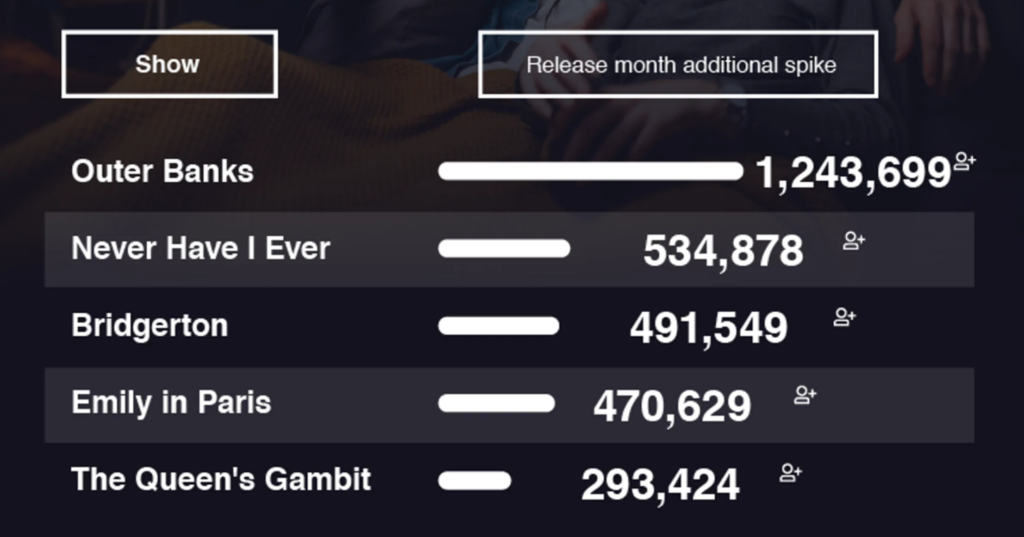 The top five Netflix shows which boosted actors Instagram followers the most are: Outer Banks, Never Have I Ever, Bridgerton, Emily in Paris and The Queen's Gambit. The cast of Outer Banks had an average increase of 1.2million, whilst the cast of Never Have I Ever gained an average of 534,878 and the Bridgerton cast averaged at 491,549. The cast of Emily in Paris gained on average 470,629 – as well as Lily Cooper, her costar Camille Razat who played Camille, gained 430k. The cast of The Queen's Gambit saw an average increase of 293,424 followers.
For all the latest Netflix news, drops and memes like The Holy Church of Netflix on Facebook. 
Related stories recommended by this writer:
• This is what the cast of Bridgerton on Netflix are like in real life
• Ranked: These are the most expensive shows and films Netflix has ever made
• Ginny and Georgia Instagrams: A look at what the Netflix cast are all like in real life