All the reasons why you should join The York Tab immediately
Want to break the biggest news stories on campus? Need something for the CV? Want to meet new people? Well, The York Tab is on the hunt for new writers and we want you! The York Tab is a news site written by York students, for York students. Anyone of any year or course can get involved, no journalism experience is needed.
We're holding our first open meeting TOMORROW, Thursday 2nd January at 6:30pm in the Spring Lane building on campus. So come along to find out more about how to get involved in the UK's biggest student news publication! But if you need persuading, here are the main reasons you should write for The York Tab.
The incredible team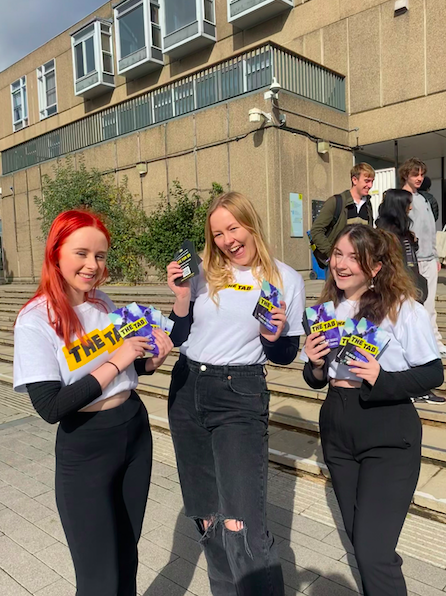 Let's start out strong. The team at The York Tab are some of the most hilarious, interesting and attractive people I have ever met. We live eat and breathe The Tab, and so should you.
And in all seriousness, we are always around to help out love it when people get involved and discover a love for journalism.
The freedom to choose what you want to write about
We are always looking for new ideas and we cover everything from Long Boi, Bake Off and cheesy chips to Uni strikes. If you have any article ideas, our DMs are always open (@theyorktab), or even better coming along to our open meeting tomorrow!
Amazing socials
Now getting down to the real reason for joining any club or society: the socialising. We love a good social and The York Tab is not at all without its fun outside of writing and publishing first-class content.
It's definitely worth getting involved for the social aspect alone, we love a drink and a boogie after all.
An escape from essay writing
Uni is great and everything but it can have this nasty habit of sucking the fun out of all of the things you used to love. The Tab is the best way to get back into writing for fun. I mean, who wouldn't want to spend their free time assigning all of the Bridgerton characters to a York College?
There's no pressure
Whether you have the energy for one article a term or ten articles a week we are SO here for it. We know that deadlines (and by deadlines I mean Salvos) take priority at uni and The Tab is always a good time. Stress-free vibes only.
We're not just about articles
I know you're GOBSMACKED at this revelation but it's true. The York Tab is much more than just articles. Instagram, memes and more recently, TikTok (follow us IMMEDIATELY) all play a huge part in The Tab experience and we are always on the lookout for wannabe influencers who can supply our social media with all the best York-related content.
We have a shit tonne of lighters to give away
Seriously, we have so many Tab lighters it's not even funny please take them.
For CV purposes
If none of the other reasons have tickled your fancy then journalism experience always looks lovely on a CV and the skills you'll gain at The Tab will definitely help you in the future. Tab writers have gone on to work for The BBC, The Daily Mail and ITV, to name a few.
The team also works with an Assistant Editor based at the Tab HQ in London. They provide training in the basics of reporting and quality advice on how to make your writing stand out that you won't get anywhere else.
So if we've managed to convince you (of course we have), make sure to come to our Open Meeting tomorrow and click going on the Facebook event! If you can't make the meeting but still want to get involved just drop us a message on Instagram.
Related stories recommended by this writer:
• I went on a hunt to find the best cheesy chips in York
• 12 reasons why Tang Hall is the best student area in York
• 'Teaching UK undergraduates loses universities money' says York Vice Chancellor