Six ways to celebrate Valentine's Day if you're single in Newcastle
For all you Bridget Jones's out there
Ah, February 14th. The one day of the year where PDA is socially acceptable (yet still just as sickening), and Instagram is the scariest place on earth. We get it, you're in a healthy, happy relationship which came about when you 'least expected'. Good for you.
But let's not be bitter, shall we?  Yes, Valentine's Day can be a bit of a kick in the teeth for us singles – a painful 24 hours reminding us of the fact we're potentially unloveable. However, it can also be the perfect opportunity to preach self-love and independence (yay)!
On that note, we've narrowed down the best ways to spend Valentine's day as a single in the Toon this year, without getting serious FOMO.
1) Have a self-care day
In the words of Miley Cyrus: 'I can buy myself flowers'.
Yes, yes you can and yes you should. Just because you don't have somebody to shower you with gifts and affection all day shouldn't stop you from doing the same. There are simply no rules on Valentine's Day, so take that trip to big Tesco, buy yourself a nice bouquet and watch Notting Hill for the fifth time just because you can. Lastly, take a break from online dating. Your soulmate probably isn't a swipe away so do yourself a favour and log off for a while.

2) Drag the house out
If staying in and doing your ten-step skincare routine isn't for you, then perhaps a day out with the flat might just do the trick.
Whether it's karaoke at Cosy Joes, a wholesome trip to the beach or just a chaotic night out in general, there's so many great ways to celebrate with friends in the Toon. Remember, this isn't your typical day of the year so try and do something creative; go for cocktails dressed as cupid, play pub golf as your red flags, do boozy bowling at Lane 7.
Whatever it is, you're free to do as you wish with the blissful thought of knowing you're not tied down.
3) Surround yourself with furry friends
Unless you're lucky enough to interact with animals on a daily basis (and I don't mean the rats in your accommodation), life can sometimes feel like there's a missing piece. Sure, humans are nice and all, but on a day like Valentine's, animals are hands down the best company.
Are they loyal? Yes. Do they show you constant affection? Yes. Will they ghost you on a random Thursday with no explanation? Absolutely not.
To get your fix for cuddles, head down to the Dog & Scone. Alternatively, channel your inner cat lady at the CatPawCino cafe down on the Quayside. A personal fav? Pet's corner in Jesmond Dene. From goats to bunnies, this popular hotspot is full of animals designed to put a smile on your face and show you the love you deserve.
4) Binge every rom com known to man
We're talking Pretty Woman, About Time, When Harry Met Sally, Four Weddings and a Funeral… the list goes on.
Arguably this is the most basic way to spend Valentine's Day, yet it is the ultimate rite of passage as a single. Not only does it give you the perfect excuse to rinse your housemate's Prime account and eat as much popcorn as humanly possible, but it's essentially free therapy. After all, what better way to get over that six ft one brunette you made eye contact with in the Shaker queue last week than to fantasise about Heath Ledger in 10 Things I Hate About You?
5) Catch up with the fam
As cheesy as it sounds, Valentine's Day is all about surrounding yourself with the ones you love (that's literally the whole point). Having said that, not everyone has the luxury of getting on a train and going home for the day. If this is your case and you aren't able to celebrate with the 'rents as you would do normally, then perhaps a good old FaceTime will suffice.
I'm sure it will be greatly appreciated on both ends and if nothing else, at least you know two people in this world love you.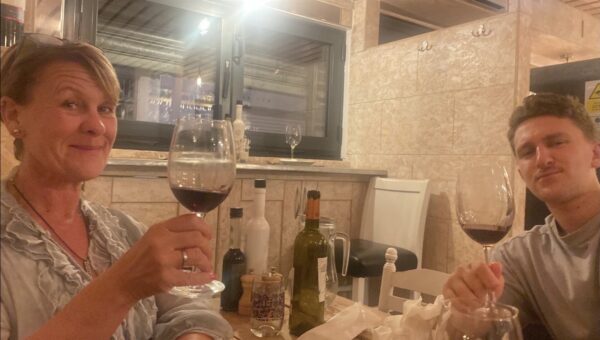 6) Chef up something special
Last but not least, food. Everyone's one true love.
Forget the candlelit dinner for two and invite the whole gang over for a nice home-cooked meal. Again, Valentine's Day is a special occasion so ditch the pesto pasta for once and crack open Lidl's finest bottle of vino. Of course, not everyone was born to be in the kitchen and if you're one of these unfortunate few, then maybe just opt for a Deliveroo instead? It's the thought that counts.
Want to write stories like this? Join the team, no experience required. DM us via @TheTabNewcastle on Instagram or The Tab Newcastle on Facebook.
Related stories recommended by this writer: