A quarter of London students say they are addicted to Elf Bars
Over 40 per cent did not smoke before using these vapes
25 per cent of London students say they are addicted to Elf Bars, according to a recent survey by The Tab.
The data also revealed that over 40 per cent of students in the capital have used these colourful vapes since the beginning of last term and were not previous smokers.
Dr Lion Shahab, professor of health psychology at UCL and co-director of the uni's Tobacco and Alcohol Research Group, told The Tab: "To some degree, it doesn't surprise me that increasingly quite a lot of students might be using [Elf Bars], but what does surprise me though, is that a lot of them have never smoked.
"In this context, with the huge proliferation of use among never-smoking students, I do think that that we may have to pivot a bit in terms of our approach to how we deal with this."
The Tab's investigation is the first to measure the extent Elf Bars "took over" uni campuses across the UK. More than 18,000 students from 24 universities nationwide took part through Instagram polls, and data was only recorded if at least 100 from a university responded.
Among the results, it was found that 43 per cent of London students have used an Elf Bar since the last term. This figure is relatively low compared to all unis surveyed, as over two-thirds of them have percentages of at least 50.
Despite looking innocently colourful, Elf Bars are among the strongest available vapes in the UK. Each contains 20mg/ml of high-strength nicotine salts e-liquid, which is the legal limit and equates to the nicotine dosage of 48 cigarettes.
While they don't cause the same damage as cigarettes and are found to be 95 per cent less harmful than smoking, The Tab wanted to know how frequently students get their nicotine boosts through these vapes.
One poll asked students how often they need to buy a new Elf Bar. The results revealed that 15 per cent of London students reported needing a new bar more than twice a week, eight per cent said twice a week, 16 per cent once a week, and the majority (62 per cent) said they restock less than once a week.
Similarly, another question asked how long it takes for students to get through one of these vapes. It was found that an Elf Bar lasts a week or more for nearly half (47 per cent) of London students, a few days for just over one-third (35 per cent), one night out for 10 per cent, and a single day for the rest nine per cent.
While it appears that most London students don't exhaust these vapes very quickly, 38 per cent of them reported being daily users. The rest consisted of a third (33 per cent) of students who only use in social settings and 29 per cent who use infrequently.
Considering how much you can smell the artificial sweetness of these vapes on and around campus, these figures might not seem too surprising. But what is interesting is how much the new findings differ from similar studies. 
A study by ASH (Action on Smoking and Health) previously suggested that disposable vape users amongst 18- to 24-year-olds jumped from 2.8 per cent to 48 per cent from 2021 and 2022, and the proportion of non-smokers amongst vape users was the highest it's ever been at 8.1 per cent.
But The Tab's survey suggested that more than half (53 per cent) of UK students surveyed are Elf Bar users, and non-smokers make up 51 per cent of them. These figures are 43 per cent and 46 per cent for London students, respectively.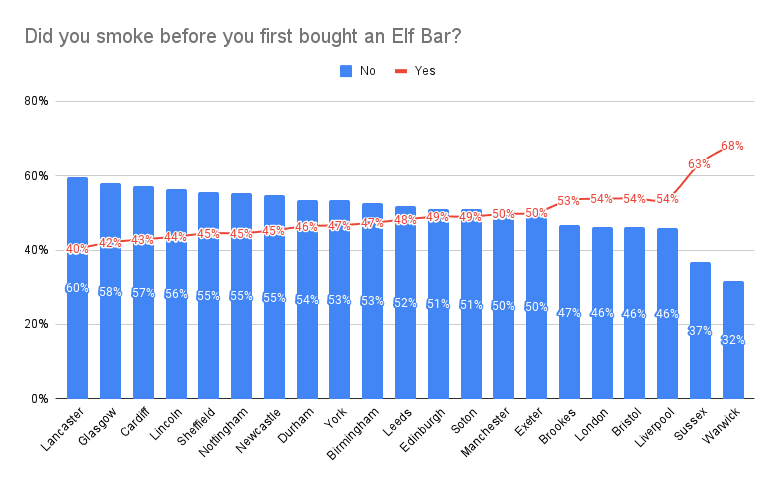 Dr Shahab said the number of uni students who use Elf Bars did not surprise him, as his department's research also showed a 56 per cent increase in the number of vape users amongst 18-year-olds between January 2021 and April 2022.
He understood why Elf Bars have become so widespread, mentioning aspects like them becoming the "social norm" within uni environments and how physically and financially accessible they are.
"If you think about the cigarette in the first place and how it became popularised, the introduction of a cigarette machine made smoking much more affordable, much cheaper, and very convenient. You could buy it already pre-rolled, [but] until then, you would have to roll your own.
"These Elf Bars have a couple of things in common insofar as they are very easily available. They are sold everywhere now. Not only are they very prominently displayed, but they are also quite effective nicotine delivery devices. When e-cigarettes first became popular, they already had disposables, but they were nowhere as effective at delivering nicotine [as Elf Bars]."
"[And] in the context of the cost-of-living crisis, I can see that students might use them to substitute, for instance, buying so much alcohol on a night out," he said.
But Dr Shabab didn't expect the high proportion of non-smokers amongst Elf Bar users and found the figures "somewhat concerning."
He told The Tab: "I would have assumed that something like 80 per cent would have been previously smokers and maybe 20 per cent who weren't. So [The Tab's figures] are something that jumped out at me and is somewhat concerning because, as you can imagine, the argument in the tobacco control community is that e-cigarettes are a harm reduction product and harm reduction for existing smokers.
"If you assume the 95 per cent harm reduction is roughly correct, in practical terms, that means one year of smoking is equivalent to 20 years of vaping. So if a normal person's lifespan of 80 years and you vape your whole life starting in your 20s, that's the equivalent of three years of smoking."
"It becomes less of a question of medical concern if you assume that there are minimal harms associated with nicotine itself and becomes a question of whether there should be a generation of people who are addicted to a substance."
While he didn't explicitly comment on whether Elf Bar's explosion in popularity is harmful, Dr Shabab pointed to a need for more understanding of this phenomenon.
"We have to keep monitoring. We have to see whether or not this is a blip or something that is going to continue to keep going in the future."
ELFBAR has been contacted for comment.
Related stories recommended by this writer:
• 18,000 of you took part, these are the UK unis that are most hooked to Elf Bars
• It's time to admit that your Elf Bar habit is killing the planet
• Taking the Tube can mean getting metal particles into your bloodstream, new study suggests