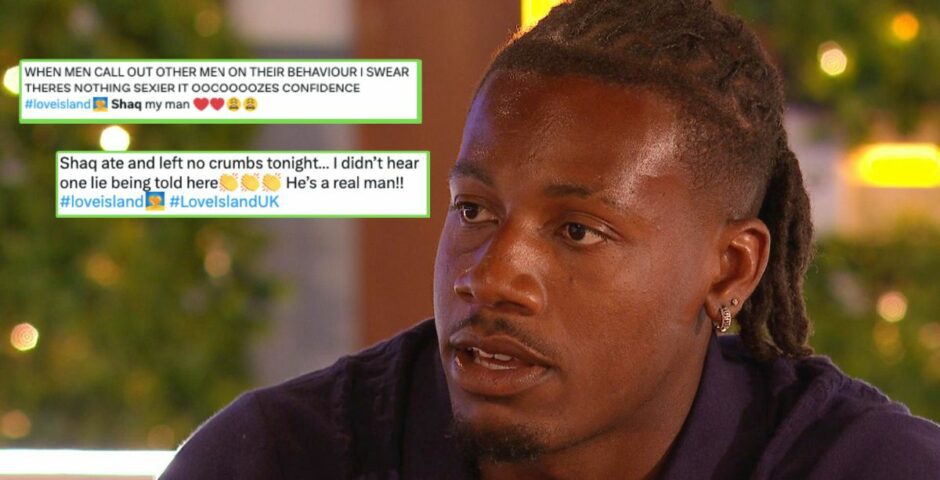 Shaq holding the other boys in the villa to account is the best part of Love Island 2023
He had Ron quaking in his little boots
| UPDATED
In every season of Love Island, as per the producers' skilful editing skills, there are heroes and villains. And in the ninth season, Shaq has fully solidified himself as the most likeable man in the villa by pulling up all the other boys on their more than questionable behaviour.
"You said that Lana is your number one priority, but you've treated her life a safety net," he lambasted Ron after his head had swivelled to another bombshell for the 47th time. "That girl has serious feelings for you," he continued, unafraid. "I feel like you've taken advantage of her because she's such a nice girl and you feel like she's going to be there the whole time.
"You've tuned your head, you've spoke to this girl, that girl whatever, you're saying one thing to Lana and then you're doing the complete opposite. I don't agree with how you've treated her, what you said and what you did are two completely different things."
This is far from the first time Shaq has confidently made his (extremely valid) opinions known. He even told Ron off for not doing the dishes, which could have been a step too far. And when Tom's sneaky little kiss with Ellie came to light, Shaq was the only person even close to making him see sense:
"A couple of days ago you were ending things with Zara, cool, you decided whatever. Then you said you and Liv have that history and said you lot are going to get to know each other cool," he spelled the situation out. "Then Sammie's come in and you want to get to know her and even before that Ellie's come in and you've kissed her, do you know what I'm saying?
"I'm not getting on to you but I'm laying out the facts and how it looks from their perspectives."
Sadly, this fell on deaf ears until the next morning when Tom had cooled off and finally processed the series of events for himself. A round of sheepish apologies then ensued.
By asking the other boys "do you really not think you've done something wrong?" Shaq shows the other Islanders' behaviour to be what it is: disrespectful and embarrassing. There's no back slapping, hand shaking, or "boys will be boys" chat we so often saw from Luca Bish, Dami Hope, Jacques O'Neill and Andrew Le Page last season— thank god. It's finally over.
Instead, Shaq provides accountability and a reassurance for women like Lana that their feelings are valid. When Ron and Tom decided to go with the deny till you die strategy of escaping conflict, his forwardness and honesty completely extinguished any attempted gaslighting and put them in their place.
And you know what else? It's sexy. Men having the confidence to speak their minds and stick up for women amongst a group of boys is rare. But if more necks were stuck out at pubs, football games and after parties, we might be half way closer towards ridding ourselves of toxic masculinity. Shaq is an excellent example of that.
Love Island 2023 continues at 9pm on ITV2 and ITVX. For all the latest Love Island news and gossip and for the best memes and quizzes, like The Holy Church of Love Island on Facebook. Featured image via ITV. 
Related stories recommended by this writer:
• 'Women are on the back foot': Female contestants on the eye-watering cost of going on Love Island
• All the strict rules the Islanders have to follow whilst in the Love Island villa