Every entrance look from Drag Race season 14, ranked from worst to best
I won't know peace until Willow Pill's 'angle' vest is in my wardrobe
Another year of RuPaul's Drag Race and another batch of entrance looks for us to gag over. Or boot to the high heavens. One or the other. A good entrance look is probably one of the hardest to nail – it's the world's first look at your drag, and it can be hard to know how extra to be. We've had queens walk in in gowns and we've had queens walk in that Werk Room in JEANS. But which queens of season 14 understood the Drag Race assignment and smashed it out of the park? Here are all 14 entrance looks from the queens of Drag Race season 14 ranked:
14. DeJa Skye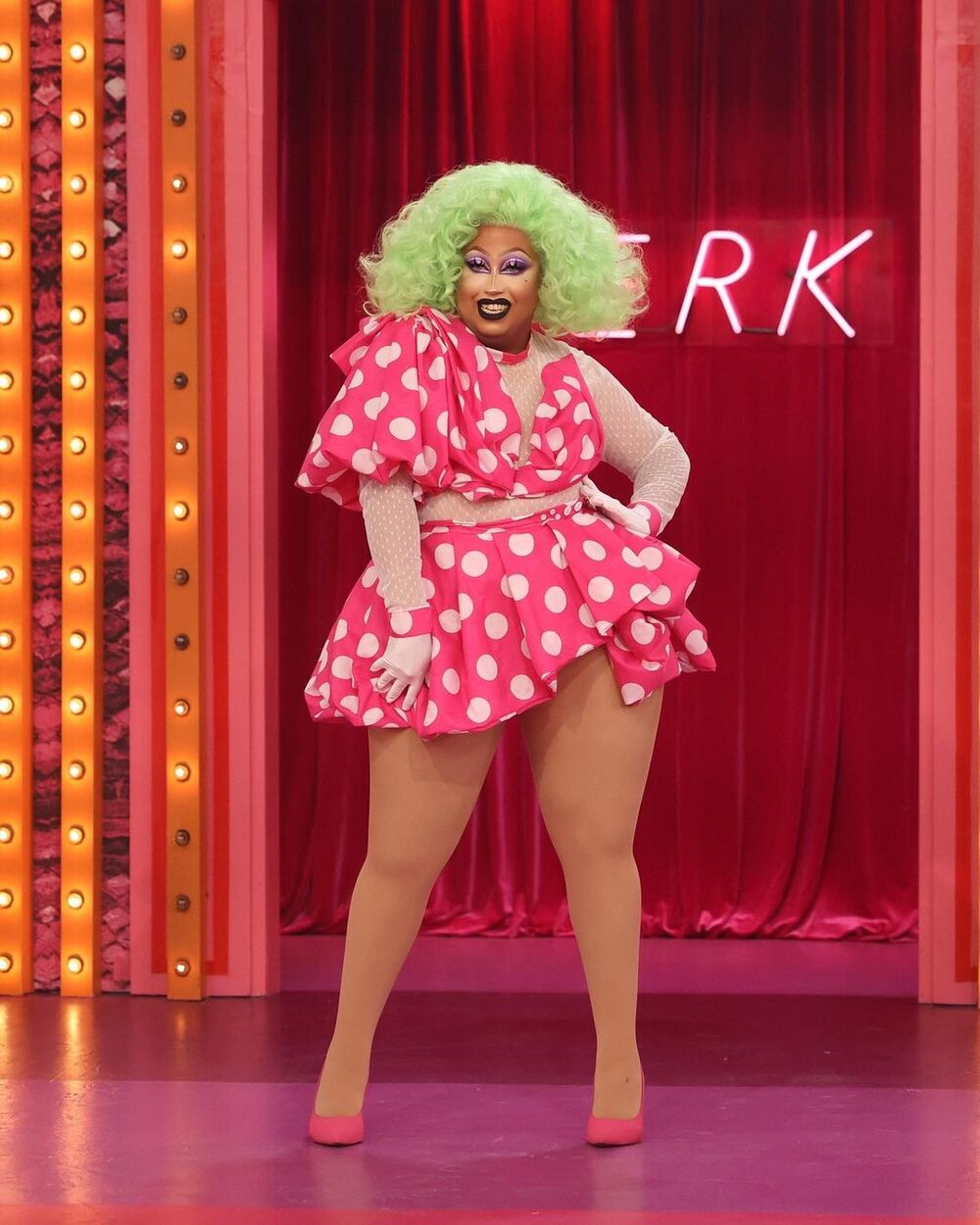 So many issues with this, so little time. In the legendary, timeless and immortal season 12 words of Nicki Minaj: "I hate, hate, HATE… your hair and makeup today." The shape is off, the white sleeves are cursed and the wig is evil.
13. June Jambalaya
Lost for words. Absolutely dreadful but instantly iconic. Need to know the thought process behind every decision made here. Not one single aspect of this look feels right for Drag Race. It looks like she's going to Nando's. I love June, though, and her face and hair are serving. The errors are camp!
12. Maddy Morphosis
I don't care if it's a Guy Fieri homage, it's vile! The white tights. The white tights! THE WHITE TIGHTS. She looks like Shirley Carter.
11. Lady Camden
I think the issue here was hit right on the head by Gottmik when she said on The Pit Stop that it's so bad because it had the potential to be so good. There's a great idea here lost in something horrible. It feels like Aquaria's rainbow pastel fur look from season 10 but the evil doppelgänger edition.
10. Jasmine Kennedie
Huge Divina De Campo energy here. I'm not too against this but I think it's so old school and boring that it just doesn't excite me in any way, shape or form. Also tells me not a thing about Jasmine Kennedie's drag or style, and the wig colour kills the vibe.
9. Orion Story
All I'm saying is, if I was Lana Del Rey and I was watching Drag Race and had to watch the queens of season 14 say "you look like Lana Del Rey" about this outfit, I'd probably turn the telly off. I will give Orion props for making it all herself and having a clear vision!
8. Daya Betty
The first strong and decent one of the Drag Race season 14 entrance looks ranked. The dress is a cool shape, I love the colour scheme and the wig is an absolute serve. It's giving Miley Cyrus music video vibes. Although Daya Betty was only in the competition briefly, at least she walked in strong.
7. Angeria Paris VanMicheals
I'm not a huge lover of this vintage style personally, but objectively it's an immaculately done outfit. Every detail is thought out, every cut, fit and shape of the gown is tailored to perfection. Pageant drag of the highest order – even if it's not pushing the boundaries of fashion.
6. Alyssa Hunter
I'm a huge gamer, and I am living for the Horizon Zero Dawn energy of Alyssa's entrance look. It's a lot, and I think the clashing prints are a bit hard to digest but I LOVE the hair, love the bow and think it's smart to walk in in a hunter look when you use that word as your drag surname.
5. Kerri Colby
Absolutely immaculate from head to toe. The trans colours are beaming out, and Kerri's undeniably gorgeous face elevates a simple look to a stunning one. She wears it like a superstar.
4. Jorgeous
A monochromatic wow. Look at this, people! Every crumb of this look looks expensive and polished. So, so, so gorgeous. The huge, shiny, dual ponytails and an ostrich feather explosion.
3. Bosco
I'm so obsessed with Bosco because I love her transformation from hippy, laidback vibes in her out of drag style to absolutely severe and fashion-forward in drag. It's such a contrast! This looks is pristine. The fit, the all over polka, the horns, the signature brow. Love it.
2. Kornbread Jeté
Kornbread spent the entirety of episode one establishing herself as a potential winner, and that establishing began when she walked in in this absolute serve. This is fashion. The hair is just so interesting, that tangled knot of gold that matches the leather zip details and the nails, the fit and shape of the jacket-dress. So good. Kornbread stan for life. Into the book of instant classic Drag Race entrance looks and one of my season 14 faves.
1. Willow Pill
Look, the girls that get it, get it – and the girls that don't, don't. This is a perfect entrance look. Unique, distinct, memorable, unusual, well thought out and most importantly: Not easy to figure out. It's a look that you can instantly underrated Willow for – as Kornbread and Alyssa openly admit to doing. That put Willow in a powerful position to wow fans and the other competitors with what else she had in store. It's got a sense of humour and it will be remembered above all over Drag Race season 14 entrance looks. And that's a job well done!
Catch up on all of the Drag Race season 14 entrance looks on Wow Presents Plus. For all the latest Drag Race memes and Netflix news, drops and memes like The Holy Church of Netflix on Facebook.
Recommended stories by this writer:
• It's official! Meet the nine queens competing on RuPaul's Drag Race: UK Versus The World
• The 24 best songs released by RuPaul's Drag Race queens after their time on the show
• RuPaul's Drag Race moving off Netflix for season 14 is the wrong decision – here's why