Even a Heartstopper superfan will have missed all these wild season two easter eggs
Obsessed with the blazer one
If you didn't spend the weekend binging the latest season of Heartstopper whilst sobbing into a duvet in the middle of August then congrats! You've got more of a life than me! For the rest of us who've given up on summer and have resigned to sobbing over coming of age gay love stories, the return of Heartstopper season two after the cultural phenomenon that was season one has been a long time coming. But even the hardiest of Heartstopper superfans likely missed all of these cute details and easter eggs from season two!
1. The wave mural
There's a big wave mural in the halls of Truham Boys School, and because this season is set in summer mainly the production team edited it to resemble the season.
2. The changing art room
The art room from season one changed with the seasons too, and in season two the production team kept updating it to reflect the tone. There's a flashback scene that's not a happy time, and the roots on the tree go darker to reflect it. When Tao is gearing up to ask Elle out, the room has more colour.
3. The T on Truham blazers changes with the season?
The little logo on the blazers at Truham changes seasonally – a small costume updating detail I had no clue about but feels like such a nice touch.
4. The colour palette for season two is pink and pistachio
The designers commit to it for the whole season and try and weave it through all the small set details, like vases.
5. Charlie and Nick's styles are merging, clothing wise
Charlie in season one was very stripes vibes, and Nick more sporty. In season two their clothes balance each other out as they get closer and their styles start to become one.
6. Nick and Charlie directly wear an outfit from the book cover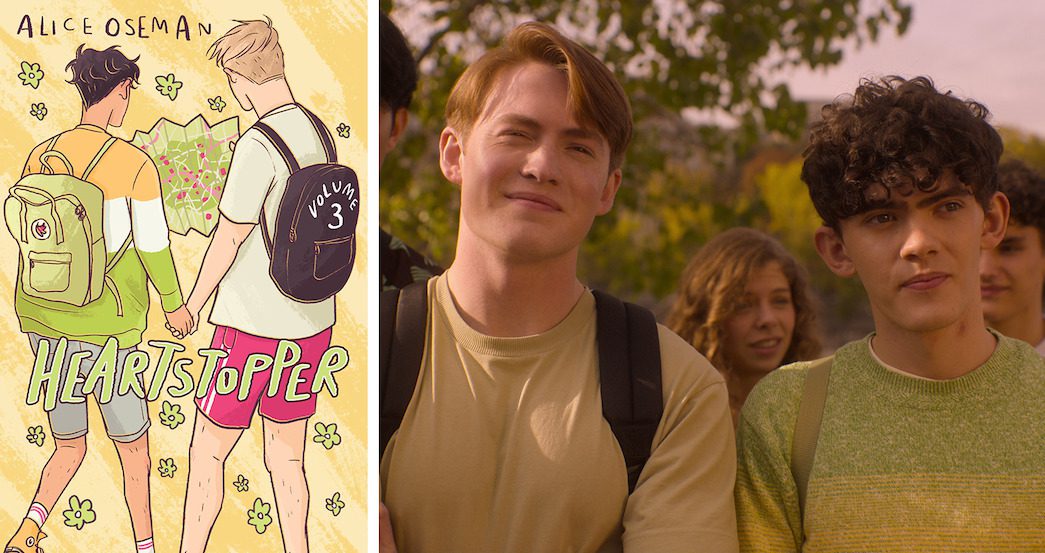 7. Sebastian Croft and Rhea Norwood literally came up with #Bimogen
The two actors who play Ben and Imogen actually pitched the two coupling up to the production team. "I'm not joking, we pitched #Bimogen to Alice and [executive producer] Patrick [Walters]. We ended up spending way longer filming that scene than anticipated — neither of us had any idea how rugby works — so we were just like, 'Let's create #Bimogen.' I'm taking full credit.
Did you clock all of these Heartstopper season two Easter eggs?
Both seasons of Heartstopper are available to watch on Netflix now. For all the latest Netflix news, drops and memes like The Holy Church of Netflix on Facebook.
Related stories recommended by this writer:
• I can't enjoy Heartstopper without feeling sad about those of us it's come too late for
• Meet Nima Taleghani! The actor who plays no-nonsense Mr Farouk in Heartstopper season two
• Alice Oseman confirms a major character won't be returning in Heartstopper season three