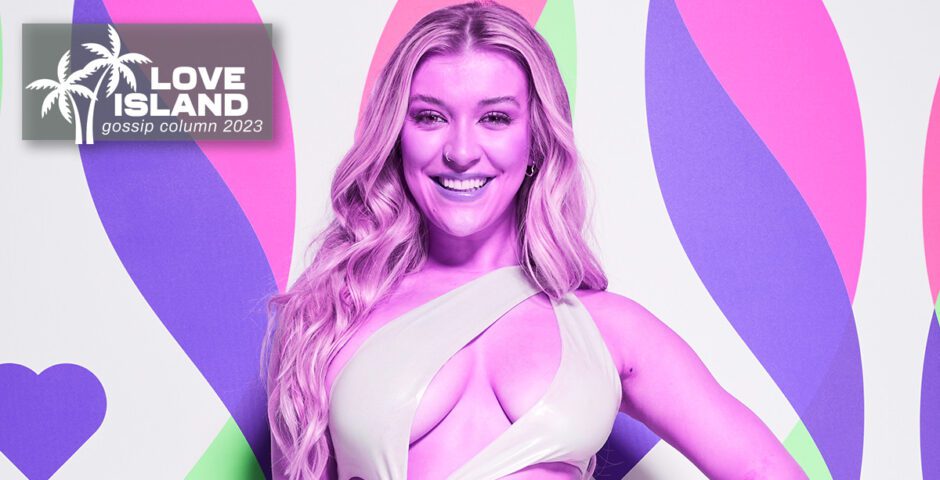 A new cast member is in a relationship?! Plus which newbie used to date a previous Islander?
This season hasn't even begun and the gossip is coming in hot!
Welcome to The Tab's Love Island 2023 gossip round-up, bringing you the pettiest drama, most scandalous rumours and the least believable tabloid exclusives from around the web.
Molly Marsh used to be texting Jack Keating?!
Jack Keating continues to be the Casa Amor Islander that spent such little time on our screens and was such a rogue casting choice, that I'm actually obsessed with everything he does. So now, in a major crossover, he used to be seeing new Islander, Molly Marsh?
TikToker Molly was announced as part of the lineup this week, and before the show she was "secretly texting" Jack, according to reports. After he was on the show, and then had a baby, Jack was apparently "flirting with and texting" Molly.
"Molly and Jack were texting and there was a real spark when it first began, it was flirty banter," a source told The Sun. "They knew each other through her influencer work and he seemed really keen. It fizzled out before they actually met up though and there was less interest from Molly's side to be honest, but he still likes all her photos online."
There's a severe weather warning in place for the villa
It's going to be messy, because right now there's a severe weather warning in place for where the Majorca villa is. Rain and storms are currently predicted there according to Apple weather. This is not the hot and sexy summer we had planned!
Newbie Jess is 'in a relationship'…. sorta
Jess might have just been announced as a single Islander ready to look for love, but according to her Facebook profile she's "in a relationship". Lol. Yep, it's actually been spotted that since March 1st 2020, Jess has been listed as very much not single.
There's a lot going down with George right now
The show hasn't even begun, but already Women's Aid has released a statement about new Islander, George Fensom. If you've missed it, an ex-girlfriend of his has accused him of being a "liar", a "cheat" and a "narcissist". She also claimed he was "controlling" in their relationship.
Then, homophobic tweets resurfaced, in which George said the f-slur, and used "gay" as a negative adjective. George released a statement from pre-villa lockdown saying he "felt sick" about the tweets, and that they didn't reflect his character now.
Speaking about what his ex has said, George added: "It's really unfortunate and actually quite upsetting on my behalf that a picture has been painted about me in that light.
"I'm looking forward to moving forward with things and going into the villa and just providing a new wave of energy and to prove that the things that have been written about me aren't true. People can see a different light to me."
Women's Aid has said it hopes Love Island "take allegations seriously" about George, as the show has recently upped its duty of care protocols in recent years to include behavioural training in these sorts of issues.
Shaq and Maxwell have gone into business together?!
Just as the winter Islanders were about to take a back seat, Shaq and Maxwell have announced they've gone into business together. They have teamed up to launch The Shaq & Maxwell: Day Party events.
Speaking to The Sun, Maxwell said: "I think it has potential to be one of the best parties of the summer, it's a great way to kick the summer off and we're really looking forward to bringing a great crowd together to have a great time and enjoy ourselves. We're going to have game shows, special guests and giveaways so it's going to be an amazing event."
Jess apparently 'begged' an ex-Islander for tips on how to get on the show
Jess Harding has apparently been desperate to get on the show for years, and "begged" an ex-Islander for tips. Jess contacted Alexi Eraclides, who appeared in Casa Amor during the 2020 series, asking exactly how he got on.
He told The Sun: "She reached out to me a couple of years back. She wanted to know how I got on Love Island, if I was scouted or applied. She was obviously really keen to get on the show and very much had it at the forefront of her mind. I'm happy she got what she wanted. She wanted to change her life and get that exposure, which she has now."
Ruchee's mum has told her not to have sex on TV
Beautician Ruchee, who is also set to enter the villa on Monday, has said her mum has told her she can't have sex on TV. Fair. Speaking to The Daily Star, Ruchee said her mum has given her permission to do "whatever she wants" apart from sleeping with other Islanders.
"My mum literally was like 'do whatever you want, just go there, have a good experience, but don't have sex on TV'," Ruchee said.
Molly's business has £1 in the bank… lol
Despite being backed as the already famous TikToker entering the villa this year, The Daily Mail has reported Molly's business actually has £1 in its "dormant" account. Molly created her own company in October 2020 called Iconic Influencer Limited, but its latest books have come back to say it has just £1 in assets.
Ruchee was first approached to be on the show in 2021
Ruchee has revealed she was first scouted by producers to appear on the show in 2021, but she turned it down. She said she felt "too young", and was talking to a guy who at the time she really liked.
"I was scouted through Instagram," she explained. "And actually, they reached out to me a couple of years ago as well, I think it was 2021. At the time, I was actually kind of seeing someone and I was getting to know him. And I really liked him. I also felt like I was really young. So I just didn't feel comfortable. I just didn't think it was the right time."
Love Island 2023 kicks off on Monday 5th June at 9pm. For all the latest Love Island news and gossip and for the best memes and quizzes, like The Holy Church of Love Island on Facebook. 
Related stories recommended by this writer:
• Women's Aid has already issued a statement about accusations against Love Island's George
• The photographer did them dirty, so here's what the Love Island 2023 cast actually look like
• The new Islanders are all identical to previous cast members, and I can't unsee it