All 23 worlds in The Sims 4, definitively ranked from ghastly to gorgeous
Living in Willow Creek is such an ick
The Sims 4 has a whopping 23 worlds right now, which is a hefty amount indeed to raise your Sims and cause carnage in. Are they all great? No. But they all are so different (even if they're different ways of being an American town, but more of that later) that everyone has a fave and strong opinions on them either way. We currently have 23 worlds in The Sims 4 – and I agonised over this ranking to provide you with all of them ranked from worst to best. Because, let me tell you, I have opinions. 
23. Batuu
If this never darkened the screen of my laptop ever again, it would be too soon.
22. Magnolia Promenade
The bare faced cheek of this one to even call itself a world. It's barely a neighbourhood! Meant to be for shops but honestly who needs this?
21. Granite Falls
A nice idea, but suffers from being a vacation world and the first additional location to ever be added to the game. We're just bigger and better than a few tries in the woods these days.
20. Glimmerbrook
I won't hear otherwise: this is just Granite Falls with a witchy portal.
19. Forgotten Hollow
Perfectly good for the Vampires pack it was made for – small, but does the job if this is what you're after. A bit niche though.
18. Newcrest
A hard one to rank considering it purposely has absolutely nothing in it. A nice idea! You could make it amazing! But you could also make one of the most revolting worlds I've ever seen, so for that reason it's not get getting ranked higher than any of the other Sims 4 options.
17. Willow Creek
The margherita pizza of The Sims 4 worlds ranked.
16. Evergreen Harbor
Eco Lifestyle's world is one that is purposely a bit ugly, and it's the whole point of the pack, but I just… don't like it. Sorry. It makes me feel a bit sick looking at the smog and I don't have the tenacity to sort it out. The best thing about it is that it also comes with apartments and I wish more worlds did that!
15. StrangerVille
A very storyline focused world thanks to the nature of the pack it comes with, but I'm a bit of a sucker for its Victorian homes against desert canyon backdrops. A scorcher.
14. Oasis Springs
The thinking man's Willow Creek.
13. Copperdale
If they were going for sleepy town that could be from any high school teen movie to go with the High School expansion pack, they did the job. The pier is the star of the show, everything else is nice enough but blends in with the other mining towns the Sims 4 team are inexplicably obsessed with.
12. Moonwood Mill
What is nice about Moonwood Mill is how the lumber mill theme feels so distinct, completely on brand for the theme of the pack and even though it's a small world there's a lot of detail and it feels alive. Personality and detail and suits the pack? Job done even if I personally won't be moving Sims in there a lot.
11. San Seqouia
A nice world inspired by San Francisco, but one that you can't help but wish was themed after somewhere else in the world that isn't America considering this is the most recent of the Sims 4 worlds ranked here and we've seen it all before! Give us somewhere in Africa! Italy! South America! ANYWHERE. Nice bridge, lovely bridge, but need more.
10. Selvadorada
My only qualm is we can't live here all the time. Why can't we do away with vacation worlds? Komorebi is a normal world that you can vacation in? Don't get it. Let me live in this beautiful jungle!!!
9. Britechester
What's nice about Britechester is it feels like a good place to be even if your Sim isn't at uni – perhaps that's my bias to the UK and having been a student here myself but there's a great energy to Britechester that I really love.
8. Henford-on-Bagley
I know everyone goes mad for this one, and admittedly – it is beautiful. This is an American's wet dream imagination of the UK. But as someone who's lived in this country all my life and visited my fair share of Henford-on-Bagleys, I can't help but be tainted by knowing what kind of evil, rich Conservatives live in these villages. What I'm trying to say is that Henford-on-Bagley from The Sims 4 keeps the Tories in government. End of, really.
7. Brindleton Bay
I'm an absolute sucker for the Cape Cod vibe of Brindleton Bay, and even though Cats and Dogs is a bit of an enemy pack of mine the world alone makes it worth getting. I love the coastal theme. I just know the air tastes FRESH.
6. Del Sol Valley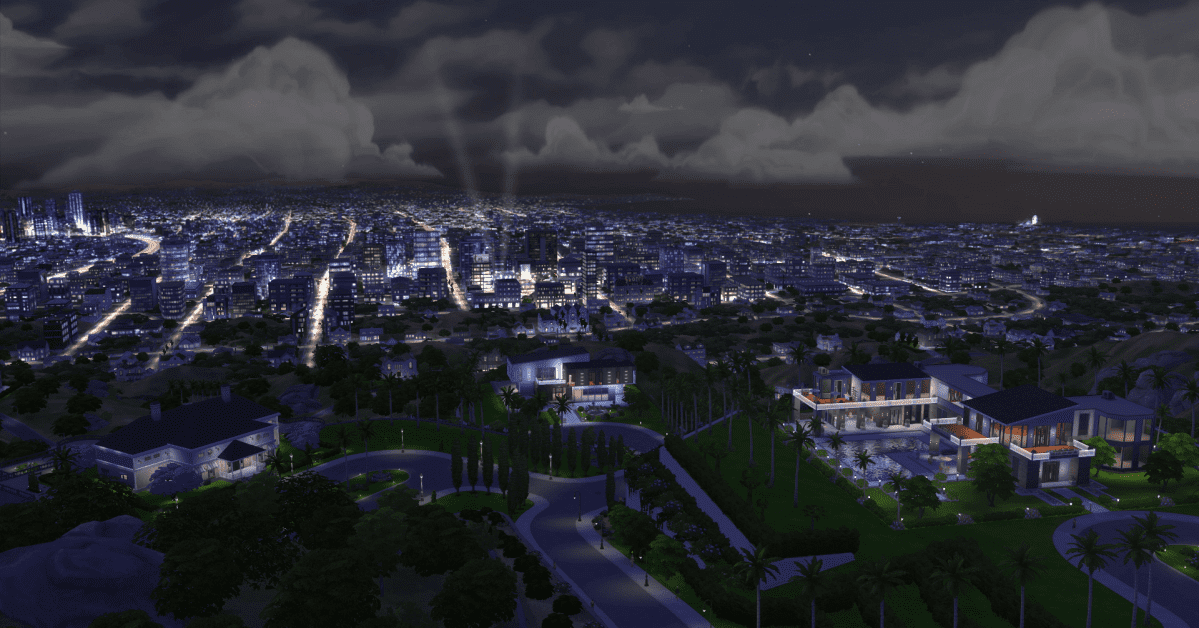 Del Sol Valley isn't as big as it should be, and the critiques of the Get Famous world feeling quite hollow are valid – but, LOOK. Look at it. Look at that VIEW? Living in a house with that backdrop in The Sims 4 is just a unique experience, and shallow as it might be I do love it. Sue me.
5. Tartosa
My Wedding Stories is comparable to the literal shit on my shoe, but credit where credit is due – Tartosa is beautiful. I get a tan just looking at it. Forza la Med!
4. Windenburg
Mmm, breathe in that European mountain air baby! I love Windenburg, not just for its aesthetic but for how big it is. Mountainous, town centres, random boujie island – all of life is here. A lot of detail and big in size. Many people's fave for a reason!
3. San Myshuno
I am such an unapologetically city person that I can't help but LONG to live in San Myshuno, with its apartments, townhouses, districts and views. Always something going on and feels like nowhere else in the game. Get me there right now.
2. Mount Komorebi
It's hard to capture the beauty of Mount Komorebi in just one still, because from the suburbs to the peak of the mountain, snowy and grassy, it's gorgeous. Japan inspired, detailed, beautiful – just a great place to play the game.
1. Sulani
Of all the Sims 4 worlds ranked here, it's Sulani that makes me gasp at its beauty the most. Why would you NOT want to live here? It's paradise. Living life like it's a holiday, building villas over the water, an aesthetic that feels like pure escapism. Just so stunning.
Related stories recommended by this writer:
• Every expansion pack for The Sims 4 ranked, including the brand new Growing Together
• Everything wrong with Growing Together, The Sims 4's new expansion pack
• Every game pack for The Sims 4, ranked meticulously from worst to best